Acute Inpatient Rehabilitation Unit at St. Joseph's/Candler includes physical, occupational and speech therapies
You have a choice in inpatient rehab
If you are unable to go home following an illness or injury, the rehabilitaiton you choose can impact the rest of your life. Patients choose St. Joseph's/Candler inpatient rehab for our faith-based, holistic approach to healing while providing the most advanced, comprehensive treatments.
The Acute Rehabilitation Units (ARU) at St. Joseph's Hospital and Candler Hospital are accredited by the highest level awarded by the Commission on Accreditation of Rehabilitation Facilities (CARF). This certification demonstrates the Acute Rehab Unit's commitment to continually improving services and outcomes for patients who have experienced serious illness or accident.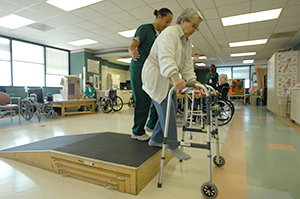 Our goal is to prepare you for discharge to a home/community setting as independent as possible. Our home-like setting allows you to perform daily care with the guidance of a team of experts that includes rehabilitation physicians, physical therapists, occupational therapists, speech-language pathologist, social workers, rehabilitation nurses, pharmacists and dieticians.
Learn more about Acute Care Inpatient Rehab
More about our team
Our team works with every patient to create a plan of care to meet your goals and concerns. Our focus is to assist you in skill areas which may include:
Highest level of medical and nursing care with physician experts in rehabilitation and rehabilitation nurses
Improve your strength and ability to move safely
Reteach you self-care/activities of daily living such as bathing, dressing and grooming to help you resume your normal quality of life
Help you regain independence by teaching you new ways to do self-supportive tasks such as laundry, cooking and cleaning
Improve your ability to transfer to/from varied surfaces and walking with or without assisted devices
Fall prevention, balance training and safety awareness
Swallowing safely
Communication and thinking skills
Arthritic pain management/join protection
Community re-entry activities as appropriate
Home evaluation as necessary to evaluate home setting and make recommendations
Orthotics/prosthetics through referral to independent practitioners
Patient and family education, counseling and training early in the rehab process to make sure you are comfortable before leaving the hospital
Therapy
As a patient, you will be required to complete three hours of therapy daily on our unit. This can be divided up across three disciplines, depending on your specific needs. You will be assigned a team of therapists to help you reach your goals.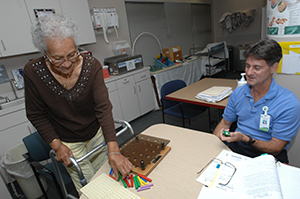 Physical therapy helps you regain strength, balance and coordination to restore mobility
Occupation therapy teaches you new ways to perform daily activities such as grooming, bathing and dressing
Speech/language therapy helps you regain speaking, swallowing and cognitive abilities
What to bring
It is important to our program/staff that you feel at home while on our unit. We ask that patients and their families bring the following personal items to participate in therapies and daily care:
Loose-fitting, comfortable clothing such as pants, shirts, socks, underwear, etc.
Sturdy and comfortable shoes with non-skid bottoms
Sweater or jacket (with zippers or buttons as this is helpful to work on dressing goals)
Personal care items and cosmetics
Eyeglasses or contact lens and supplies
Sleepwear and robe
Hearing aids in labeled container with your name
Dentures in labeled container with your name
Assistive or adaptive equipment that you may have used at home. This will help staff members get a better idea of your prior level of function.
We discourage you bringing valuables to the hospital.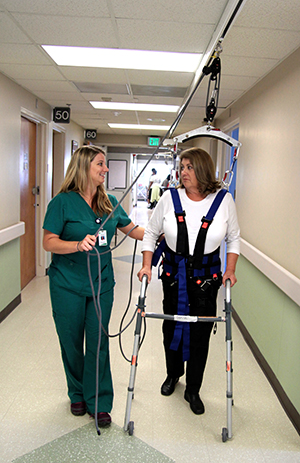 Typical day on the rehab unit
Morning: Nursing or therapy staff will assist with activities of daily living: bathing and dressing as needed. Nursing will assist with medications. Breakfast will be provided prior to the state of therapy sessions. Therapy schedules will be provided in the evening, which will inform you on what to expect for the next day.
Noon: There will be a lunch break around noon. If needed, a therapist will work with individuals that need help with eating/swallowing.
Afternoon: Therapy sessions will continue after lunch. Rest breaks will be provided in between sessions, if needed. If any assistive devices are needed, therapy will help with the use and adjustment of the device/devices.
Evening: Dinner will be served and there will be time for visits from family and friends. There will also be time to read, relax and watch television.
Night: Sleep allows the body to recover from the day's activities. Staff will check on patients throughout the night to provide any needed care. If assistance is needed throughout the night, please use the call button.
Family and/or support person
While on the rehab unit, your family and/or support person is welcome and encouraged to attend therapy sessions on a regular basis. There will be times when a family/support person will be required to attend therapy sessions, as determined by the rehab team. Your social worker will let you and your family know when they need to attend therapies so that they can be adequately trained in how to help you when you leave the hospital.
Discharge planning
Discharge planning begins the day you are admitted to the rehab unit. Your physician and rehab team will meet with you and your family to plan appropriate discharge arrangements. Discharge from the rehab unit does not necessarily mean that rehab stops. Your continued recovery may include the services of home care nurses and aides, therapists or other outpatient services.
Upon discharge from the hospital, most patients will still initially require 24-hour assistance from family member or support person.
Pet Therapy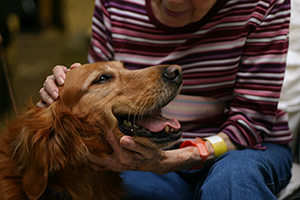 Since 2001, the Pet Therapy program has been providing encouragement and comfort to our patients on the Rehabilitation and Sub-Acute Units at St. Joseph/Candler. Each dog is certified and is accompanied by their owner during the hospital visit. Each patient visit lasts between one to 10 minutes based on the individual patient needs.
Locations
St. Joseph's/Candler has Acute Inpatient Rehabilitation Units at both hospitals.
St. Joseph's Hospital
11705 Mercy Blvd., Savannah, Ga. 31419
912-819-3343
Candler Hospital
5353 Reynolds Street, Savannah, Ga. 31405
912-819-6511
Skilled Nursing Unit at Candler Hospital
Nursing care is provided for a multitude of conditions and diagnoses. The Candler Hospital Sub-Acute Unit provides short-term skilled care for patients not medically or functionally ready to return home. Patients must meet admission criteria and demonstrate continued need until discharge.

Our team of professionals includes physicians, nurses, social services staff, dietitians, pharmacists, physical therapists, occupational therapists, speech therapists and activity coordinators.

Criteria for Inpatient Skilled Nursing Unit Care:
Prior hospital stay of more than 72 hours in the past 30 days and
Therapy services provided five days a week with functional improvement or
Sterile wound care or
IV medication administration