Nursing at St. Joseph's/Candler
At St. Joseph's/Candler, our nursing culture reflects not only the mission, vision and values of the health system; but also the tenets of Florence Nightingale and national nursing best practices - underscoring our commitment to provide patients the best opportunity to heal. The nurses at St. Joseph's/Candler support the connection of human values and compassion to the most advanced technology.
For patients, this means getting the best care in the region. For nurses, it means a great place to work.
We believe in:
The uniqueness of each patient
The value of an interdisciplinary focused care team approach
Utilizing the registered professional nurse as primary care manager for patients
The value of each other as team members with unique contributions to the care of our patients, community and to our profession
Continued and deliberate mentoring of healthcare staff into the profession of nursing
We strive to:
Respect patient dignity and safeguard privacy
Reflect the highest standards of nursing through performance improvement activities, research and involvement in professional organizations and our community
Support and empower each other to provide an atmosphere of professionalism
Advocate for our patients, community and each other
Promote continued growth in the profession of nursing
As practicing professional nurses at St. Joseph's/Candler, we are committed to our patients and community through a continuing quest for excellence.
Magnet Recognition for Nursing Excellence
For the fifth time, nurses at St. Joseph's/Candler have proven to provide the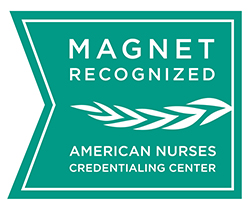 highest level of nursing care, earning The American Nurses Credentialing Center's (ANCC) Magnet Recognition for Nursing Excellence. There are only 22 other hospitals in the world who have earned as many designations. St. Joseph's/Candler is one of only seven Magnet-designated facilities in Georgia and among more than 500 in the world.
What does Magnet mean for you? Independent research has shown that Magnet hospitals have better outcomes in safety practices and better communication in problem solving. Other benefits include:
Higher patient satisfaction with nurse communication, availability of help and receipt of discharge information
Lower risk of 30-day mortality and lower failure to rescue
Higher job satisfaction among nurses
Lower nurse reports of intentions to leave position
Learn more about the Magnet Recognition here.
Shared Governance
As encouraged by the ANCC, St. Joseph's/Candler practices shared governance, which is a shared decision-making process based on the principals of partnership, equity, accountability and ownership at the point of service. Shared governance is a way for nurses to make decisions on things they control about their everyday work and experiences. The practice of shared governance is encouraged and among Magnet standards.
At St. Joseph's/Candler, shared governance is achieved in the form on many councils and committees. These councils allow for nurses to share thoughts and concerns, make decisions and have a voice among leadership.
To learn more about shared governance and the St. Joseph's/Candler councils, click here.
Why become a St. Joseph's/Candler Nurse?
St. Joseph's/Candler employs approximately 1,200 clinical and staff nurses and hires dozens more each year, both experienced and recent graduates. The health system has an incredible pipeline process for junior nursing students and new graduates to help mold new nurses into experienced, loyal staff members, as well as a career ladder for nurses of any experience level looking to work their way up.
Being a nurse at St. Joseph's/Candler means you will work for a Magnet Recognized facility. A sample of other benefits include:
For nurses with certification, a $1,000 bonus at time of annual review
Generous night and weekend differential
CE direct with online CE modules
Comprehensive graduate nurse residency with year-long mentoring programs
Opportunities for growth through nursing shared governance
Referral bonus
Clinical Ladder
Payroll deductions include cafeterias, gift shops, pharmacy, Candler Daycare and in-hospital sales
We'd love for you to join the team here at St. Joseph's/Candler in beautiful Savannah, Ga., and the surrounding Low Country. Learn more about nursing and read about the staff here.
Nursing Residency Program
The St. Joseph's/Candler RN Residency Program is accredited as a Practice Transition Program by the American Nurses Credentialing Center's Commission on Accreditation in Practice Transition Programs.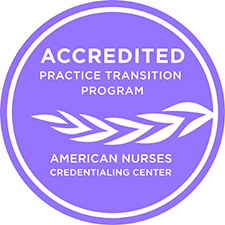 The current sites included in this accreditation designation are: St. Joseph's Hospital and Candler Hospital.
The current workplace settings included in this accreditation designation are: Medical surgical, critical care, acute inpatient rehab units; emergency service departments in both hospitals; surgical services units including pre-screening, OR, Day surgery and PACU in both hospitals; and the Women's and Children's units in Candler Hospital only.
SelfCare for HealthCare
In August 2015, nursing leadership implemented SelfCare for HealthCare. The program is developed by LeAnn Thieman, a nationally-known speaker, nurse and author of several "Chicken Soup for the Soul" books. She created SelfCare for HealthCare on the principal that for healthcare givers to nurture the bodies, minds and spirits of their patients, they must first nurture their own. Since St. Joseph's/Candler's implementation of the program, unit champions in conjunction with their nurse manager have created projects and opportunities on each nursing unit to provide a stress relieving break during their busy shift. Some examples include massages, quarterly lunches, dinners out, "stress relief boxes" full of puzzles, Sudko and other mind-calming games and more. There also are Monday Morning Motivations with tips on better sleeping habits, how to breathe and new ways to acknowledge stress and deal with it in healthy ways. Monthly videos also are provided and all materials are available to every staff member on the company's intranet.
The DAISY Award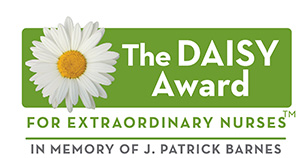 In late 2016, St. Joseph's/Candler teamed up with The DAISY Foundation to begin the program as a way to recognize nurses for their everyday hard work. Click here to learn more about The DAISY Award and nominate your favorite nurse today.