Aquatic Physical Therapy
Aquatic Physical Therapy is rehabilitation, prevention and wellness for a wide array of patients in a safe aquatic environment. This unique therapy employs specific protocols, but also may include swimming motions in conjunction with treatment techniques.

The physical characteristics of water are used to support, resist and/or assist in increasing flexibility and muscle strengthening while the injury heals. Aquatic therapy is not a modality, but a procedure requiring specific skills and training to implement the aquatic techniques correctly.
St. Joseph's/Candler offers aquatic physical therapy at our Candler Hospital outpatient location and The Landings Club outpatient location (for Landings Club members only). A physician's referral is required.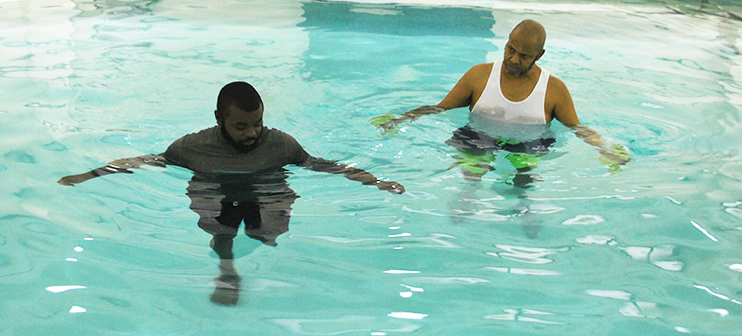 Aquatic therapy can help increase:
circulation
flexibility
blood flow
muscle strength and tone
range of motion
coordination
Additionally, it helps to reduce swelling and stress to painful joints. At St. Joseph's/Candler our licensed therapists work with patients to provide individualized care and a comprehensive treatment program.
Contact Us
Candler Hospital Outpatient Rehabilitation
5353 Reynolds Street
Savannah, GA 31405
912-819-6176
The Landings Club Outpatient Rehabilitation
11 Westcross Road
Savannah, Ga. 31411
For The Landings Club members only
912-598-5623