Hand therapy offered at St. Joseph's/Candler's Southside and Pooler outpatient locations
When you lose strength and function of the hand, either due to a lingering condition, trauma or surgery, rehabilitation may be needed. St. Joseph's/Candler offers certified hand therapy at its Southside and Pooler locations to help regain function and a return to quality of life.
Hand therapy evaluates and treats injuries and conditions of the hand, but also the shoulder, arm, elbow, forearm and wrist. Hand therapy uses a number of therapeutic methods to help you return to your highest level of function.
Some of the medical conditions we treat: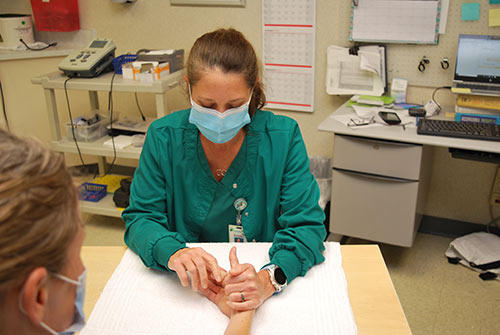 Wounds and scars
Amputations
Arthritis
Burns
Fractures and dislocations
Sprains and strains
Infections
Joint contractures
Nerve compression, including carpal tunnel, cubital tunnel and radial tunnel
Tendinitis
Tendon injuries
What is a certified hand therapist?
A certified hand therapist is an occupational therapist who, through advanced continuing education, clinical experience and integration of knowledge in anatomy, physiology and kinesiology, is proficient in treatment of hand and upper extremity conditions.
To obtain a certification as a certified hand therapist (CHT), one must practice for a minimum of three years and accumulate at least 4,000 hours of treatment for hand and upper extremity disorders. Certified hand therapists must also pass a rigorous certification exam to demonstrate their competency in the practice of hand therapy.
CHTs are highly skilled in evaluating and treating:
Range of Motion
Strength
Sensibility
Activities of daily living (self care)
Ergonomics
Pain
Edema
If you would like to see our certified hand therapist, call our Southside outpatient rehabilitation center at 912-819-6176, or for an appointment in Pooler, call 912-737-2270 or request an appointment online for either location. A physician's referral is required for all outpatient therapy services.