St. Joseph's/Candler Center for Oto-Neurology to sponsor 41st annual Neuro-Audiology Live Virtual Seminar
The Center for Oto-Neurology at St. Joseph's/Candler is excited to bring back the annual Neuro-Audiology Seminar - this year virtually! This will be the 41st year St. Joseph's/Candler has sponsored the seminar.
This year's live virtual seminar is designed for audiologists, physicians, physician assistants, nurse practitioners, physical therapists and others with a goal to improve skills in Vestibular Diagnostics and Management.
This year's topic is Vestibular Disorders: Diagnostic Assessment and Management. The virtual seminar date is April 23, 2021.
The Center for Oto-Neurology was established in 1977 and includes audiology, speech/language pathology, EEG, vestibular/balance rehabilitation and our Movement Disorders Program. We provide state-of-the-art diagnostics and therapy for patients with ear, hearing, balance, speech/language and central nervous system disorders. Learn more about our services here.
About the Seminar Program
COURSE OBJECTIVES
At the completion of the seminar the participant will be able to:

Recognize common symptoms and characteristics of different vestibular disorders
Identify the role of vHIT, VEMPs and eccentric rotation in assessment of dizzy patients
Discuss vestibular rehabilitation protocols for atypical and multicanal BPPV and PPPD
THE SEMINAR PROGRAM
This year's speakers are Kamran Barin, Ph.D. and Milap Patel, PT. Please note this virtual course is offered only as a live event. The schedule is as follows:
9-9:15- Introductions/Welcome
9:15-10:45- Otolith dysfunction: symptoms, assessment, and therapeutic interventions - Dr. K. Barin
cVEMP
oVEMP
Eccentric Rotation
10:45-11:00 BREAK/sponsor presentation - Interacoustics, INC
11:00-12:30- Head Impulse Testing (vHIT and SHIMP) - Dr. K. Barin
Patient candidacy
Optimal testing parameters/clinical utility
Interpretation and report writing
12:30-1:15 BREAK
1:15-2:15- Pediatric Vestibular Evaluation - Dr. K. Barin
2:15-3:45- Challenging Disorders - Clinical presentation and assessment Dr. K. Barin
Vestibular Migraine
BPPV - Atypical and Multicanal Variations
Persistent Postural Perceptual Dizziness (BPPD)
3:45- 4:00 BREAK/sponsor presentation - pending
4:00-5:30- Vestibular Rehabilitation – Dr. M. Patel
Atypical and Multicanal BPPV
Persistent Postural Perceptual Dizziness (PPPD)
5:30-5:45 - Closing remarks
CEU: Certificate of attendance for ASH and AAA continuing education units will be emailed upon completion of electronic post seminar test and program evaluation.
SEMINAR FACULTY
Kamran Barin, Ph.D. is Assistant Professor Emeritus, Department of Otolaryngology-Head & Neck Surgery and Department of Speech & Hearing Science, Ohio State University. He established and served as the Director of Balance Disorders Clinic at Ohio State University Medical Center for more than 25 years until his retirement in June 2011. He received his Master's and Doctorate degrees in Electrical/Biomedical Engineering from Ohio State University. He has published several articles and book chapters and has taught national and international courses and seminars in different areas of vestibular assessment and rehabilitation.
Disclosure: Dr. Kamran Barin is a consultant to Interacoustics and Bertec Corp.
Milap Patel PT, MS, CMP, is a physical therapist in the Department of Physical Rehabilitation with St. Joseph's/Candler. He received his B.S. in Physical Therapy from Rajiv Gandhi University of Health Sciences, India. He completed his Master's in Exercise and Sports Science from Ithaca College, NY. He has been an Adjunct Faculty at South University. Mr. Patel is certified in Vestibular Rehabilitation and has extensive training in Vestibular Rehabilitation and Manual Therapy. He holds special interest in Assessment and Treatment of patients with Vestibular Disorders.
* No financial or non-financial disclosures to report

Accreditation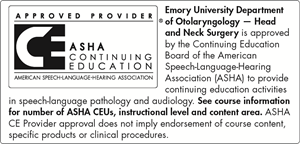 This program is offered for 0.7 ASHA CEUs (intermediate level)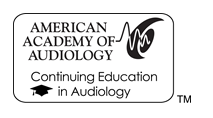 St. Joseph's/Candler is approved by the American Academy of Audiology to offer Academy CEUs for this activity. The program is worth a maximum of 0.7 CEUs. Academy approval of this continuing education activity is based on course content only and does not imply endorsement of course content, specific products, or clinical procedure, or adherence of the event to the Academy's Code of Ethics. Any views that are presented are those of the presenter/CE Provider and not necessarily of the American Academy of Audiology.

St. Joseph's/Candler would like to thank for their assistance in supporting this seminar:
Interacoustics, Inc.

Registration
Registration will be limited to 100 attendees.
Fee: $80
Phone registration: please call Center for Oto-Neurology 912-819-2479