St. Joseph's/Candler Center for Oto-Neurology to sponsor 41st annual Neuro-Audiology Seminar
The Center for Oto-Neurology at St. Joseph's/Candler will once again sponsor the annual Neuro-Audiology Seminar at St. Joseph's Hospital in Savannah, Ga. This will be the 41st year St. Joseph's/Candler has sponsored the seminar.
These meetings continue to grow in popularity because not only do we emphasize practical clinical knowledge and feature a nationally recognized speaker, but we also incorporate the "Charm of Savannah" into our planned activities.
This year's topic is Vestibular Disorders: Diagnostic Assessment and Management. Seminar dates are April 17-18, 2020.
About the Seminar Program
The Center for Oto-Neurology was established in 1977 and includes audiology, speech/language pathology, EEG, vestibular/balance rehabilitation and our Movement Disorders Program. We provide state-of-the-art diagnostics and therapy for patients with ear, hearing, balance, speech/language and central nervous system disorders. Learn more about our services here.
This year's seminar is designed for physicians and audiologists with a goal to improve skills in Vestibular Diagnostics and Management
COURSE OBJECTIVES: At the completion of the seminar the participant will be able to:

Recognize common symptoms and characteristics of different vestibular disorders
Identify the role of vHIT and VEMPs in assessment of dizzy patients
Determine how functional tests of balance can provide an objective assessment of vestibular compensation
THE SEMINAR PROGRAM
Friday, April 17, 2020
Speaker: Kamran Barin, Ph.D
8:00 a.m. Bus leaves Staybridge Suites for St. Joseph's Hospital
8:30 a.m. REGISTRATION
8:40 a.m. Welcome
8:45-10:45 Case History
Classification of Vestibular Symptoms Using Unified Definitions
Pharmacology of Vestibular Testing – Impact on Assessment Outcomes
10:45-11:00 BREAK
11:00-12:30 Head Impulse Testing (vHIT and SHIMP)
Patient candidacy
Optimal testing parameters/clinical utility
Interpretation and report writing
12:30- 1:30 LUNCH – (provided) Vendor Demonstrations
1:30-3:15 Otolith dysfunction: symptoms, assessment, and therapeutic interventions
cVEMP
oVEMP
Eccentric Rotation
3:15-3:30 BREAK
3:30-4:45 Site of Lesion versus Functional Tests of Balance
Posturography
Dynamic Visual Acuity (DVA)
Subjective Visual Vertical (SVV)
5:00 p.m. Bus leaves St. Joseph's Hospital to return to Hotel
6:30 p.m. Meet in the Lobby of Staybridge Suites for tour and light hors d'oeuvres
SATURDAY-APRIL 7, 2018
8:00 a.m. Bus leaves Staybridge/Planters Inn for St. Joseph's Hospital
8:45-9:15 Dr. Michael Zoller –Medical evaluation and management of Vestibular Migraines and Meniere's Disease
9:15-10:30 Challenging Disorders - symptoms, assessment, and therapeutic interventions
Vestibular Migraine
BPPV- Atypical and Multicanal Variations
PPPD
10:30-10:45 BREAK
10:45-12:30 Pediatric vestibular disorders

Assessment
Therapeutic intervention
12:30-12:45 Course evaluation – post-test
12:45 Bus leaves for Staybridge Suites
St. Joseph's/Candler wishes to take those steps required to ensure that individuals with disabilities are not excluded, denied services, segregated, or otherwise treated differently than others because of the absence of auxiliary aids and services. If you need any of the auxiliary aids or services identified in the Americans with Disabilities Act of 1990 in order to attend this event, please call OtoNeurology at 912-819-2479
SEMINAR FACULTY:
Kamran Barin, Ph.D. is Assistant Professor Emeritus, Department of Otolaryngology-Head & Neck Surgery and Department of Speech & Hearing Science, The Ohio State University. He established and served as the Director of Balance Disorders Clinic at the Ohio State University Medical Center for over 25 years until his retirement in June 2011. He received his Master's and Doctorate degrees in Electrical/Biomedical Engineering from the Ohio State University. He has published several articles and book chapters and has taught national and international courses and seminars in different areas of vestibular assessment and rehabilitation.
Disclosure: Dr. Kamran Barin is a consultant to Interacoustics and Bertec Corp.

Michael Zoller, MD, F.A.C.S-- Dr. Zoller is the Otology Medical Director of the Center for Oto-Neurology at St. Joseph's/Candler. He received his M.D. from Tulane University School of Medicine, trained in surgery at Washington University School of Medicine and completed his ENT residency at Harvard Medical School. He is also Clinical Professor of Otolaryngology/Head and Neck Surgery at the Medical College of Georgia and Clinical Professor of Surgery at Mercer University School of Medicine.

* No financial or non-financial disclosures to report

EVENING ENJOYMENT
Meet our guides in the lobby of the Staybridge Suites at 6:30 p.m. where our guides will lead us to the Davenport House. This historic Federal style house will be opened exclusively for our group to experience the lifestyle of a family living in the early 1820s. After our tour we will enjoy wine and light hors d'oeuvres in the garden of the Davenport House. What a great way to spend the evening after a day of learning!
ACCREDITATION
St. Joseph's/Candler Health System is accredited by the Medical Association of Georgia to provide continuing medical education for physicians. St. Joseph's/Candler Health System designates this live educational activity for a maximum of 10 AMA PRA Category 1 Credits™. Physicians should claim only the credit commensurate with the extent of their participation in the activity.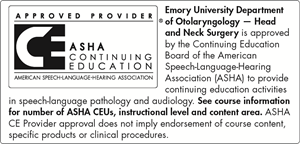 This program is offered for 1.0 ASHA CEUs (intermediate level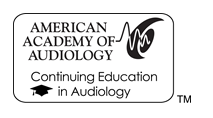 St. Joseph's/Candler is approved by the American Academy of Audiology to offer Academy CEUs for this activity. The program is worth a maximum of 1.0 CEUs. Academy approval of this continuing education activity is based on course content only and does not imply endorsement of course content, specific products, or clinical procedure, or adherence of the event to the Academy's Code of Ethics. Any views that are presented are those of the presenter/CE Provider and not necessarily of the American Academy of Audiology.

St. Joseph's/Candler would like to thank for their assistance in supporting this seminar:
Interacoustics, Inc
Grason-Stadler, Inc
REGISTRATION:
Fee: $375
Registration is limited to 50 participants --- please register early

Registration includes continental breakfasts, lunch/snack on Friday/Saturday, bus transportation to/from St. Joseph's Hospital as well as the Friday evening tour and dinner. For those not registered for the seminar but wish to be included in the Friday evening event, there is an additional fee of $50.
Phone registration: please call Center for Oto-Neurology (912) 819-2479
Registration by mail:
*Make checks payable to Center for Oto-Neurology
Clip and return to:
Center for Oto-Neurology
St. Joseph's Hospital
11705 Mercy Boulevard
Savannah, GA 31419
PH: (912) 819-2479


CANCELLATION AND REFUNDS:
Cancellations received by March 28th will be recognized by a full refund. Cancellation notifications postmarked after March 28th are refunded at 50 percent.
HOTEL RESERVATIONS:
A block of rooms has been reserved at Staybridge Suites Historic District. Cutoff date for room availability is March 16, 2020. Ask for St. Joseph's/Candler Oto-Neurology Conference when making your reservation. Please contact Hotel for availability before registering for the Seminar as rooms are limited and may sell out. Staybridge Suites Historic District rate: $199.00 plus tax. PH: 912-721-9000