How Deep Brain Stimulation helps Parkinson's, movement disorder patients
St. Joseph's/Candler is the only medical facility in the region to perform Deep Brain Stimulation (DBS), which has proven to drastically improve the quality of life for those with Parkinson's Disease and other movement disorders.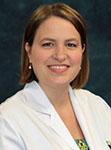 The SJ/C Institute for Neurosciences started a DBS Clinic and team to treat movement disorders. Our neurologists and neurosurgeons use it to treat symptoms of Parkinson's disease, Essential Tremor and Dystonia.
Dr. Jill Trumble, St. Joseph's/Candler board certified neurologist and movement disorders specialist, along with board certified neurosurgeon, Dr. Randolph Bishop, partner in a multidisciplinary approach to provide this specialized service to those in our region.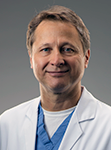 What is Deep Brain Stimulation?
Deep brain stimulation is a surgical option that treats a variety of disabling neurological symptoms, such as tremor, rigidity, stiffness, slowed movement and walking problems, among others. It is widely known for successfully treating Parkinson's disease and Essential Tremor. An electrode, which is implanted in a targeted area of the brain, uses electrical impulses that help regulate abnormal movements. DBS does not damage healthy brain tissue by destroying nerve cells.
Patients should be aware that DBS may not help with balance, speech or cognition. However, with our multidisciplinary approach we lessen any side effects by implanting the right patient and the right location.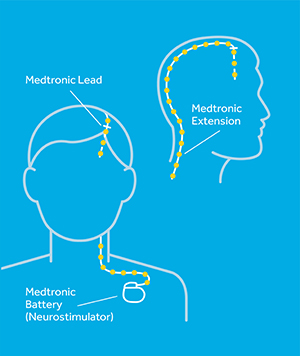 How does the procedure work?
The DBS system consists of three components:
The lead (also called an electrode) – a thin, insulated wire that is inserted through a small opening in the skull and implanted in the brain. The tip of the electrode is positioned within the targeted brain area.
The extension – an insulated wire that is passed under the skin of the head, neck and shoulder and connects the lead to the neurostimulator.
The neurostimulator (the battery pack) – the third component and can be implanted under the skin near the collarbone, lower in the chest or under the skin over the abdomen.
The neurostimulator is a pacemaker-like device and controls the amount of stimulation a patient will receive to help relieve movement disorder symptoms. Patients will work with our entire team to determine the targeted brain area and then implant the components.
The success of DBS surgery is directly related to finding the specific area in the brain for stimulation. As with all procedures, there are risks. However, DBS has proven to be remarkably safe and effective in the majority of patients.
Meet Our Team
Jill Trumble, M.D. – Move Disorders Specialist and Medical Director of the St. Joseph's/Candler Movement Disorders Program. Learn more about Dr. Trumble here.
Randolph Bishop, M.D. – Board Certified Neurosurgeon with the Neurological Institute of Savannah and team member of the St. Joseph's/Candler Movement Disorders Program. Learn more about Dr. Bishop here.
What to expect
Patients will undergo an evaluation with a qualified movement disorders specialist to confirm the patient's condition and if the patient would benefit from surgery. Patients who are referred for a DBS procedure will immediately begin working with our DBS patient navigator. There are three stages to the DBS procedure, and each stage should be scheduled one to two weeks apart.
Stage 1 includes placement of a fiducial marker to produce a 3D image of the head, as well as an MRI and CT scan. This is done during day surgery hours and does not require an overnight stay. You will be asleep during stage 1.
Stage 2 is the lead placement. This is an inpatient surgery and will require one or two nights stay in the hospital. You will be awake during this stage as the team may have you do a series of tasks such as answering questions and writing.
Stage 3 is the battery placement. It's a short procedure and you will be asleep during stage 3. It's also performed during day surgery hours and does not require an overnight stay.
Once all the components are in place, you will then meet with Dr. Trumble and her team – about two to three weeks following the stage three procedure – to do the initial programming. The DBS team will work with you to make sure you are staying healthy and that there are no falls or infections.
DBS Patients should expect the entire process to take six to eight weeks.
The effects of the procedure vary from patient to patient. Some people may be eating the next day while some may experience nausea. Some patients may have bad headaches and some patients may experience no symptoms at all. Be sure to communicate with the DBS team any symptoms you are experiencing.
Contact Us
For more information on the Movement Disorders Program, please contact Outreach Coordinator Kathryn Wiesmann at 819-2224 (office) or 663-6803 (cell) or via email at wiesmank@sjchs.org.