St. Joseph's/Candler Provides Remote Stroke Assistance to Patients
Scene: A home in Jesup. A man having a stroke. Off he goes in an ambulance to the hospital.
The problem: Most rural hospitals don't have a neurologist available 24-hours a day. They are the only ones who can prescribe the high-powered, clot-busting medication needed to relieve the stroke and increase chances of recovery. Time is of utmost importance during a stroke. A stroke kills brain tissue, and once the tissue has been damaged by the stroke, it cannot be recovered. A stroke patient's best chance of recovery is getting the treatment needed within a few hours. Because Savannah is more than two hours away - the key time frame to administer the medicine - treatment in rural areas is generally less than ideal.
The solution: St. Joseph's/Candler's Stroke NET-work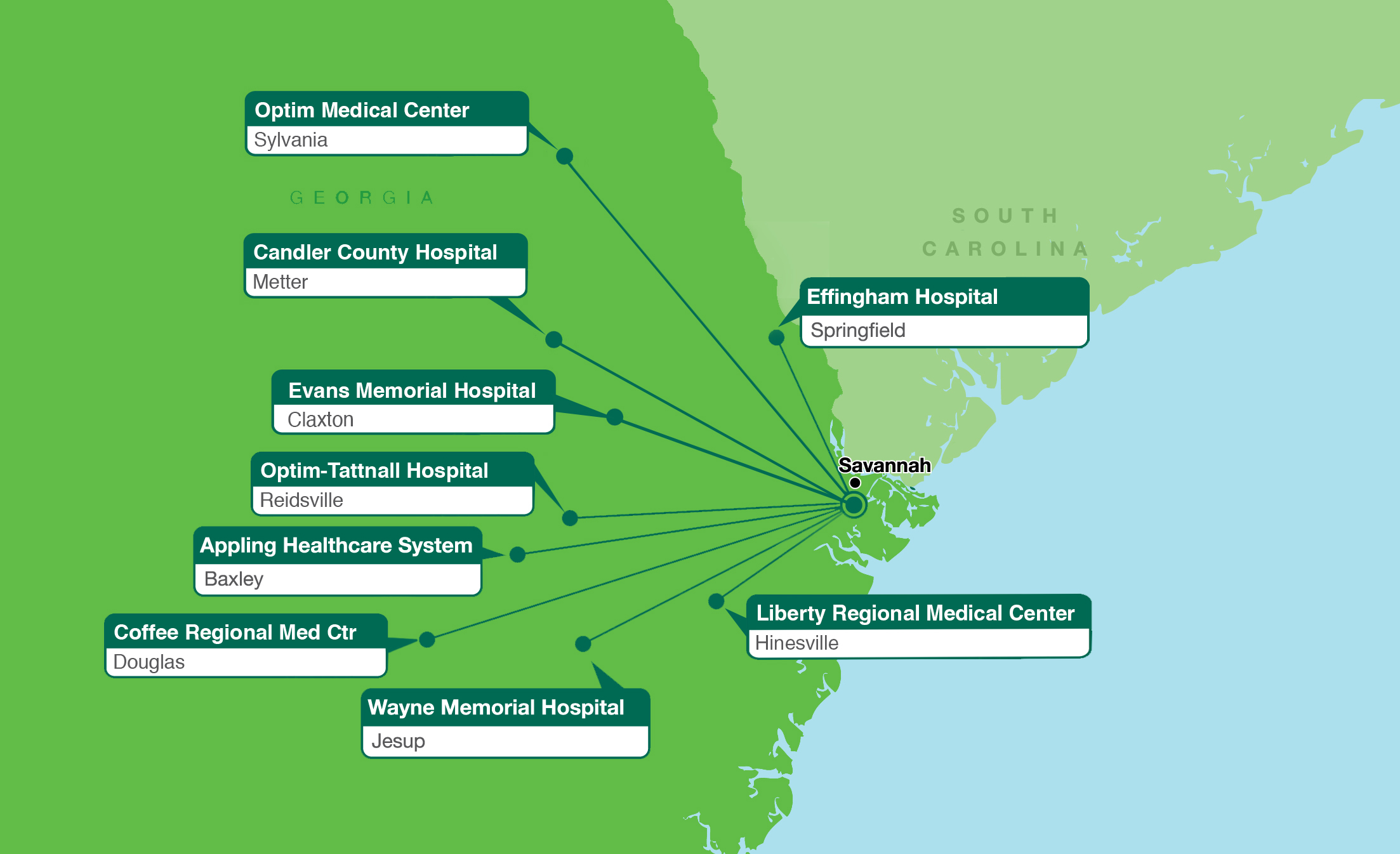 How the Stroke NET-work Saves Lives
St. Joseph's/Candler has invested in new technology called REACH Call that allows board certified neurologists to diagnose and treat stroke patients in rural hospitals, giving all patients access to the treatments they need.
Augusta-based REACH Call, Inc. developed the technology. It was designed by Dr. David C. Hess, Professor and Chairman of Neurology at the Georgia Regents University (GRU), and other GRU neurologists in Augusta, Georgia.
SJ/C has placed REACH Call in:
Effingham Hospital in Springfield
Liberty Regional Medical Center in Hinesville
Wayne Memorial Hospital in Jesup
Evans Memorial Hospital in Claxton
Appling HealthCare System in Baxley
Coffee Regional Medical Center in Douglas
Optim-Tattnall Hospital in Reidsville
Candler County Hospital in Metter
Optim Medical Center - Screven in Sylvania
Do Georgia Residents Have a Higher Risk of Stroke?
The southeast is in the "stroke belt" of America; Georgia is in the buckle of that belt. The southeast has a 40 percent higher stroke death rate than the rest of the country, according to a recent study by the University of Alabama at Birmingham and the University of Vermont. This is because risk factors like high blood pressure, diabetes and high cholesterol have an impact on a larger concentration of the population in Georgia and surrounding states.
Stroke is the fifth leading cause of death in the United States.
It's the third leading cause of death in Georgia.
The stroke death rate in Georgia is 16 percent higher than the national rate
Stroke is the leading cause of disability in the U.S.
Obesity, high blood pressure, lack of physical activity, diabetes and high cholesterol increase the risk of stroke.
Connect with the Stroke NET-work Program
To learn more about the St. Joseph's/Candler Stroke NET-work, please email Cristen Wood or call 912-819-2114.