3D Mammography available at all SJ/C imaging locations
Whether it's time for your annual mammogram or you feel a small change in your breast, you want the clearest possible imaging for a conclusive diagnosis. Digital mammography screening continues to be the gold standard for detecting abnormalities in the breast, but for some women's breasts, doctors need a better look with 3D mammography. St. Joseph's/Candler offers five locations for women to receive this service.

Call now and request a 3D mammogram: 912-819-PINK. View a list of upcoming Mobile Mammography locations.

At our imaging centers, we understand your concerns and offer the most technologically advanced screening available with 3D mammography. It's an important tool in breast cancer diagnosis, finding cancers traditional 2D technology would have missed, especially in women with dense breasts - even before a lump appears. The breast is a three-dimensional object composed of different structures, such as blood vessels, milk ducts, fat, and ligaments. All of these structures, which are located at different heights within the breast, can overlap and cause confusion when viewed as a two-dimensional, flat image. This confusion of overlapping tissue is a leading reason why small breast cancers may be missed and normal tissue may appear abnormal, leading to unnecessary call backs.

Not only has 3D mammography been shown in trials to improve cancer detection by 29 percent and invasive cancer detection by 41 percent, but it can also reduce the number of times you're called back for a follow-up mammogram.

3D mammography screening is available at the Telfair Pavilion (Candler Hospital), St. Joseph's Hospital Imaging Center, the Imaging Center - Pooler, the Imaging Center - Bluffton and Telfair Breast Imaging Center - Eisenhower.


A $45 co-pay is required for 3D mammography at all centers.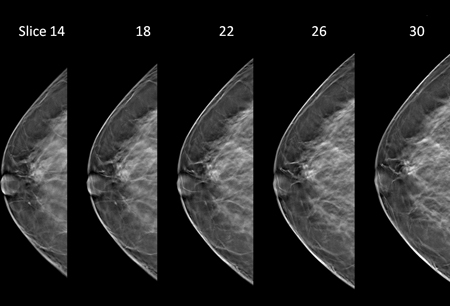 How it works
The breast is compressed in the typical fashion, but unlike a 2D machine, the 3D technology sweeps a 15-degree arc over the breast to get many different images at different angles. The computer then builds it into a 3D image.

3D mammography provides clear, high-resolution images that virtually eliminate tissue overlap, giving doctors the tools to accurately and confidently confirm a cancer or dismiss false positives. The extraordinary sharp image detail of the system helps doctors better visualize masses and asymmetric densities for clearer diagnostic rulings.

Using 3D mammography has proven to reduce call-backs and false positives by 40 percent.

Signs and Symptoms to Look For
As a woman, one essential component to detecting breast cancer early is becoming familiar with both the appearance and feel of your breast to detect any changes and report them promptly to your physician.

Also, talk to your physician if you are experiencing any of these symptoms:
Finding a new, painless lump. If menstruating, a lump may come and go. But if it doesn't and symptoms develop then go to the doctor immediately.
Breast pain or heaviness.
Persistent changes to the breast, such as swelling, thickening, redness of the breast's skin.
Nipple abnormalities such as spontaneous discharge (especially if bloody), erosion, inversion (turned inside) or tenderness.
Breast Cancer Screening
3D mammography is one part of an overall breast screening process. It begins with a self-breast exam, your doctor can perform a clinical breast exam then a mammogram annually for women 40 and older.
Screening Locations
3D mammography is available at all St. Joseph's/Candler imaging facilities.
Advanced Imaging at St. Joseph's/Candler
3D mammography is just one part of our imaging program. We've acquired the latest technology to give you better results in faster fashion. Learn more about our imaging capabilities here.