Mobile Mammography from the experts at St. Joseph's/Candler
SJ/C's Mobile Mammography Unit, the "Screen Machine," provides digital breast cancer screenings, both routine and diagnostic, for women in Savannah and the outlying rural areas. Annual mammograms are the key to lifesaving, early detection of breast cancer.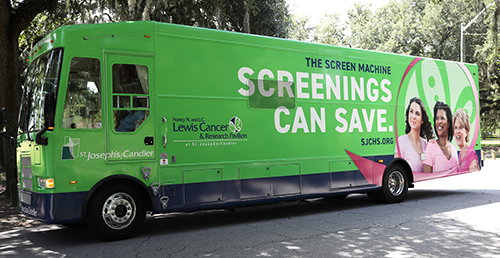 The Screen Machine accepts most insurance plans, including Medicare, Medicaid, Champus/Tricare and Blue Choice HMO. Financial assistance is available for women who are at least 40 years old, uninsured and meet certain financial qualifications.

Having a mammogram on the Screen Machine is safe and confidential and offers the same level of care provided at the Telfair Pavilion's Comprehensive Breast Center. Our films are processed on-board so our patient is assured that her image is technically accurate before she leaves the premises.
View a list of upcoming Mobile Mammography locations. Schedule your appointment by calling: 912-819-6140.
Who should get screened?
Women should begin annual screening at age 40 (women between ages 35-39 are eligible for a baseline mammogram).

Women who are currently undergoing treatment or have a personal history of breast cancer should consult their physician prior to obtaining a screening mammogram.

No pregnant or breastfeeding women should have a screening mammogram.

If you are experiencing current breast problems, you will need to have a diagnostic mammogram order from your physician.

Talk with your physician about a diagnostic mammogram if you have breast implants or if you have any of the following symptoms:
A lump or thickening in the breast or under the arm
Marked asymmetry of your breasts
Changes in the veins of your breasts
Unexplained discoloration of your skin (redness, bruising or a rash)
Skin ulcers
Shiny skin or large pores
Dimpling, puckering or retraction of the skin or areola
Fixed inversion of the nipple which is a change from a previous examination
Scaling, crusting or drainage of the nipple or areola
Localized breast pain
Contact Us
Call the Mammography Fund Hotline at 912-819-7055 for financial assistance inquiries for those who are uninsured or underinsured. Call 912-819-6800 or 800-395-7873 for scheduling.