The Children's Place
A smart choice for your sick or injured child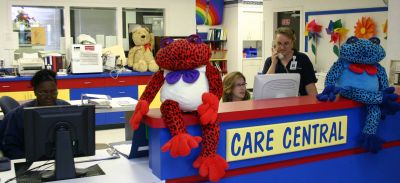 Did your ballerina plie and fall into the fireplace? Has your football player been slowed by illness?

The Children's Place at Candler Hospital offers a unique, in-patient acute care program for the special needs of sick or injured children in a kid-friendly environment.

From life's little mishaps to common childhood and adolescence illnesses, The Children's Place provides an array of in-patient acute care medical services combined with the comfort and compassion necessary to help kids heal quickly and completely.

We've got a slew of kid-friendly features to ease the anxiety of a hospital stay, like computers in each room, a Starlight/Starbright Toys 'R Us playroom, a family DVD library and more.