Ronald McDonald Family Room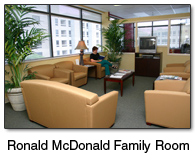 When your child is sick, it effects your entire family and the world seems to stop during that time. To help the families of our youngest patients, St. Joseph's/Candler has teamed up with Ronald McDonald Ronald McDonald Family RoomHouse Charities of the Coastal Empire to create an area within the hospital where parents can take a break, have a light snack and a drink, update other family members on our computer or even wash some laundry. For families with other small children, napping areas and a playroom are available.

Whether your child's hospital stay is long or short, the Ronald McDonald Family Room on the Candler Hospital campus brings comfort and care to the whole family - just when you need it the most.

To access the Ronald McDonald Family Room, please ask your nurse for a pass card. The room is located on the fourth floor of the LifeCare Center. For availability call (912) 819-6454.