Physical therapy can help with pelvic floor muscle function
The Pelvic Floor & Continence Center offers pelvic physical therapy with a specially trained physical therapist in a private one-one-one setting. The physical therapist creates individualized treatment programs to improve pelvic floor muscle function, gain control over symptoms and reduce the need for medication and possibly surgery.

Treatments may include:
Pelvic Floor Exercises. These exercises (also known as kegel exercises) can help both men and women gain more control over their bowel movements and urination. These exercises could help improve the strength of the sphincter and pelvic floor muscles and improve bowel control and bladder control.
Biofeedback. Depending on your symptoms and level of comfort, your physical therapist may gently employ electrodes to measure your pelvic-floor muscle activity. The biofeedback obtained can help make you more aware of the correct way to use your pelvic-floor muscles.
Muscle strengthening exercises. Your physical therapist will teach you specific exercises to stretch and strengthen other important muscles that help support proper bowel and bladder function.
Electrical stimulation. Your physical therapist may apply gentle electrical stimulation to help improve your awareness of your muscle function.
Meet our Physical Therapist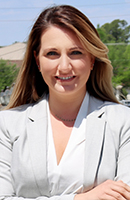 Savannah Brooks graduated from Armstrong State University with a Bachelor of Science in Rehabilitation Sciences in 2012. She then graduated from Armstrong State University in 2016 with her Doctorate of Physical Therapy.

After graduating, Savannah worked as a physical therapist in various settings including inpatient, outpatient and rehabilitation/skilled nursing facilities. Savannah has specialized in Pelvic Floor Physical Therapy by taking additional courses in this area since graduate school. She started working with pelvic floor patients part-time at the St. Joseph's/Candler outpatient center and has now transitioned to working full-time in the Pelvic Floor and Continence Center.

Savannah grew up in Macon, Ga., until she moved to Savannah for college. She fell in love with the city and decided to stay after graduation. In her free time she enjoys spending time with her son and husband, as well as close friends and family. She loves to travel and explore new places, as well as have quiet weekends at home.
Contact Us
There's no need to endure the emotional and physical stress of incontinence or pelvic pain. Talk to your doctor to see if physical therapy is the right option for you.
SJ/C Pelvic Floor & Continence Center
5354 Reynolds Street, Suite 318
Professional Office Building
Savannah, GA 31405
Phone: 912-819-4870
Fax: 912-819-4821