St. Joseph's/Candler Primary Care located in Pembroke welcomes Dr. Harley Hendrix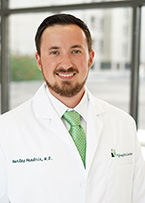 A native of Georgia, Dr. Harley Hendrix sees patients at the St. Joseph's/Candler Primary Care office located in Pembroke. Now more than ever it is important for you and your family to have a medical home with a physician who is intimately acquainted with your medical history. St. Joseph's/Candler has a team of primary care physicians serving the entire region. Find your medical home here.

Make an appointment today: 912-653-2897
About Dr. Hendrix
Dr. Harley Hendrix received his undergraduate degree in chemistry from Georgia Southern University. He received his medical degree from the Medical College of Georgia at Augusta University. He completed his residency in Family Medicine at AnMed Family Medicine in Anderson, S.C. Dr. Hendrix is a member of the American Academy of Family Physicians and is licensed to practice medicine in the state of Georgia.
A native of Claxton, Dr. Hendrix's passion is taking care of small town America and growing with the community he serves.
Contact Us
St. Joseph's/Candler Primary Care in Pembroke
159 West Railroad Street
Pembroke, Georgia 31321
Telephone: 912-653-2897
Fax: 912-653-4299
Hours
Monday through Friday: 8 a.m. - 5 p.m.
Appointments
Please give us 24-hour notice of appointment cancellation. We will see you as promptly as possible, but emergencies may cause delays. Our automated system will provide a reminder call two days before your appointment.
Download new patient forms here.
Physician Extender
Teresa Cayton, NP