St. Joseph's/Candler opens SCAD Center for Health
St. Joseph's/Candler welcomes a new population of patients as it opened St. Joseph's/Candler Primary Care - SCAD Center for Health for SCAD students in the Savannah area.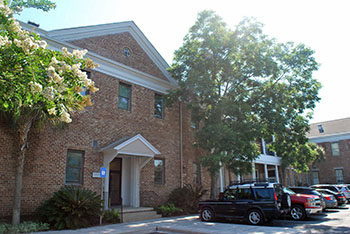 The SCAD Center for Health is staffed by a physician's assistant. Currently enrolled students are treated and tested for a variety of common ailments including:
Colds
Earaches
Asthma
Sinus infections
Minor gynecological complaints
Small abrasions
More severe cases are referred to a physician or an emergency room. The clinic accepts many insurance plans and offers a self-pay option.
The primary care clinic is open 8 a.m. to 5 p.m. Monday through Friday. For faster service, we encourage students to schedule an appointment by calling 912-819-1560. However, limited walk-ins are offered based on schedule availability.
The clinic should not be used for urgent care or emergency situations.
Our Location
The SCAD Center for Health is conveniently located at 1900 Abercorn Street, Savannah, on the Georgia Infirmary campus.

Urgetn Care
St. Joseph's/Candler Urgent Care centers are available in Savannah and the surrounding areas.
Bluffton
3 Progressive Street,
Bluffton, SC 29910
843-815-9119
Pooler
107 Canal Street
Pooler, Ga. 31322
912-450-1945
Statesboro
1096 Bermuda Run Road
Statesboro, Ga. 30458
912-871-5150
Hinesville
780 East Oglethorpe Highway
Hinesville, Ga. 31313
912-385-0801
Rincon
5621 Hwy 21 South
Rincon, Ga. 31326
912-295-5860
Savannah
361 Commercial Drive
Savannah, Ga. 31406
912-355-6221
Emergency Care
In case of an emergency, students should seek help by calling 9-1-1 or visiting a local emergency room.
St. Joseph's Hospital
11705 Mercy Blvd.,
Savannah, Ga.
912-819-4100
Candler Hospital
5353 Reynolds Street,
Savannah, Ga.
912-819-6000
Central Referral Office
Students have access to the Central Referral Office, a telephone health information/community resource referral center provided by St. Joseph's/Candler. It is staffed by specially trained registered nurses who respond to a wide array of health care questions. Central Referral Office makes credible, personalized health care information available to all community residents.
Information provided by the Central Referral Office is available at no cost, Monday through Friday from 8 a.m. to 7 p.m. The service offers health care information, help in finding physicians, community resource information and health care orientation for new residents.
Contact the Central Referral Office at 912-819-3360 or 800-622-6877 (Georgia and South Carolina).
Virtual Health App
Via the St. Joseph's/Candler Smart Care 24/7 app, students can access a live health care provider when and where they need it, day or night. A team of board-certified doctors and nurse practitioners provide consultation, diagnosis and treatment for minor illness through video chat or over the phone, without an appointment, for only $49. St. Joseph's/Candler Smart Care 24/7 can treat a variety of minor illnesses such as:
Cold & Flu
Pink eye
Rash
Stomach flu
Allergies
Urinary tract infection in adult women
Back pain
The Smart Care 24/7 app is available for free through the App Store and Google Play.