Hybrid Operating Room Gives Patients More Options For Cardiovascular Surgery
A new technically advanced operating suite at St. Joseph's Hospital is enhancing the capabilities for physicians and provides more options for patients.

Most of us know what an operating room is, even if we are fortunate enough to have never been in one. We may also be familiar with a catheterization laboratory, or cath lab, if our cardiologist has needed to use imaging technology to obtain information about our heart or blood vessels and their condition. But advances in some surgical procedures have necessitated a new definition of a hospital suite that is neither a cath lab nor an OR, but a hybrid of both.

The hybrid operating room incorporates imaging technology and cath lab capabilities into an OR setting that it didn't have before. This allows surgeons to convert to open surgery if necessary, but it also gives us optimal imaging for minimally invasive procedures such as the transcatheter aortic valve replacement, or TAVR.

Learn more about our valve replacement team in The Valve Clinic.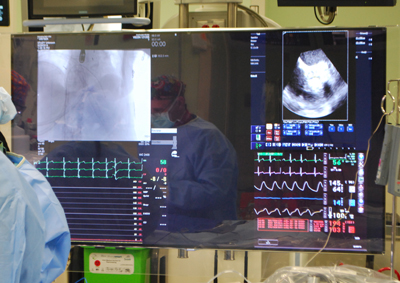 The TAVR procedure treats severe aortic stenosis, a condition found in elderly patients in which the aortic valve opening is too narrow to allow normal blood flow. A valve replacement through open-heart surgery can treat aortic stenosis, but candidacy for this surgery can be affected by factors such as a history of heart disease, age, or other health problems. With TAVR, a team including an interventional cardiologist and cardiotoracic surgeon are able to insert a balloon-expandable heart valve with a catheter through an artery from a small cut in the body, usually the patient's thigh.

What's In the Hybrid Operating Suite
A permanent C-Arm fixture for fluoroscopy (an imaging procedure using X-rays to obtain real-time moving images).
Multiple large monitors and screens so anyone from the surgical team can assess patient data at any time.
An overhead camera.
Images from other diagnostic tests such as echocardiograms and CT scans can be accessed by physicians in the hybrid OR as well.