Expert Gynecologic Oncology Care
Gynecologic oncology is the specialized field of medicine that treats cancers that develop in a woman's reproductive system. The numbers are staggering with almost 50,000 new cases of endometrial cancer each year. The other cancers of the reproductive system are ovarian and cervical cancer. Our surgical specialists at the Nancy N. and J.C. Lewis Cancer & Research Pavilion at St. Joseph's/Candler offer the latest treatment options for gynecologic cancer including the minimally invasive da Vinci robotic surgical system.
Board-certified Expertise at Gynecologic Oncology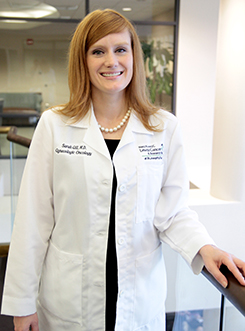 Sarah Gill, MD, specializes in Gynecologic Oncology and also is board-certified in both Obstetrics and Gynecology. She treats pre-cancerous and cancerous conditions of the reproductive tract, as well as chemotherapy and treatment planning. She offers advanced robotic surgery to reduce as much of the cancerous tumor as possible with minimally-invasive techniques. With this improved surgical procedure, patients are then able to move more quickly to the next treatment phase of chemotherapy or radiation therapy, if necessary.
Pre-cancerous and cancerous conditions of the reproductive tract treated by gynecologic oncology at the LCRP include uterine, vaginal and vulvar cancer. Some of these cancers cause symptoms such as bleeding, pain, pressure or bloating that can help physicians discover the problem at an earlier stage.
The exception to early detection is ovarian cancer as this type of cancer is very aggressive and does not show early warning signs. Currently, there are no approved screening tests for ovarian cancer, but the experts at the LCRP monitor all technological advances through our research efforts.
Locations
In Savannah
5353 Reynolds Street, Ste. 200
The front lobby of Candler Hospital
Savannah, GA 31405
912-819-5771
In Bluffton*
100 Buckwalter Place Blvd., Suite 120
Bluffton, SC 29910
* Dr. Gill sees patients in Bluffton on Fridays
For More Information about Comprehensive Cancer Care
For information about comprehensive cancer services and physician specialists at the Nancy N. and J.C. Lewis Cancer & Research Pavilion, please call 912-819-5704. We look forward to helping you.