Buddy Check Educates Savannah on Breast Health
Buddy Check 3 is a partnership formed in July of 2003 with WSAV and the Nancy N. and J.C. Lewis Cancer & Research Pavilion at St. Joseph's/Candler to educate the community on good breast health.
How the Buddy Check Program Works
On the third of each month, a phone bank is provided by WSAV's TV anchor Tina Tyus-Shaw, healthcare professionals and survivors to provide a human interest story and answer questions about good breast health and breast cancer and to provide information on local services to obtain a mammogram.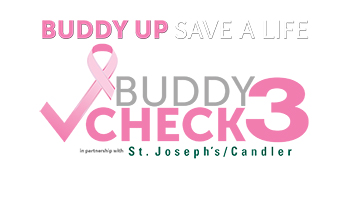 Each caller is sent an information packet that includes:
An introductory letter from Tina Tyus-Shaw
A Buddy Check 3 registration card (sign up your buddy)
American Cancer Society brochures (Cancer Facts for Women, ABC's of Good Breast Health and The Older You Get the More You Need A Mammogram)
A Telfair Pavilion shower card
An LCRP rack card
A brochure with contact information
Monthly calendar reminder stickers.
This program is live on the 6 p.m. news monthly. To date we have registered over 3,500 participants in this outreach program.