Lifelong law enforcement agent becomes first prostate cancer patient to be treated with the CyberKnife
Dan Drake has seen a lot in his 45-year law enforcement career, like when he had a shotgun pushing on the back of his head.
While working at the Smyrna, Ga., police department, he and his partner went to check on a gentleman, whose wife had passed away a few months prior and now no one could reach him.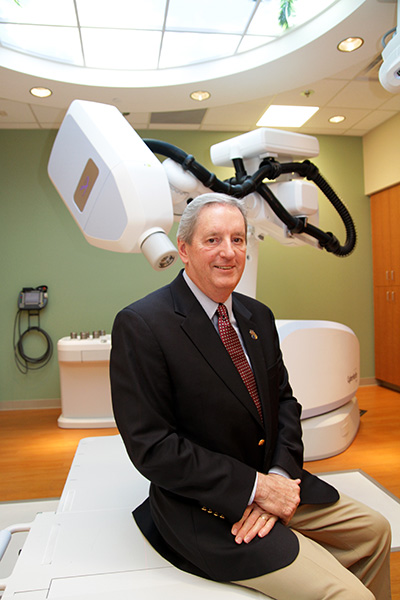 The farm house looked deserted. Grass was growing up and trash was everywhere. Dan entered the house from the front, while his partner went around back. The electricity had been cut off so Dan used a flash light to navigate the old farm house, calling for the gentleman.
While walking down the hallway, Dan felt something on the back of the lower portion of his head. It was a shotgun, and a not a very steady one at that.
The gentleman told Dan he didn't want to be arrested. Dan assured him over and over again that he was just there to check on him. Dan even shared stories of buying produce from the farm years earlier. When Dan told him he was very sorry to hear about his wife, the gentleman finally lowered the shot gun and handed it over.
It was a scary moment in Dan Drake's life; however, not his most traumatic.
That came in the fall of 2013 when Dan was told he had prostate cancer.
"Being told I had cancer beat having a shotgun to the back of the head," the 72-year-old Savannah resident says. "Knowing that any second he could pull that trigger and it would be over with, but being told I had cancer scared me more than that did."
Dan was shocked at the diagnosis and common questions ran through his head, 'What am I going to do? I'm going to die. How much time do I have left?' But then he began to walk through the process with the help of his doctors, Urologist Michael D. Funderburk, M.D., and Radiation Oncologist John A. Pablo, M.D.
At first, Dan wasn't happy with any of the options available to him. His cancer wasn't aggressive, but he also didn't want to sit around and wait to see what happened. That's when he learned about the CyberKnife at the Nancy N. and J.C. Lewis Cancer & Research Pavilion. He saw a commercial on television and talked to some friends up north who had experienced CyberKnife treatment.
The CyberKnife is a robotic system that delivers a unique form of stereotactic body radiation therapy, also known as radiosurgery. The technology allows physicians to provide a pain-free procedure in which high doses of radiation are delivered to small areas with pinpoint accuracy.
In 2013, CyberKnife was used to treat cancer in the brain, liver, lungs and other areas of the body except the prostate. Dr. Pablo told Dan this was a new procedure in that area, but that he'd look into it.
"He also told me he wouldn't use it on me unless he felt comfortable using it on his own family," Dan recalls.
In March of 2014, after he walked in the Savannah St. Patrick's Day Parade, Dan became the first prostate cancer patient to be treated with the CyberKnife at the Lewis Cancer & Research Pavilion. It took just five treatments – compared to as many as 45 treatments of traditional radiation – and virtually no downtime.
"The worst thing about it was when the nurse held that little towel up and said, 'Drop you pants.' After that it was great," Dan says. "You will spend from the time you walk in to the time you walk out maybe an hour and a half. I was able to go to work every day after each procedure. I haven't slowed down since."
Dan says he didn't experience any pain during the treatment. He even describes the procedure as "pleasant."
The procedure is performed in the CyberKnife Suite of the LCRP. During treatment sessions, music is playing, the lights are dim, and you face a skylight of palm trees, blue skies and clouds. Dan says on the first day he peeked to see what the machine was doing, and it was going 360 degrees every which way targeting the cancer. The majority of the time, Dan slept through his treatment, because as he says, it was so comfortable and relaxing.
Dan saw almost immediate results and still receives positive news about his prostate health. His PSA readings continue to fall with each test. PSA, or prostate-specific antigen, is a protein produced by prostate cells and a high count is a sign one may have cancer.
The LCRP continues to perform effective CyberKnife procedures on prostate cancer patients with 93 percent remaining disease free five years later. Dan highly recommends CyberKnife.
"If your doctor tells you your PSA is going up, you need to start looking and don't wait. At least go see if you qualify for CyberKnife," Dan says. "If you do, it's the easiest thing in the world to do.
"The fact that they can cure something without cutting on you, it's amazing. There's no ether, no blood, no sickness, and to get up and walk out after five treatments and you are cured. It's like being part of Star Wars. Plus they do all this right here in Savannah. I didn't have to go to New York or Atlanta or Houston. They did it in Savannah.
"My biggest thing is once you've been diagnosed find out which treatment is the best way for you to go. For me, it was CyberKnife and the Lewis Cancer Center. I can't say enough about that."