Colorectal cancer doesn't hinder retirement plans for former Pooler city manager
Dennis Baxter had a lot of plans after he retired as Pooler city manager: spend more time wood working, dabble in local politics and watch his children raise their children.
Cancer wasn't part of that plan, but when Dennis was diagnosed with Stage IIA Colorectal Cancer in July 2017, he knew his faith would help him face it head on – as well as the latest treatment options at St. Joseph's/Candler.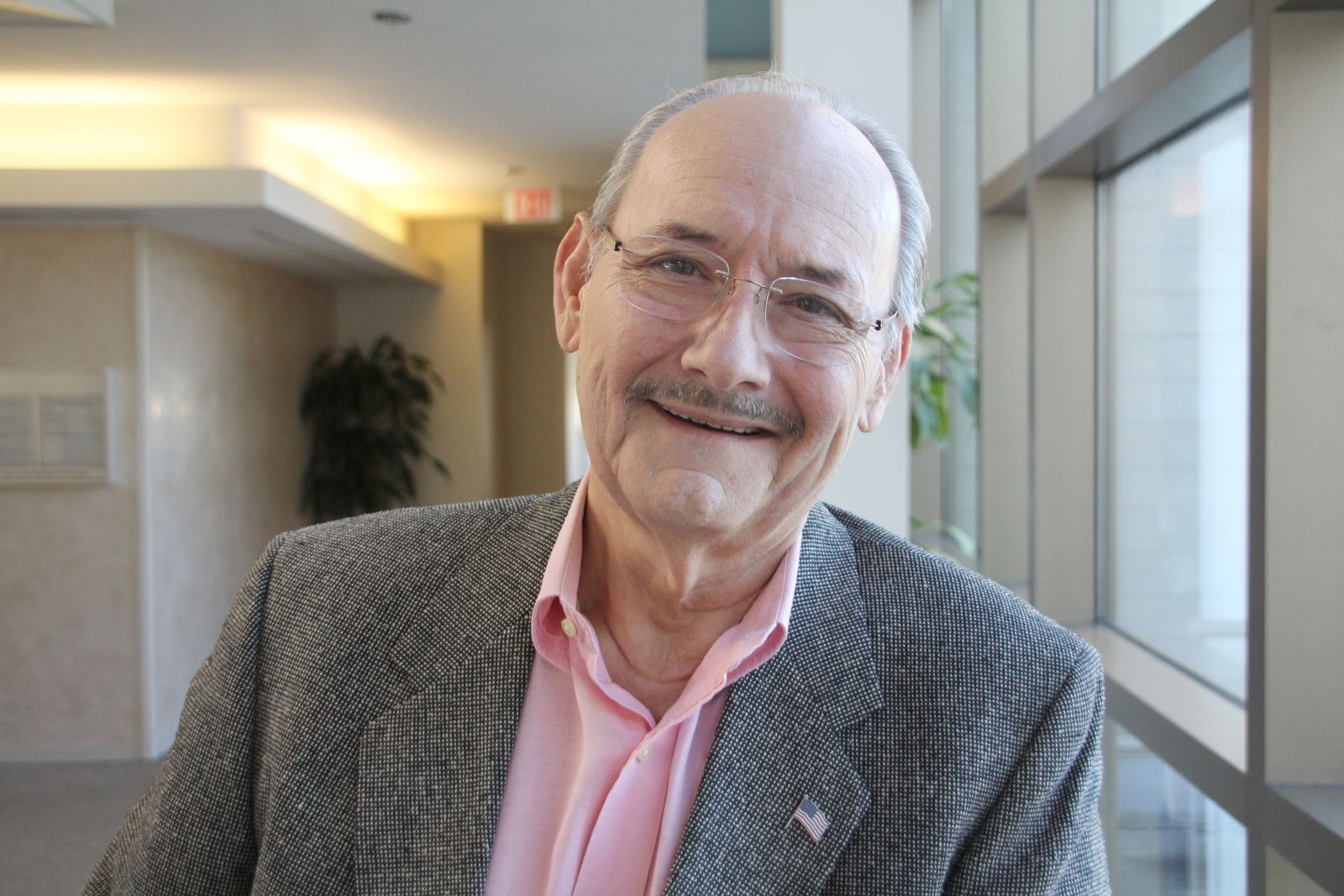 "I try to be a positive person and was hopeful nothing would happen to me," the 70-year-old Bloomingdale resident says. "I leaned on the good Lord, got myself ready and felt I'd be OK."
Dennis's journey
Dennis's cancer journey began in May 2017. He started having trouble going to the bathroom, experiencing long bouts of constipation followed by terrible bowel movements. He knew something was wrong. He also knew he could be at risk for colon cancer because his mother had several polyps removed followed by radiation when she was in her 80s.
However, Dennis's primary care physician thought it was just an irritable bowel problem and prescribed medication and ordered a CAT scan. The scan didn't show cancer. Dennis's doctor felt everything was fine but recommended a colonoscopy since Dennis had never had one. The appointment was set for November.
A nagging feeling lingered with Dennis. 'Should I really wait until November?' he thought. Maybe because of his outgoing, holds-nothing-back personality, Dennis mentioned his situation to friend and fellow guitar maker, Randy Wood. It was Randy who reminded Dennis of a mutual acquaintance, Dr. Steven Carpenter, a gastroenterologist with The Center for Digestive and Liver Health.
Within about a week, Dennis had an appointment with Dr. Carpenter. He also saw nothing on the CAT scan, but because of Dennis's concerns scheduled a colonoscopy for July 22, 2017. Dennis was told that day it was cancer, found in the lower part of his rectum. The cancer had penetrated the third wall of the colon but had not metastasized, or spread outside the colon. Dr. Carpenter decided to fast track Dennis's treatment. It began with neoadjuvant chemotherapy (chemo before surgery) and radiation at the Nancy N. and J.C. Lewis Cancer & Research Pavilion.
Chemotherapy and radiation
Chemotherapy began the third week of August 2017. He received chemo via a pump and port 24/7 for six weeks. The pump was switched out every Wednesday. In conjunction, he received radiation therapy five days a week from Aug. 16, 2017, to Sept. 27, 2017, via the TrueBeam device.
Radiation was a piece of cake, Dennis says. If it wasn't a Wednesday, he'd be in and out in 15 or 20 minutes. Chemotherapy wasn't quite as simple.
"Chemotherapy was a rollercoaster," Dennis says. "Sometimes I'd walk out and think, 'Shucks, there wasn't anything to that,' and sometimes I'd walk out dragging my feet."
A month after he finished chemotherapy and radiation, it was time for surgery.
Surgery, more chemotherapy and another surgery
Dennis's surgeon was Dr. Mark Blankenship with Metro Surgical, PC. He performed the first surgery in November 2017 via the da Vinci Robotic Surgical System at Candler Hospital. Robotic surgery is less invasive and requires a shorter hospital stay. In fact, Dennis had surgery on Monday and was home by Thursday.
"People moan and groan about surgery, but I had major surgery and didn't feel squat when I got home," Dennis says. "I know it was because of the machine he used."
The surgery was successful, but Dennis would still need more chemotherapy and have to use an ileostomy bag because of a stoma that was an expected result of the colorectal surgery.
Dennis began his second round of chemotherapy in late December 2017. This time, it was two chemo drugs. Every other week until May, Dennis would go in on Mondays, receive chemotherapy half a day, and then go home with a pump, which he had to wear until he returned on Wednesdays to have it removed. The rollercoaster ride was no different the second time around.
"My platelets would get low and then build back up. My white cells would get low and then build back up," Dennis recalls. "I'd get home some days and get in the recliner and the only time I'd get up was to empty that cussed bag."
Ah, the ileostomy bag. That was admittedly the worst part of Dennis's entire experience. It started out as a struggle with the pouch not wanting to stay connected to the skin that surrounded the stoma. He and his wife, Linda, whom he affectionately called his at-home ostomy nurse, would get so frustrated they'd call their Lewis Cancer & Research Pavilion nurse navigator, Sheila Lowe, all hours of the day and night.
"Sheila was great," Dennis says.
It was Shelia who first told Dennis and Linda about an ostomy support group hosted at the LCRP once a month. One meeting, in which Linda attended alone because Dennis wasn't feeling well, she got some advice from a former ostomy patient: simply wash the opening of the pouch really well with soap and warm water and stick it back in place. Such simple advice improved the ileostomy working more than 80 percent of the time compared to about 20 percent prior, Dennis says.
With this improvement and chemotherapy finishing up in May, Dennis and Dr. Blankenship began preparing for a second surgery to reverse the ileostomy. This type of surgery is always a challenge, but Dr. Blankenship told Dennis he'd do his best.
He did more than his best; Dennis says a miracle was performed. Dennis had successful reversal surgery in July 2018 again via the da Vinci Robotic Surgical System at Candler. He experienced several weeks of a real sense of urgency to go to the restroom, but those instances have lessened.
"The good Lord performed a miracle through Dr. Blankenship," Dennis says. "We really thought I was going to be on ileostomy the rest of my life, and I'm not and it's working really well."
Dennis's journey continues
Dennis had a follow-up colonoscopy on Oct. 12, 2018. Everything was clear. He will need yearly colonoscopies going forward, but he no longer fears them, which was the reason he never got one until there was a problem. He now encourages anyone that is due for a colonoscopy not to wait.
"I would absolutely encourage people to get colonoscopies because had I caught mine months earlier, it would probably be just go in there and peel it out," Dennis says. "It's not fun, but it's not that bad either."
Throughout his cancer journey, Dennis relied on his faith, family and positive attitude. He's also grateful for the support he received from his entire medical team.
"From opening the door to closing the door, I could not have asked for a better experience at Candler and the Lewis Cancer & Research Pavilion. The nurses couldn't be better; the doctors couldn't be better; the folks that came in and cleaned the room couldn't be better. I wish I could have had the experience without having the experience."
Today, Dennis still has the same retirement plans. He's built a guitar for Dr. Blankenship and doesn't hesitate to talk about his kids and grandkids with anyone he runs into.
"I am about 100 percent sure I am cancer free and that's the way I want to be," Dennis says. "I want to be around to see my grandchildren aggravate my children just like they did me."