Esophageal cancer survivor credits athleticism, medical team at Nancy N. and J.C. Lewis Cancer & Research Pavilion for seamless recovery
It was the unusual fatigue that tipped off Elaine Dembe-Fox.
The then 70-year-old was very active. As a fitness professional, she was teaching 23 yoga and personal training sessions around the county, in addition to her own personal workouts and daily yoga routines.
When she began coming home extremely tired, she told her husband something must be wrong.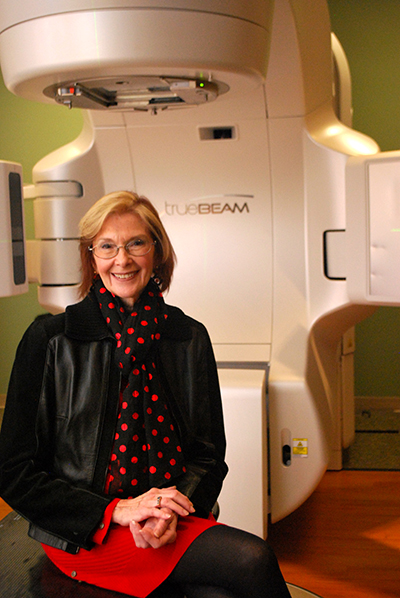 "I am really tapped into my body," the now 72-year-old says. "I spend a lot of time listening to my body so I really suspected something was wrong."
Elaine first went to her ENT physician and then her gastroenterologist. She was "poked, prodded and scanned," and on Dec. 16, 2015, got an early morning phone call. As she suspected, she had cancer. Elaine was diagnosed with adenocarcinoma of the distal esophagus/GE junction, Stage IIB.
"It wasn't a huge surprise, but still, you could have knocked me over with a feather because I never would have expected someone like me who is extremely active and makes all her food from scratch for 45 years would get cancer," Elaine says.
Esophageal cancer is diagnosed in approximately 17,000 people in the United States, according to the American Cancer Society. It makes up about one percent of all cancers diagnosed in the U.S. Men are more likely to get esophageal cancer with a lifetime risk of about 1 in 132. Women have a 1 in 455 chance of being diagnosed.
Esophageal cancer is typically treated with chemotherapy and radiation followed by surgical removal of the affected area of the esophagus. Elaine chose the Nancy N. and J.C. Lewis Cancer & Research Pavilion for her treatment home.
She underwent 10 weeks of chemotherapy under the guidance of Dr. Mark Taylor. She also had 28 treatments of radiation over the course of a month with Dr. Joshua McKenzie. Elaine's radiation was performed using the TrueBeam device.
"I saw Dr. Taylor every week and Dr. McKenzie every day for a month so I got to know them pretty well," Elaine says. "I always felt very comfortable and it was easy to talk to both of them. They were always concerned about me the patient. I had complete trust and faith in both of them. They weren't afraid to give me a hug, either."
Elaine said the treatment didn't totally zap her, but some days she felt more tired than others. She reduced the amount of fitness sessions she was teaching, but didn't totally eliminate all of them, and she still maintained a personal exercise routine.
"I'd go and teach a class and then come over here for my radiation and then I'd go and see another client," Elaine says. "I didn't let the treatment tie me down because I didn't want to start feeling sorry for myself, and I didn't want to feel anxious. I wanted to feel normal."
Elaine completed radiation and chemo in April 2016. Her surgery was on June 29, 2016, at Memorial Sloan Kettering Cancer Center in New York City, which she chose because it was close to family. Following nearly eight hours of surgery and an overnight sleep, Elaine woke up on June 30, 2016, which she now deems her re-birthday.
Today, Elaine is cancer free but she is still on her journey back to health. In May 2017, Elaine found out she had a serious lung infection called mycobacterium avium-intracellulare, or MAI. It's akin to tuberculosis and is being treated with strong, long-term antibiotics.
Despite this other health setback, Elaine says she feels fantastic and maintains a positive attitude. She teaches private yoga sessions and volunteers with an exercise program called LIVESTRONG at the YMCA, a 12-week physical activity program designed to get survivors back on their feet. Elaine is a graduate of the LIVESTRONG program herself, which she says the support of that group helped her regain a great deal of her confidence.
Elaine also found support and actually learned about LIVESTRONG at the YMCA through the Lewis Cancer & Research Pavilion's Cancer Survivorship Program. During the six-week workshop, Elaine was able to exercise, hear from speakers on a variety of topics, such as nutrition, medical care, emotions and survivorship, and meet fellow survivors.
"I feel like one of the luckiest women alive because of my wonderful medical team here in Savannah and New York. Without them, it would have been much more of an ordeal."
Elaine also credits her athleticism for her recovery. While she understands everyone has a different fitness level, she encourages those going through cancer to try to get some sort of exercise.
"I still exercised during chemo, and I found it extremely important," Elaine says. "You do get fatigued during treatment so do listen to your body and do as much as you can every day. Some days will be less and others days you can do more. Don't stop moving because it lifts your spirit."
Elaine also encourages cancer patients to find the joy in life and make time to do something for yourself once a day whether it's reading a book, getting a manicure or playing around with your new wig.
And, if you are looking for a cancer center, Elaine highly recommends the Lewis Cancer & Research Pavilion.
"I got exceptional care at the Lewis Cancer & Research Pavilion from all the doctors, nurses and the rest of the staff," Elaine says. "I would definitely recommend it. When people ask me to recommend a doctor, I always recommend the two I know best (Dr. McKenzie and Dr. Taylor)."