Lung cancer survivor did not delay

At the Lewis Cancer & Research Pavilion, a 71-year-old Jesup resident faced cancer head on with help from the staff and technology like lung cancer screening and the CyberKnife
Lucky. Blessed. Comfortable. It was a breeze.
Not often do you hear words like that to describe having cancer, but when you talk to Gloria Phillips that's just what she'll tell you.
The 71-year-old Jesup resident is a lung cancer survivor. She credits not delaying seeking treatment for her victory over cancer, but just as much, her physicians and the team and technology at the Nancy N. and J.C. Lewis Cancer & Research Pavilion.
"Everyone there is just so wonderful. They really make you feel comfortable," Gloria says. "Dr. (Douglas) Mullins, Dr. (John) Mikell, they are just God sends. They are very thorough, very educated. I could tell they knew exactly what they were talking about. All I had to do was just show up, and they'd do the rest. With them, I had no fears or worries."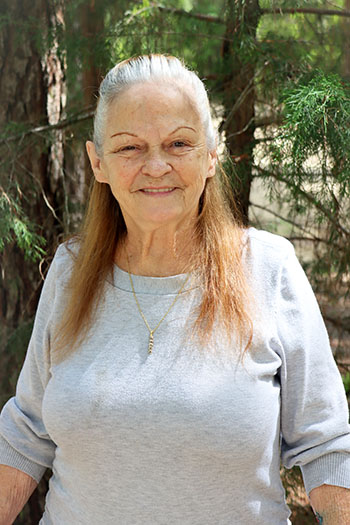 Being diagnosed with lung cancer
Gloria's cancer journey began in 2019. She was having trouble breathing normally so she went to her pulmonologist, Dr. Judith Porter. Dr. Porter sees patients once a week in Jesup, making it much easier for Gloria to have routine check-ups.
After an X-ray, Dr. Porter saw an area she didn't like and referred Gloria to Dr. Mullins in Savannah. In November 2019, Gloria had a lung screening CT scan. It showed a suspicious mass in her right upper lobe. A PET scan and biopsy confirmed that Gloria had non-small cell lung cancer.
At first, Gloria was understandably scared. No one wants to hear the "C-word," she says. She remembers watching her father-in-law pass away from cancer at age 64, and her sister at just 54.
"It's hard to deal with cancer to start with, but when you have good people like those at the Lewis Cancer Pavilion around you, it's a breeze," Gloria says.
So Gloria did what comes natural to her, she quickly looked to the positive side of things. It was stage 1. She knew stage 4 was bad, stage 3 was bad, but she felt confident she could beat stage 1.
"If I had messed around and not gone to see Dr. Porter, or if my doctors hadn't found the cancer, I don't know where I'd be," Gloria says. "A lot of people don't like going to the doctor, and I was one of them, but you can't play around with something like this. Finding it early made a world of difference in my treatment."
About lung cancer screening
Lung cancer kills more people than colon, breast and prostate cancers combined. One reason for such a high number of deaths is because by the time symptoms occur and lung cancer is detected, the disease has often spread outside the lungs.
Currently, three out of four patients diagnosed with lung cancer are diagnosed late, at stages 3 or 4, when it's harder to treat.
In an effort to find lung cancer early, high-risk patients are encouraged to have annual CT scans for lung cancer. St. Joseph's/Candler has a Lung Cancer Screening Program, with a goal to detect lung cancer early, when patients are asymptomatic and the disease is localized, therefore increasing survival.
"Lung cancer screening is an annual, preventative exam," says Benae Thompson, RT(R), Lung Screening Navigator at the Nancy N. and J.C. Lewis Cancer & Research Pavilion. "Just as women have annual mammograms, patients that qualify for lung cancer screening should do so at least once a year."
To qualify for an annual lung CT, patients must be considered high-risk. Though her doctors recommended a lung CT based on a suspicious X-ray finding, Gloria qualified as high-risk because she had smoked for 50 years. The full criteria to be considered high-risk to qualify for annual lung cancer screening is:
You must be between 50 to 80 years old
Showing no signs or symptoms of lung cancer
At least a 20 pack-year smoking history (one pack a day for 20 years or half a pack a day for 40 years, as examples) OR have a significant secondary risk factor, such as exposure to carcinogens like asbestos or arsenic, PLUS a smoking history
Currently a smoker or have quit within the past 15 years.
"We know that screening saves lives," Thompson says. "If we can catch cancer early it's absolutely key in helping to increase survivorship for these patients."
Cancer free
Following her diagnosis, Gloria had surgery to remove the top half of her lung. Unfortunately, the cancer returned – discovered during a follow-up lung CT scan. This time, her physicians recommended treatment on CyberKnife, which is typically recommended for lung cancer patients in low stages or to treat a single site recurrence, as was Gloria's case.
She underwent five fractions on CyberKnife to the right upper lobe in January 2020 and again to the posterior right upper lobe, completed on New Year's Day 2020.
Gloria has since been cancer free.
"Every time I see Dr. Mikell or he calls me and tells me I'm cancer free again or still, it's music to my ears," Gloria says. "I'm really very, very lucky."
Gloria has follow-up lung CT scans every three months. She doesn't mind – it's pain free and gives her an excuse to come to Savannah.
She's also quit smoking. It wasn't easy, especially after 50 years, but she knew what she had to do.
"The doctor told me to put them down or they were going to kill me, so I did," she says. "That is a hard habit to break but when they tell you that you have cancer and you can die from it, you are going to put them down, if you want to live. And, I want to live."
Advice to others
Putting down those cigarettes is only the first piece of advice Gloria wants to share with others. She also encourages people not to be afraid to seek medical attention when they feel like something is wrong.
"Please, if you have any reason to think something is not right, talk to your doctor. There are people and screenings out there that will help you and get you over this," Gloria says. "I think it's key to catch cancer early. Don't think about it for three or four or five years."
"Talk to your doctor if something is wrong. I'm certainly glad I did. I want to be one of those old ladies that is 100 years old telling my story. And if my story can help just one person, that means the world to me."
Where to get screened
If you are at high-risk for lung cancer and meet the screening criteria, talk to your doctor about a referral to our Lung Cancer Screening Program. We have four convenient locations for lung cancer screening:
St. Joseph's Hospital, 11705 Mercy Blvd., Savannah
Candler Hospital, 5353 Reynolds Street, Savannah
SJ/C Imaging Center – Pooler, 101 St. Joseph's/Candler Drive, Pooler
SJ/C Imaging Center – Bluffton, 10A Oak Forest Road, Bluffton, SC
A physician's referral is required every year for lung cancer screening. For more information about lung cancer screening or to get assistance with a referral, call 912-819-7054.