Lung cancer, hair loss doesn't hold 75-year-old back from anything
Every Thursday for more than 30 years, there was one place where you could always find Irene Wood – her hair dresser. It was a weekly routine to have her hair washed and styled professionally.
Very little caused Irene to miss an appointment. Even when her hair began falling out due to chemotherapy and radiation treatment, Irene was always there.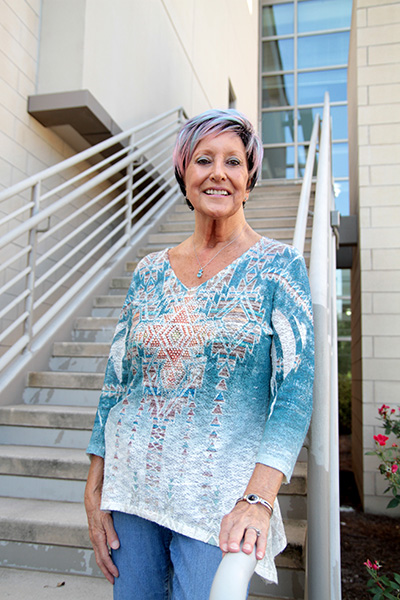 "I've been doing this for umpteen years. I didn't want to lose my appointment time," the 75-year-old Bloomingdale resident says. "Cancer wasn't going to stop me from going. It's not going to stop me from anything."
Irene was diagnosed with stage II lung cancer in March 2017. She wouldn't need surgery, but she did have rounds of radiation and chemotherapy at the Nancy N. and J.C. Lewis Cancer & Research Pavilion. Radiation treatment was five days a week for four weeks. Chemo coincided once a week on Thursdays – after her hair appointment, of course.
Towards the end of her treatment, Irene's hair began falling out by the brush full, she says. Her stylist did her best, but Irene was so unhappy with the condition of her once long, flowing blonde locks that one week she said, "Let's cut it off."
These days Irene proudly sports a wig. She has three with another one on the way. Her favorite is a short black wig with cotton candy pink and blue highlights. She gets compliments constantly, even during this interview.
"I just pick out the cutest ones I can find," Irene says. "People call me the 'Cotton Candy Lady.'"
Losing her hair – not to mention her eyelashes – was difficult, but Irene says the hardest part about going through radiation and chemotherapy was her lack of energy. She felt "zapped" and slept a lot. When she finally was able to get outside and mow her yard, she was ecstatic. She credits the friends she made during her time in treatment at the LCRP.
No one ever felt sorry for themselves, so why should Irene. Daily radiation treatment wasn't a dreary, depressing time. Instead, it was like social hour. They didn't share cancer war stories, but talked like long-lost friends. She remembers in particular one patient who was about 80-years-old and danced at almost every treatment. It was motivation for Irene to keep her spirits up.
In addition, Irene credits her doctors and the LCRP staff for her painless treatment.
When Irene was diagnosed with cancer, her first reaction was to not do anything about it. She was 75 and suffering from pulmonary fibrosis. In fact, the tumor was discovered during a CT Scan to monitor her fibrosis. After talking to her doctors, Pulmonologist Douglas Mullins, M.D., Oncologist Mark Taylor, M.D., and Radiation Oncologist John Mikell, M.D., Irene decided to give treatment a chance. Along the way, she says she met many wonderful people.
"They have wonderful doctors here. Everybody in radiation was wonderful, and chemo was great too. You can't help but love the people here," Irene says. "I consider them my friends. I come by and visit every now and then and bring them some candy. That's how much I think about them even after treatment."
Irene is also grateful for her nurse navigator, Laurie Luteran. Irene was unaware of the nurse navigator service offered at the LCRP. Nurse navigators help guide patients and families through the sometimes confusing and at times scary journey of cancer treatment.
"She was so supportive," Irene says of Laurie. "I didn't know about nurse navigators before I got cancer, but it was personally helpful. I came real close to her. She was always there for me."
Irene's hair is slowly starting to grow back. In the meantime, she enjoys the weekly head massages she now gets during her hair appointments.
"You just have to live day to day and do what you enjoy doing," Irene says. "I'd tell others going through this to live your life to the fullest and come here (to the LCRP). I couldn't have asked for a better staff and experience."