No matter the distance, Portal breast cancer survivor knew the Nancy N. and J.C. Lewis Cancer & Research Pavilion offered her the best treatment
Janice Marie Rowe's compassion towards her Pomeranian may have saved her life.
BamBam has a throat problem and coughs when he walks. So when she and her husband "walk" the dog, they are actually pulling him in a small wagon. However, Janice still puts a leash on him as a precaution.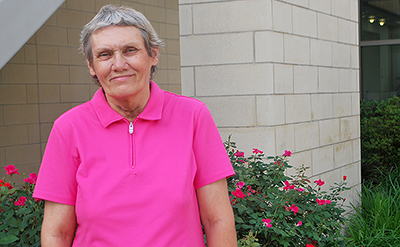 One sunny afternoon, her husband pulled the wagon while Janice held the leash. When they went to turn, Janice's arm brushed her breast. She instantly knew something didn't feel right. What she felt was a lump that turned out to be a tumor in her breast. She was diagnosed with hormone receptor-positive breast cancer in the summer of 2017.
The 55-year-old Portal resident (located about 70 miles northwest of Savannah) was referred to the Nancy N. and J.C. Lewis Cancer & Research Pavilion for treatment. While it was a long drive for her – more than two and a half hours round trip – she knew the LCRP offered the best treatment options for her.
"I was glad I came here even though it was a longer drive. I felt confident coming here," Janice says.
Janice has experienced and will continue to go through the gamut of treatments for her breast cancer. It began with neoadjuvant chemotherapy. Because Janice was both ER-positive (meaning cancer cells grow in response to the hormone estrogen) and PR-positive (meaning cancer cells grow in response to progesterone), she was a candidate for neoadjuvant chemo. Neoadjuvant chemo is chemotherapy before surgery to shrink the tumor. Janice went through six cycles of chemo.
Chemotherapy left her feeling nauseous, and she lost her sense of taste. She also lost her hair. Luckily, a friend in Portal had a wig she cut, styled and gave to Janice. At this time, Janice was still working and appreciated not being bald in front of the customers at Pepperjack's Deli & Grill.
In February 2018, Janice was healthy enough for surgery. The neoadjuvant chemo was successful in that it shrunk the tumor to less than five millimeters in size. This meant Janice was able to have a lumpectomy and wouldn't have to lose her whole breast. That's a goal of the LCRP.
Because of the neoadjuvant chemo, Janice's cancer diagnosis was downgraded to Stage 2B. She still needed radiation therapy to ensure all cancer cells were gone. She had radiation through TrueBeam, which lasted five days a week for five weeks starting in April 2018.
"When I first began radiation, it was scary, but I got used to it," Janice says. "They had music playing, and the radiation techs were so nice and made me feel comfortable."
Janice experienced minor side effects of radiation including fatigue and a sore throat that left her with a raspy voice. These days, she's regaining her strength and her appetite.
Janice is cancer free. She says she'll never forget ringing the bell. The LCRP has a bell right inside the front doors. Ringing it signifies the end of treatment or reaching a milestone, which in Janice's case was completing radiation therapy.
Janice isn't entirely finished with treatment. She is currently taking the chemotherapy drug, Xeloda. She'll take that for six months, and as of September 2018, has one more months to go. Once she's done with that, Janice will be placed on hormone therapy. That'll last for five years and lowers her risk of breast cancer recurrence and cancer in the opposite breast.
Janice takes everything in stride. In fact, she says this journey has made her realize how strong she is.
"I toughed it out," she says. "I just made myself push through it. This has been a life changing experience for me."
Janice advices other women going through breast cancer to surround themselves with a positive support team and never lose faith. She prayed a lot, and even her pastor from Portal would come visit her during treatments at the LCRP. Her husband and in-laws also came to many appointments with her. And by her side through it all were the nurse navigators, especially Beverly Weaver.
"I felt less worried having the nurse navigators with me," Janice says. "They were in my corner. They called me, and I called them. It is good to have help. Everyone here has been so nice."