Multiple battles with cancer don't dampen retired veteran's spirit
Hinesville resident Kevin Crawford, 53, shares his experience going through head and neck cancer treatment and offers some words of encouragement to others
Kevin Crawford thought he was done with cancer.
First, he went through the disease when he was diagnosed with adenoid cystic carcinoma (ACC) in 2010. ACC is a rare form of cancer that develops in the salivary glands and is classified as a head and neck cancer. Kevin had surgery to remove the tumor and repair the incision site.
Cancer returned to the Crawford household nine years later when his wife learned she had breast cancer. It had metastasized to her lungs and eventually her whole body. Unfortunately, because it had spread so far, there wasn't much that could be treated.
Crawford lost his wife of 30 years to the disease.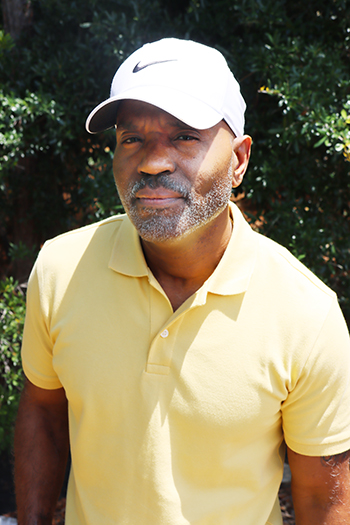 At that point, he thought he was done with cancer. Unfortunately, cancer wasn't done with him. In September 2021, after a CT scan, Kevin's cancer had returned to his cheek. And this time it had spread to his lung. The team at the Nancy N. and J.C. Lewis Cancer & Research Pavilion was ready to help.
"I thought I was pretty much out of the woods, so when I found out it was there again, I wasn't expecting it," says Kevin, 53-years-old. "It was a blow, but then I went into survival mode and did what I had to do."
Two intense surgeries and radiation therapy
Treatment was more intense the second time around. This tumor in his cheek was close to the carotid artery, making surgery extremely risky.
Kevin was referred to the Georgia Cancer Center at Augusta University Health for Flap surgery, a technique where any type of tissue is lifted from a donor site and moved to a recipient site with an intact blood supply. To do this, physicians removed a portion of a vein from Kevin's forearm, as well as skin, and built a "wall" inside his cheek to protect the carotid artery. Then they were able to remove as much of the tumor as possible. To replace the skin that had been removed from the forearm, medical professionals used skin from his leg. Then Kevin had facial reconstruction.
But he wasn't done yet. He also had a tumor inside his lung. This time, he was able to stay a little closer to home thanks thoracic oncology surgeon Dr. Marc Bailey, with St. Joseph's/Candler's Advanced Thoracic Oncology Center at the LCRP.
At least this time there wasn't moving of veins and skin. Dr. Bailey used a minimally-invasive approach to enter Kevin's lung through his rib to remove as much of the tumor as possible. It wasn't completely without pain. Still six months later, his ribs feel a little numb.
Shortly after his two surgeries, Kevin began radiation treatment therapy at the Nancy N. and J.C. Lewis Cancer & Research Pavilion. His radiation oncologist was Dr. Stephen Ramey and his nurse navigator was Theresa Wilkins. He also sees medical oncologist Dr. Ajaz Bulbul in Hinesville for follow-up.
"The people there were very supportive," says Kevin, who lives in Hinesville. "They always made sure I knew the information I needed; what numbers to call. They just made sure I knew all my resources and what to expect."
Kevin didn't need radiation therapy after his first ACC diagnosis, so having some guidance going into treatment was helpful. Kevin had 30 radiation treatment sessions on the TrueBeam machine and experienced the potential side effects he'd been warned about – loss of taste, difficulty swallowing, fatigue, nausea and hair loss, but because his nurse navigator and physician warned him about these side effects, Kevin knew what to expect and went into treatment with a positive attitude.
A positive attitude and hopeful future
"There's no point in sitting down and being mad about what you are going through," Kevin says. "You don't have any choice. You have got to do it."
Kevin is currently in remission and finished with treatment. He still suffers some side effects including difficulty eating and weight loss. Throughout the entire process, Kevin lost 40 pounds. Now he's only down 30 pounds as the weight is slowly coming back.
His taste is also slowly coming back, although he still can't taste some things. It's also still difficult to swallow.
But Kevin – the retired military veteran – keeps the same positive attitude he's carried throughout all his cancer battles.
"I think things will get better based on what has already happened. I went from not tasting food at all to I can taste things on one side of my mouth. It's part of the process."
A process that Kevin fights in memory of late wife, but just as much for himself, his three kids and two grandkids. "They only have one parent, so I want to be around."
Kevin is working on getting his stamina and weight back – as well as being able to grow a full beard. He does what he can to exercise and tries to eat the right foods. He enjoyed lifting weights in the past and hopes to one day get back to that.
"I believe your body reacts to what your mind does, so if you immediately feel like I'm going to survive this and have the will to live, the will to fight, that makes for a better outcome," Kevin says. "You have to think about it in a holistic way."
Encouraging words for others
Kevin hopes sharing his story will be encouraging to others going through cancer treatment or watching a loved one go through treatment. He says to take ownership of your situation and always do what you think is best for you.
He also reminds you that you're not alone, to stay hopeful and pray.
"I think in a lot of cases religion is not a big part of medicine, but I think it's very important because I think the mind leads your body along the way," Kevin says. "If you have some kind of faith system, you should lean on that faith system. It will not only help your body out, but it will help your whole mind out."
Something St. Joseph's/Candler built its mission on: "Rooted in God's love, we treat illness and promote wellness for all people."