Surgical options, staff at LCRP help gynecological cancer patient keep a smile on her face during 'grueling' treatment
The specter of cancer has shadowed Linda Taylor most of her adult life.
She lost her father to cancer after she watched him battle bladder, prostate and neuroendocrine. Her mother is a two-time cancer survivor after going through treatment for colon and breast cancer. She's had close friends who've had cancer.
That specter also was a foreshadow for herself.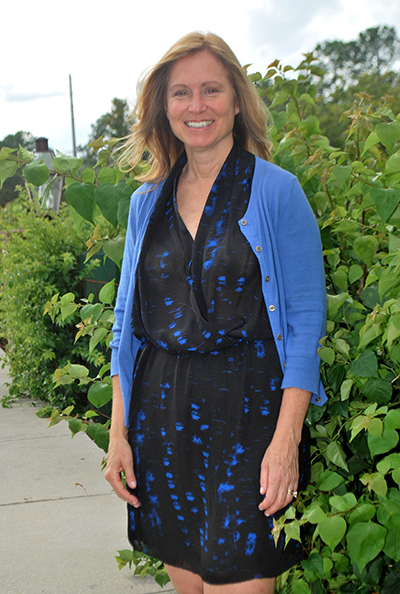 When Linda got the news she had vaginal squamous cell carcinoma, despite her experiences and knowledge, she was still shattered.
"I think the worst part of the diagnosis was the uncertainty," the 56-year-old Savannah resident says.
The silver lining in her diagnosis was the support that surrounded her both at home and the Nancy N. and J.C. Lewis Cancer & Research Pavilion.
"I wouldn't have chosen to get cancer, clearly, but the people I met going through that process really added a lot to my life," Linda says.
Linda was diagnosed in April 2014. One of the reasons she is such an advocate for gynecological cancer awareness is because of how she learned she had cancer. Linda discovered part of the tumor herself and knew something was wrong. She wasn't perimenopausal or experiencing blood clots. Nor did she throw away what she found.
Diagnosis and Surgery
The portion of the tumor was sent off for pathology. It was cancer. Linda's instincts and persistence are a main reason why her course of treatment moved so quickly. That and the care of the late Dr. Wm. Edward Richards and his staff.
Within days, Deena Hyer, then practice administrator, was sitting in Linda's home going over new patient paperwork and answering any questions Linda had. A few days later, she was in Dr. Richards' office and in surgery within a week.
"Deena was so incredible for my first contact. She is amazing," Linda says. "When I first met Dr. Richards, he is kind of a lion. He's very confidence inspiring. I felt good about being in his care."
Linda's tumor could not be removed in surgery, but Dr. Richards wanted to use the da Vinci Robotic Surgical System for exploratory examination. Linda had her ovaries and several lymph nodes removed to determine how far advanced the cancer was.
Linda describes the surgery as "incredible." She had never heard of da Vinci and began watching videos on YouTube of doctors navigating the robotic arms to peel grapes. She left surgery with five tiny scars on her abdomen. She was able to sit, stand and walk – nothing like a C-section she had about 25 years earlier that left her bedridden.
Chemo and radiation
Radiation and chemotherapy treatments that followed surgery weren't quite as pleasant. In fact, Linda describes it as grueling. She had external radiation via TrueBeam every day for six weeks. Chemo treatments were once a week, eight hours a day for eight weeks. She was hoping that would be the end of it, however, Dr. Richards wanted her to go through another round of chemotherapy, this time with a different drug, lasting two more months.
During this time, she also had brachytherapy, also known as internal radiation. Brachytherapy is a type of radiation therapy where a radioactive source is placed close to the tumor and delivers a high dose of radiation while minimizing radiation dose to normal tissues.
Despite the length and side effects of her treatment – fatigue, nausea and losing her hair, to name a few – Linda kept a positive attitude and smile on her face. She credits the people she met at the LCRP, along with her amazing family.
"Everyone at the Lewis Cancer Center was amazing from the techs to Dr. McKenzie and his assistants," Linda says. "Dr. McKenzie was so compassionate and caring. The infusion nurses, again, were just amazing."
Linda had her last chemo treatment in December 2014. Since then, she's had several PET scans and they've been free of cancer.
Keeping the faith
Linda's positive attitude during her cancer treatment was on display in September 2014 at the second annual Teal Tea Party hosted by St. Joseph's/Candler Gynecologic Oncology & Surgical Specialists. The event is held each September for Gynecological Cancer Awareness Month to remember, honor and celebrate women affected by gynecological cancers. The event includes a fashion show where survivors are the models. Despite being in the middle of chemotherapy treatment and not feeling well that day, Linda still modeled.
"It was a lot of fun," she recalls. "It was really cool to see the staff in that environment and other patients to celebrate the camaraderie and friendships and the healing."
Linda believes it's important to raise awareness about gynecological cancers and encourages women to "stay tuned in to the weird things that happen to your body."
"Trust your instincts, know your body and persist in seeking care," Linda adds.
And for those women currently going through any type of cancer treatment, Linda offers two pieces of advice: keep the faith and smile even when you don't feel like it.
"You start out the treatments and you do feel strong and you have confidence in your medical team, but it takes a physical and mental toll," she says. "You have to keep the faith that you are going to get better and smile because it helps. Feelings follow action."