The LCRP opens NCI-MATCH precision medicine cancer trial
We are now seeking patients for the largest, most scientifically rigorous precision medicine trial in cancer to date.
The Nancy N. and J.C. Lewis Cancer & Research Pavilion has joined the The National Cancer Institute-Molecular Analysis for Therapy Choice (NCI-MATCH) phase II precision medicine trial, known to doctors as trial EAY131. It is open through the ECOG-ACRIN Cancer Research Group.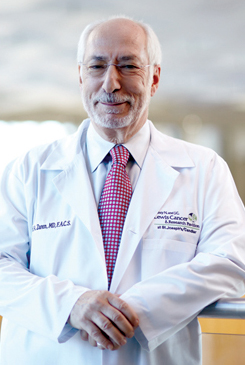 "For the first time, we are taking patients who have failed their first-line therapy and offering the ability to participate in a trial where they can get access to new treatments that in the past they would not be able to get," said Dr. H. A. Zaren, Medical Director of the LCRP. "It is very innovative."

In addition to offering treatments for patients where no other therapy is available, this trial is important because it will help patients with very rare forms of cancer, he said.

"We will tailor their treatment based on the patient's tumor, matching to their gene abnormalities regardless of their cancer type," Zaren said.

To enroll at the LCRP, please call 912-819-5704. Just a note: Because of enormous interest, new enrollment is temporarily paused. We will reopen soon. But please call if you want more information.

Precision medicine refers to the tailoring of treatment based on the characteristics of each individual. As the largest precision medicine trial for cancer to date, NCI-MATCH seeks to determine whether matching certain drugs or drug combinations to people whose tumors have specific gene abnormalities will effectively treat their cancer, regardless of their cancer type. Treatment for this trial focuses on molecular abnormalities of patient tumors instead of the organ sites of the cancer.

NCI-MATCH (EAY131) will match patients with one of 22 treatments to test the use of each specific drug or drug combination targeted to a particular gene abnormality. It is open to medical facilities today with ten treatments, and the additional 12 treatments will be added to the trial within the next several months.

The trial seeks to enroll for genetic testing about 3,000 adults 18 years of age and older with any type of solid tumor or lymphoma (cancer in the cells of the immune system) that has returned or gotten worse after standard systemic therapy (oral or intravenous). Patients may also be eligible for screening if they have a rare type of cancer for which there is no standard treatment. All patients considering the trial will need to have a new biopsy and their tumor cells will need to undergo genetic testing to see whether they contain one of the gene mutations being studied.

Trial researchers expect that about one-third of the patients screened will have one or more molecular abnormalities that match one of the 22 treatments being studied. If so, they will be further evaluated to determine if they are able to be treated as part of the trial.

There will be 35 patients enrolled for each drug/drug combination being studied.

The trial's design calls for at least 25 percent of the 1,000-patient enrollment to be people with rare types of cancer. The inclusion of uncommon types of cancer in NCI-MATCH offers patients an unusual opportunity to have their disease assessed to see if it has the same genetic abnormalities found in more common cancer types. It also offers researchers a unique opportunity to study the effectiveness of new treatments on rare diseases.

As leader of the trial, ECOG-ACRIN is coordinating the genetic testing. It also supports all trial sites with training, laboratory services, trial assignments, biostatistical support, data management, auditing, quality control, and public awareness.

The study was co-developed by the ECOG-ACRIN Cancer Research Group and the National Cancer Institute.

For more information, visit http://ecog-acrin.org/nci-match-eay131.