The Nursing Residency Program at St. Joseph's/Candler
The Nursing Residency Program is a special program designed for newly graduated registered nurses to facilitate the transition of the novice nurse from the classroom to the clinical environment.
For more information please call Amy Beytagh at 912-819-8922 or email beytagha@sjchs.org
The St. Joseph's/Candler RN Residency Program is accredited as a Practice Transition Program by the American Nurses Credentialing Center's Commission on Accreditation in Practice Transition Programs.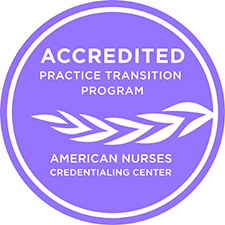 The current sites included in this accreditation designation are: St. Joseph's Hospital and Candler Hospital.
The current workplace settings included in this accreditation designation are: Medical surgical, critical care, acute inpatient rehab units; emergency service departments in both hospitals; surgical services units including pre-screening, OR, Day surgery and PACU in both hospitals; and the Women's and Children's units in Candler Hospital only.
About The Program
The program includes:

general orientation
nursing orientation
computer orientation
clinical preceptorship.
Program Offerings:
Customer service/team building
IV therapy
Mock code review
Pharmacy information
Wound care
Critical thinking training
Mission services
Lectures in care of the:

pulmonary patient
cardiac patient
diabetic patient
surgical patient
oncology patient
neurology patient
orthopedic patient
Program Benefits:
Sign on bonus available
Competitive pay Scale
401(k) (% of matching by St. Joseph's/Candler available)
Preceptorship
Fellowship (focuses on specialty area)
For More Information
If you are interested in participating in the Nursing Residency Program, please call Candler Hospital at 912-819-8922 or St. Joseph's Hospital at 912-819-2528.