PGY1 Clinical Pharmacy Residency
The Candler Hospital PGY1 residency program, hosted by St Joseph's/Candler, is designed to train highly motivated and qualified pharmacists in clinical pharmacy. This residency focuses on development of the knowledge, attitude, and skills needed to provide quality, compassionate and cost-effective pharmaceutical care. Our program is a flexible, broad-based, practice-oriented experience.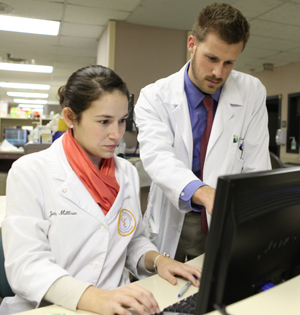 It is expected that the resident will acquire a diversified clinical training experience applicable to the various areas of pharmacy practice based on their goals and engagement with rotations.
Key features of our program include outstanding residency preceptors who are committed to the professional development of the residents and maintain faculty appointments with University of Georgia College of Pharmacy, extensive opportunities to precept and mentor Doctor of Pharmacy students from several schools, and an overall focus on the development of autonomous practitioners equipped to provide evidence-based direct practice care.
Learning Experiences
This 52-week residency is divided into a number of core and elective learning experiences (rotations) that are scheduled to accommodate the resident's specific career goals while assuring that the resident acquires a well-rounded clinical training experience. With the exception of the orientation period, the sequence of the rotations is individualized to direct the development of the based on meeting both resident goals and ASHP standards. Experiential training is paired with mentorship, scheduled developmental assessment, planning and feedback.
Required Core Rotations
Orientation/Training (four weeks)
Internal Medicine (four weeks at each hospital)
Critical Care (four weeks at each hospital)
Infectious Diseases (four weeks)
Emergency Medicine (four weeks)
Cardiology (four weeks)
Ambulatory Care (four weeks)
Hematology/Oncology (four weeks)
Administrative/Management (two weeks)
Research (two weeks)
Precepting (occurs concurrently with another rotation)
Longitudinal Rotations/Requirements
Medication Safety/Performance Improvement
Pharmacy Staffing
Pharmacy Practice Research
Committee Involvement
Teaching in Pharmacy Practice/UGA Graduate Certificate
Transitions of Care
Elective Rotations (not all inclusive)
Neuro Critical Care
Outpatient Oncology
Academia (South University or UGA Savannah Campus)
Neonatology/Special Care Nursery
International Medical Mission
Others as requested/available
Any required rotation may be repeated
Residency Benefits
Residents are paid a competitive stipend for the 52-week residency year. Participation in health, dental and vision insurance benefits is an option available to the resident. Residents must complete physical and health screening examinations prior to starting the residency year. Residents are provided up to a $2,000 travel allowance to cover expenses of attending professional meetings/seminars to include the Southeastern Residency Conference (SERC) and the Spring GSHP statewide meeting. Up to $1,000 of this travel allowance may be used to attend a meeting of the resident's choice, such as the ASHP Midyear Clinical Meeting, that meets their professional needs and is approved by the residency director. Membership in GSHP is paid by the health system; membership in ASHP is maintained by the resident.
Pharmacist Licensure
Unless licensed as a pharmacist in Georgia by July 1st, residents will be required to obtain a State of Georgia Pharmacy Intern License or Temporary License, which must be active with the Board of Pharmacy by July 1st, the first day of the residency. Residents must obtain a Georgia intern license, temporary license or pharmacy license by July 1st regardless of whether they have an active license in another state. The Georgia State Board of Pharmacy requires that any individual performing or conducting duties or functions which require professional judgment with regard to dispensing of drugs, professional consultation or counseling, must possess an active pharmacist, intern or extern license.

The process to become licensed in the state of Georgia begins by requesting the appropriate information from the State Board of Pharmacy. It takes time to receive the information and application. Deadlines vary depending on whether an applicant is obtaining an intern license, reciprocating a pharmacist license or obtaining a new pharmacist license through score transfer of NAPLEX results. Both reciprocating and new pharmacist licensees are required to take the Georgia version of the Multistate Pharmacy Jurisprudence Exam (MPJE). In addition, new licensees and reciprocating licensees are required to take the Georgia Pharmacy Practical Exam. The Practical Exam is traditionally administered in June and August each year.

Our expectation is that a resident will obtain Georgia licensure as a pharmacist no later than September 30th of the residency year. The Georgia State Board of Pharmacy can be contacted by phone at (404) 651-8000 or by visiting their website at http://gbp.georgia.gov/.

We are very excited about our residency program and all that it has to offer. If you require further information or have questions please email at gauld@sjchs.org.