PGY2 Critical Care Pharmacy Residency Program
General Program Information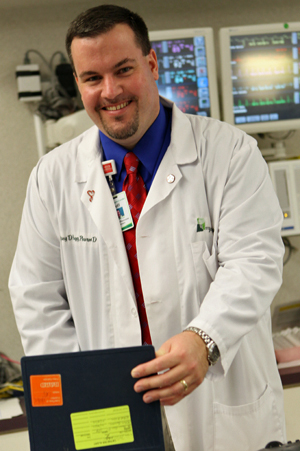 The purpose of this residency in Critical Care Pharmacy will be to develop an advanced practitioner able to succeed in medication management, nutrition support, and the disease state management of patient populations in the adult critical care setting focused primarily in a community based hospital. The residency will also prepare a practitioner, via didactic and experiential teaching, to succeed in mentoring PharmD Students, and Pharmacy Practice Residents.
This specialized residency in Critical Care Pharmacy is a 12 month training program accredited by the American Society of Health System Pharmacists (ASHP). The residency follows the goals and objectives established by ASHP for a PGY2 in Critical Care Pharmacy, as the template for the resident's training. The residency is also affiliated with University of Georgia College of Pharmacy. The resident will enroll in Graduate School at the University of Georgia and receive a Graduate Certificate upon completion of assigned course work. Didactic teaching in the University of Georgia College of Pharmacy will be necessary to receive the Teaching Certificate for the PGY2 year.
Learning Experiences (Rotations)
| | | |
| --- | --- | --- |
| Required Rotations | Site | Length |
| Medical Surgical Intensive Care | Candler | 12 Weeks( Initial Rotation) |
| Medical Surgical Intensive Care | St. Joseph's | 8 Weeks |
| Emergency Medicine | St. Joseph's and Candler | 7-8 Weeks |
| Cardiac Care Unit | St. Joseph's | 4 Weeks |
| | | |
| --- | --- | --- |
| Elective Rotations | Site | Length |
| Medical Surgical Intensive Care | St. Joseph's and/or Candler | 4-6 Weeks |
| Emergency Medicine | St. Joseph's and/or Candler | 4-6 Weeks |
| Cardiac Care Unit | St. Joseph's | 4-6 Weeks |
| Neonatal ICU | Candler campus only | 4-6 Weeks |
| Potential for off site rotations may be possible | | 4-6 Weeks |
Therapeutic Skills that Will be Obtained
Upon completion of this residency program in Critical Care Pharmacy, the resident shall be able to:
(Note: ICU = medical surgical/neurological/cardiac ICU's, ED = Emergency Department)
Understand and discuss how common ICU / ED devices and monitoring parameters are used.
Devise treatment plans for treating ICU patients with parenteral nutrition versus enteral nutrition.
Design nutritional regimens including initiation, daily monitoring, and discontinuation/transition in ICU patients.
Design regimens for initiating, monitoring, and discontinuing: sedation/analgesia and neuromuscular blockade in ICU patients.
Design treatment plans for monitoring ICU / ED patients needing deep venous thrombosis and GI prophylaxis.
Design treatment plans for initiating, monitoring/adjusting, and discontinuing antimicrobial agents in ICU / ED patients.
Understand fluid electrolyte management in ICU/ED patients and recommend appropriate changes in therapy.
Demonstrate an understanding of the concepts of mechanical ventilation and how it affects therapeutic and nutritional management in ICU patients.
Participate in cardiopulmonary arrest situations and assist where necessary.
Prioritize pharmaceutical care to multiple patients with limited time.
Precept and evaluate college of pharmacy students on critical care, emergency medicine, cardiology and infectious disease clerkships.
Precept and mentor PGY1 Pharmacy Practice Residents.
Participate in the management and follow-up of toxicology emergencies, including contact with the Poison Control Center.
Assist with proper medication selection, dosing, and administration during rapid sequence intubation, moderate sedation, and other high risk emergent situations.
Design and implement treatment plans for optimal, safe medication use in the ED (i.e. formulary decisions, ED order sets, automated dispensing cabinet stock).
Educate physicians and other healthcare professionals on current guidelines as they pertain to the care of Critical Care Patients.
Demonstrate knowledge of and apply the pertinent pharmacokinetic parameters of given antimicrobial agent. (i.e. absorption, volume of distribution, route of elimination, clearance, therapeutic and toxic serum levels, and peritoneal/hemodialysis clearance).
Describe the major laboratory diagnostic tools used in the identification of bacteria.
Describe the proper use and limitations of the available vasopressor agents in the ICU/ED setting.
Provide drug information to healthcare professionals in a clear, concise manner.
Lead the review of existing, or the development and implementation of new clinical pathways, protocols, or medication guidelines used in the care of patients with or at risk for cardiovascular disease.
Training Site
The resident training site is St Joseph's Hospital and Candler Hospital, in the Emergency Departments, Neurological, Cardiac, and Medical Surgical ICU's. Elective rotations such as Trauma at Grady Memorial have been available, and others are possibilities that will be discussed with the resident.
Residency Benefits
Residents are paid a competitive stipend for the 52-week residency year. Participation in health, dental and vision insurance benefits is an option available to the resident. Residents must complete physical and health screening examinations and a background check prior to starting the residency. Residents are provided a travel allowance to attend the ASHP Midyear Clinical Meeting, the Southeastern Residency Conference (SERC), and the spring GSHP statewide meeting. Membership in GSHP is paid by the health system; membership in ASHP or other organizations is maintained by the resident.

Responsibilities
The resident will enroll in the Critical Care Pharmacy Graduate Certificate Curriculum at the University of Georgia in order to attain a "Graduate Certificate" upon completion of PGY2 training. This will also entail registering in the graduate education program and completing on-line classes. It will carry a Teacher Assistant (TA) designation. Students may or may not be directly assigned to the resident.

The resident will be expected to participate in the total care of assigned patients. These activities may include: entering orders to facilitate timely medication administration, seeking medications sent/to be sent from pharmacy, assisting nurses in the care of patients, participating in "Code 99" teams, assisting physicians in the care of the patients, etc.

The resident will participate in clinical staffing/on-call for the pharmacy department, focusing on the ICU and Emergency Department, in addition to daily responsibilities.
The resident will participate in the education of students from surrounding colleges of pharmacy acting in the role as primary preceptor. The activities expected with educating students will be: patient discussions, topic discussions, rounding on patients, etc. The PGY2 resident will also be expected to assist in training opportunities for the PGY1 residents and other clinical pharmacists.

The resident will manage all consults, recommendations, and issues that pertain to the assigned patients and document activities in the pharmacy computer record as well as in the medical record as appropriate.

The resident will be expected to complete at least one project, focused in the area of Critical Care, during his/her tenure at St Joseph's/Candler Hospitals. The project will be presented at the Southeastern States Residency Conference in Athens, Georgia, written up in manuscript form, and be suitable for publication.

A complete list of activities will be discussed with the resident. The residency will also be structured with as much flexibility as possible allowing the resident to explore areas of interest while meeting the primary goals and objectives.

Preceptors
The primary preceptor for this program will be Hal E. Richards, PharmD, BCNSP, who is a Clinical Pharmacy Specialist in Critical Care and Nutrition Support, and Assistant Clinical Professor for University of Georgia College of Pharmacy. The other preceptors involved in the training will be Erica Merritt, PharmD, BCPS, Clinical Specialist Emergency Medicine (ED), Sabrina Croft, PharmD, BCPS, Clinical Specialist Clinical Care, Sara Anne Meyer, PharmD, BCPS Clinical Specialist Cardiology, Allison Powell, PharmD, BCPS, Clinical Specialist Emergency Medicine and Julie Boatright, PharmD, BCPS, Pediatrics (Neonatal ICU).

To learn more about our preceptors, go here.

Number of Positions
One

ASHP Resident National Match Program
The St. Joseph's/Candler pharmacy residency programs participate in the ASHP Resident National Match Program. All applicants must be registered for and participate in the Match. The resident candidate should complete the Resident Matching Program "Applicant Agreement". This residency site agrees that no person at this site will solicit, accept or use any ranking-related information from any residency applicant. Further information, rules and regulations, and the Applicant Agreement, can be found on the ASHP website at www.ashp.org.

Applicant Qualifications
The applicant for the residency in Critical Care Medicine should have graduated from an accredited Doctor of Pharmacy program and completed a clinically oriented/accredited PGY1 residency.

Pharmacist Licensure
The process to become licensed in the state of Georgia begins by requesting the appropriate information from the Georgia State Board of Pharmacy. It takes time to receive the information and application. Deadlines vary depending on whether an applicant is reciprocating a current license or obtaining a new license through score transfer of NAPLEX results. Both reciprocating and new licensees are required to take the Georgia version of the Multistate Pharmacy Jurisprudence Exam (MPJE). New licensees also will take the Georgia Pharmacy Practical Exam. Prior to licensure, the resident will need to obtain a Georgia Intern License before day 1 of the residency to comply with Georgia Law. Our expectation is that a resident will obtain Georgia licensure as a pharmacist no later than September 30th of the residency year. The Georgia State Board of Pharmacy can be contacted by phone at (478) 207-2440 or by visiting their website at www.sos.state.ga.us/plb/pharmacy.
Interviews
Interviews are an integral part of our evaluation of potential residents. We expect that serious applicants will want to evaluate us and our clinical site as well. Therefore, an on-site interview in Savannah will be required for candidates selected to move forward in the application process. Deadline for receipt of completed application materials is Jan. 4th. All application materials must be completed and received by the deadline in order to be considered for an interview.
We are very excited about our residency program and all that it offers. If you require further information or have questions please email us at richardsh@sjchs.or for the PGY2 program.
We encourage you to visit the St. Joseph's/Candler website at www.sjchs.org which will provide other interesting and important information about our organization and medical, research and educational programs.
How to apply
Send a letter of intent, curriculum vitae, transcripts, and three letters of recommendation by Jan. 4 (Via PhORCAS) to:
Hal E. Richards, PharmD, BCNSP
Residency Director: Critical Care Medicine
Pharmacy Department
St. Joseph's/Candler Health System
5353 Reynolds Street
Savannah, Ga. 31405