PGY2 Ambulatory Care Pharmacy Residency Program
Purpose
The St. Joseph's/Candler (SJ/C) Ambulatory Care PGY2 Residency Program is designed according to ASHP standards build on Doctor of Pharmacy (Pharm.D.) education and PGY1 pharmacy residency programs to contribute to the development of clinical pharmacists in specialized areas of practice. PGY2 residencies provide residents with opportunities to function independently as practitioners by conceptualizing and integrating accumulated experience and knowledge and incorporating both into the provision of patient care or other advanced practice settings. Residents who successfully complete an accredited PGY2 pharmacy residency are prepared for advanced patient care, academic, or other specialized positions, along with board certification, if available.
Description
The SJ/C PGY2 Ambulatory Care residency program provides a 12-month broad based training experience in ambulatory care pharmacy practice. The residency program will strive to provide an optimal environment for residency learning through continued preceptor development, frequent two-way feedback between the resident and preceptors/administrators, and a commitment to the individual goals and interests of each resident. The residency will be structured with as much flexibility as possible allowing the resident to explore areas of interest while meeting the primary goals and objectives set forth by ASHP. The program is ASHP-accredited.
Training Site
St. Joseph's/Candler is a 714-bed community-based regional referral health system comprised of two hospitals (St. Joseph's Hospital and Candler Hospital) with multiple associated outpatient clinics and primary care offices. Practice sites will be at various locations, including Center for Medication Management (CMM) and Physician's Network – Primary Care (otherwise known as MGM). CMM focuses primarily on anticoagulation management while MGM provides opportunities for disease state management and Medicare Annual Wellness Visits. A variety of elective options are also available.
Learning Experiences/Program Structure
Longitudinal Learning Experiences:


Anticoagulation (CMM Bluffton, CMM Savannah)
Primary Care: Physician Network - Primary Care in Rincon (focusing on annual wellness visits)
Primary Care: Physician Network - Primary Care (Bluffton, Eisenhower, Islands, Pooler; focusing on disease state management)
Administration (CMM Savannah)
Required Core (various lengths):
Hepatitis C (Candler Infusion Center)
Orientation (various locations)
Tobacco Cessation (CMM Savannah)
Academia (South University)
Cardiology (Cardiology Associates)
Inpatient Transitions of Care (Candler Hospital)

Residency Benefits
Residents are paid a competitive stipend by St. Joseph's/Candler for the 52-week residency year. Participation in health, dental, and vision insurance benefits is available to the resident through the health system. Residents must complete physical and health screening examinations and a background check prior to starting the residency. Residents are provided a travel allowance to attend the ASHP Midyear Clinical Meeting, the Southeastern Residency Conference (SERC), and the spring Georgia Society of Health System Pharmacists (GSHP) statewide meeting. Membership in GSHP is paid by the health system. Reimbursement for the Board of Pharmacy Specialties exam upon successful completion or reimbursement for study materials is available. Membership in ASHP or other organizations is maintained by the resident.
Preceptors
The director of the PGY2 Ambulatory Care residency program is Elizabeth (Beth) Clements, PharmD, BCACP, Clinical Pharmacy Specialist in Ambulatory Care. Ambulatory Care pharmacy preceptors include Melissa Johnson, PharmD, Clinical Pharmacy Specialist in Ambulatory Care; Chelsea Keedy, PharmD, Clinical Pharmacy Specialist Ambulatory Care; Allison Presnell, PharmD, BCACP, BC-ADM, Clinical Pharmacy Specialist in Ambulatory Care; Grace Simpson, PharmD, Clinical Pharmacy Specialist in Ambulatory Care/Clinical Assistant Professor at South University; and Ashley Woodhouse, PharmD, BCACP, CACP, Clinical Pharmacy Specialist in Ambulatory Care. Other preceptors involved in the training year may include Carrie Cooper, PharmD, BCPS, Clinical Pharmacy Specialist in Internal Medicine and Bruce Jones, PharmD, BCPS, Clinical Pharmacy Specialist in Infectious Disease.
To learn more about our preceptors, please click here.
St. Joseph's/Candler PGY2 Ambulatory Care Pharmacy Residents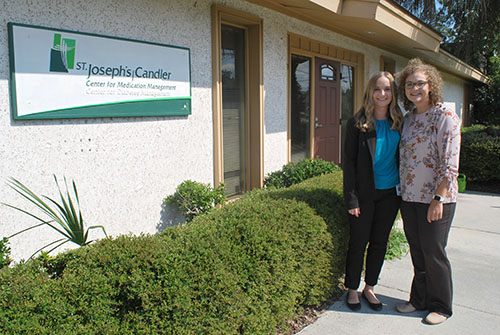 Mackenzi Meier, PharmD
PGY1 Residency: Candler Hospital (part of St. Joseph's/Candler), Savannah, GA
School of Pharmacy: University of Wyoming
Kristen Pierce, PharmD
PGY1 Residency: Carl Vinson Veterans Affairs Medical Center, Dublin, GA
School of Pharmacy: University of Georgia
Number of Positions
Two
ASHP Resident National Match Program
The St. Joseph's/Candler pharmacy residency programs participate in the ASHP Resident National Match Program. All applicants must be registered for and participate in the Match. The resident candidate should complete the Resident Matching Program "Applicant Agreement". This residency site agrees that no person at this site will solicit, accept or use any ranking-related information from any residency applicant. Further information, rules and regulations, and the Applicant Agreement, can be found on the ASHP website at www.ashp.org.
Match Number: 780265.
Applicant Qualifications
Applicants for the PGY2 residency in Ambulatory Care should have graduated from an accredited Doctor of Pharmacy program and completed an ASHP accredited PGY1 residency. Basic Life Support (BLS) certification should be current and maintained throughout the residency year.
Pharmacist Licensure
Due to the provision of ambulatory care pharmacy services provided by St. Joseph's/Candler across state lines, this residency program requires licensure in Georgia and South Carolina. One state's licensing fees may be reimbursable by hospital. It is recommended that resident complete licensure applications through the respective boards of pharmacy within 30-60 days of matching to initiate the process and receive the Multistate Pharmacy Jurisprudence Exam (MPJE) authorization(s) to test. Residents must be licensed no later than September 30th of the residency year.
Georgia licensure is initiated through filing an application with the Georgia Board of Pharmacy. Georgia requires passing the GA MPJE and GA practical exam. If residents will not be licensed in Georgia prior to start of residency, they must obtain a Georgia temporary pharmacist license.
South Carolina licensure is initiated through filing an application with the South Carolina Board of Pharmacy. South Carolina requires passing the SC MPJE and attending a face-to-face meeting with the board (held once monthly) in Columbia, SC. to receive license.
Application Process and Requirements
Application submission is required via PhORCAS by the deadline of January 4th to be considered for an onsite interview. Mailed or emailed applications are not accepted and will not be reviewed for consideration.
Application submission must include:
Three letters of recommendation

One letter of recommendation must be from your PGY1 Residency Program Director or Residency Program Coordinator. The letter must include a statement confirming PGY1 resident is in good standing and whether the resident has ever been on a performance improvement plan, probation, or disciplinary action.

A one page letter of intent discussing why you are interested in our program and in ambulatory care
Answers to the following questions. These answers should ideally be 3-5 sentences each, but must be no more than 500 words total.

Tell us about a time where you made a patient intervention in an ambulatory care setting.
Tell us about a time when you received difficult feedback from a preceptor, physician, or other healthcare provider and how you handled it.
You can invite three guests to dinner, dead or alive. Who would you invite?
Interviews
Interviews are an integral part of the selection process. PPS interviews may be offered at Midyear. An on-site interview will be expected for candidates to move forward in the application process. All application materials must be complete and received by the deadline in order to be considered for an interview. All interviewees will be expected to complete a 15 minute presentation on an ambulatory care topic of his or her choice.

If you require further information or have questions, please email the PGY2 Ambulatory Care Residency Program Director at clementse@sjchs.org.