St. Joseph's/Candler DAISY Award winners
We'd like to congratulate all our DAISY Award winners. The DAISY award recognizes nurses nominated by patients or family members for going above and beyond to provide high-quality care. Winners will receive a certificate, statue (made in Zimbabwe), gift bag and Cinnabon cinnamon rolls for everyone on the floor.
Click here to learn more about The DAISY Award and to nominate a nurse.
Doug Amato
Doug is a nurse on the Coronary Care Unit (CCU) at St. Joseph's Hospital. He was nominated by a former patient. Here's his nomination: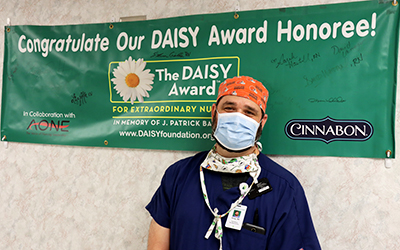 "On December 16, 2020, I suffered a heart attack and was taken by ambulance to St. Joseph's Hospital where I underwent a cardiac cath and received two stents. The nurse who took care of me that night was named Doug. Although the cath procedure relieved the pain, I was pretty miserable. The nausea was terrible. I was cold. I was scared. I was crying. When Doug came into the room and found me in this state, I remember him saying, 'I'm just going to sit here with you for a while,' and he did for most of the night. He gave me medication to relieve the nausea, cleaned me up and dried me off from an unfortunate bed pan incident and provided me with excellent nursing care.
The fact that he heard my anguish and made an effort to address my fears and acted with such compassion during that long night showed that he is truly meant to be a nurse. My husband is a retired nurse. When he was in the room, Doug worked respectfully with him to ease my anxiety and make me comfortable while monitoring my condition. I felt that Doug actually cared about how I was doing and treated me as if I was a member of his family. I would like to see Doug recognized with a DAISY award for his exemplary service and care."
Award well deserved. Congratulations Doug!
---
David Laumeyer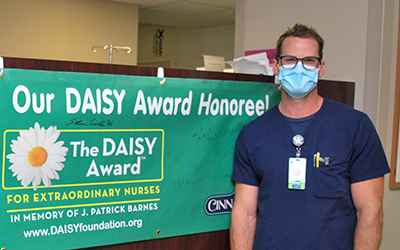 David is a nurse in ICU at Candler Hospital. He was nominated by a child of a previous patient. Here's his nomination:
"After my mother spent five weeks in ICU between two hospitals, we had numerous nurses care for my mother; however, none of them came close to delivering the level of care that David did! He was extremely informative, honest and compassionate every time he cared for her. Not only are his medical skills superb, but his ability to connect with others is remarkable! He always lent a listening ear for us through our darkest days. We will truly be forever grateful for his exemplary service! What an amazing nurse and human being he is!"
Way to go David! If you'd like to learn more about David and why he became a nurse, check out his Spotlight On Our Nurses feature.
---
Judy Mincey
Judy is a nurse on the sixth floor of the north wing at Candler Hospital. She's been a nurse at Candler for 40 years. Here's her nomination: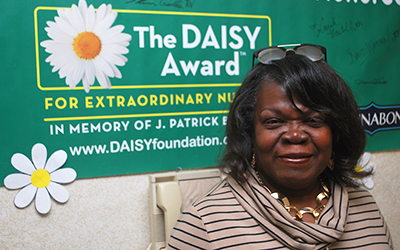 "Judy was very attentive to my dad from the moment she came on duty. She was proactive in helping my dad be comfortable when his chest tube was removed & cheered him on for meeting milestones of activity and eating. She took pride in keeping my dad's room orderly and comfortable.
She checked on him regularly to ensure he wasn't in pain and also meeting his breathing exercise goals. She welcomed me into my father's care and didn't make me feel like I was a bother with questions or concerns. She clearly explained and demonstrated to me how to care for my dad's post-op chest tube wound, giving me confidence to be the caregiver at home.
Judy built bridges and treated us with care of the highest level, while professional and managing a heavy patient load. Her excellence is a model of grace and deep commitment to being an excellent nurse in every way."
---
Becky Welch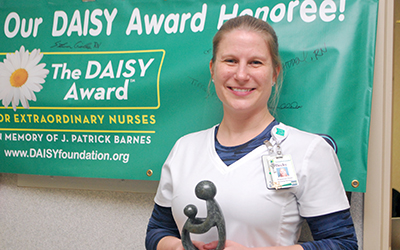 Becky is a nurse in the Intensive Care Unit at St. Joseph's Hospital and was nominated by a family member of a former patient. Here's Becky's nomination:
"Becky was one of the most amazing nurses we have ever had. When Ted came into the ICU we didn't know if he was going to make it. She took such good care of him. When he was able to talk, she stopped everything to listen. She took her time to explain to me what she was doing and why. One time I got really scared and started to cry and she hugged me and told me that together we were going to pull him through.
"When he started feeling better, she would joke with us and make things seem a little brighter. I cried when she told me she was on vacation and we wouldn't see her again. She's an ANGEL!"
---
David Whidden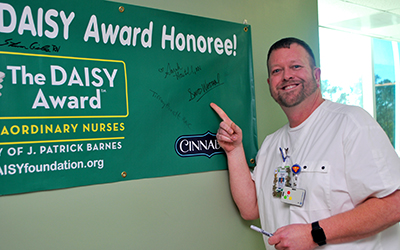 David, a nurse on 5 North at St. Joseph's Hospital, was nominated three times for the DAISY Award. Here's a snippet from each of David's three nominations:
"David is a blessing sent from above. He cared for my Dad like he was his very own. David made my dad comfortable and went way beyond his duties in checking on him no matter what floor he was admitted on. David treats all of his patients like family. My dad would always cheer up immediately when David walked in. David is compassionate about his job as a nurse."
"He's truly amazing! He has the best interest of his patients at heart. He shows a great deal of kindness and never expresses himself as being exhausted on the job. I absolutely LOVE him. Salute David."
"David was very helpful, kind and willing to do extra personal touches to connect me with Pat to figure out a plan for my Dad's care. Very helpful and personable. Thank you David!"
---
Steven Giles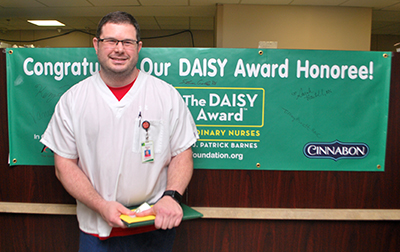 Steven was nominated by a sibling of a patient he served in the Intensive Care Unit where Steven works at Candler Hospital. Steven's patient was intubated for 16 days. On day 13, the patient's siblings arrived from Wisconsin after driving 18 straight hours, not sure if their brother was going to survive.
Steven was the patient's nurse and greeted the siblings in a calm manner and "provided a thorough update on my brother's course in the ICU, answering my questions and concerns."
Steven served as a communication bridge between different doctors. He allowed the siblings to stay with their brother to support him and always explained what he was doing. "This decreased our anxiety," the sibling wrote in the nomination.
"I am a RN and CEO at a Wisconsin Hospital. I know a good nurse when I see them in action. Steven is excellent."
Great job Steven!
---
Leeza Ioffe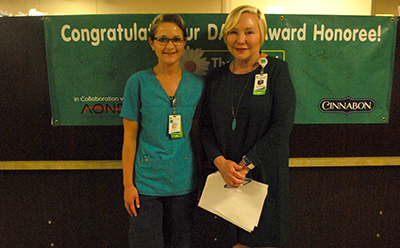 Leeza was nominated by the family of a patient in the Intensive Care Unit where Leeza works at Candler Hospital. Leeza's calm manner during the difficult discussion the family had about end-of-life care really stood out with this family. Leeza was described as a support and answered any questions the family had.
"I honestly don't remember how much time she took sitting in the conference room, answering questions and providing explanations," the nominator wrote.
"Leeza was a comfort to all of us, particularly my husband and his sister. As they tried to decide whether to transition into hospice care or continue therapy, Leeza's calm manner and patience were so helpful to my family, as the difficult decision was made.
"Leeza's presence helped my family tremendously."
Congratulations on the award Leeza and job well done!
---
Tiffany Prevatt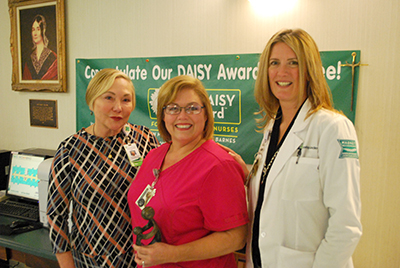 Tiffany was nominated not just by a patient but multiple members of the patient's family. Tiffany is a labor and delivery nurse at The Mary Telfair Women's Hospital at St. Joseph's/Candler. On July 28, 2017, her patient was induced. After spending the day changing positions and watching the baby's heart rate, it was time to start pushing at 7:20 p.m. Tiffany was supposed to get off at 7:30 p.m., but stayed to help deliver the baby.
"She did not have to stay but she did not want to leave me nor did I want her to leave me," the first-time mom wrote in her nomination. "I felt an immediate bond with her just after 30 minutes of being together.
"She captured so many wonderful pictures for us that we could have never gotten if it was not for her. She kept our families updated and made sure I was comfortable and walked me through every step from the start of being induced until delivery and even after."
Tiffany's kindness and dedication were the reasons not only the new mom nominated Tiffany but also the sister-in-law and grandparents:
"Tiffany went above and beyond her job with my brother and sister-in-law (who are first-time parents)! She stayed after her shift to help deliver my little nephew. She was very caring, friendly and assuring. The new parents have already asked her to be there for the delivery of their next child!" wrote the sister-in-law.
"We were all first-time grandparents and great-grandparents, and of course, the first-time parents. She comforted us all. When we were all getting anxious after not hearing anything for a couple of hours, she came out to update us. Tears flowed, hugs were shared and comfort was given. We hope in a couple of years she will be this family's labor & delivery nurse again. She is like part of the family now!" signed the new grandparents.
---
Vanessa Gregory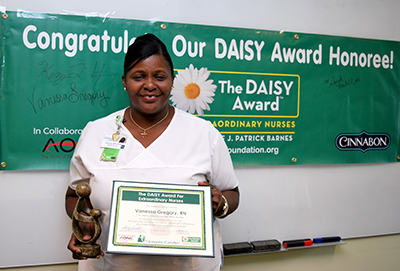 Vanessa was nominated by her patient in the Nancy N. and J.C. Lewis Cancer & Research Pavilion Infusion Center. It was hard for this patient to choose which nurse impressed her the most because all are "gracious and professional," she wrote in her nomination. However, she nominated Vanessa due to Vanessa's true love of her position.
"She can make me forget what I am going through, and I leave there after my treatments feeling loved and happy. I never feel like I am dying. I feel we are in this fight together. Determined to win."
Way to go Vanessa!
---
Sarah Hartsell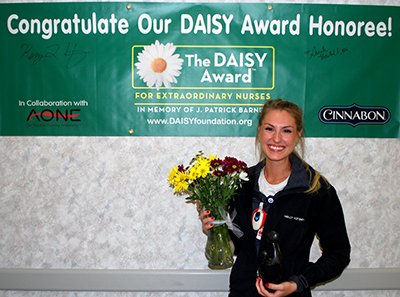 Sarah was nominated by the wife of a patient who was in the St. Joseph's Hospital Coronary Care Unit (CCU) following heart surgery. Sarah was described as "very informative and compassionate." The wife went on to say that Sarah was attentive and confident in her duties.
The patient was a on a ventilator, which was a scary situation for the family. However, Sarah kept assuring everyone that the patient was doing well. The wife felt like her husband was in good hands with Sarah around.
"There are a lot of nurses but some are by license only. Sarah is a nurse from the heart. Thank you Sarah."

---
Kenny Hastings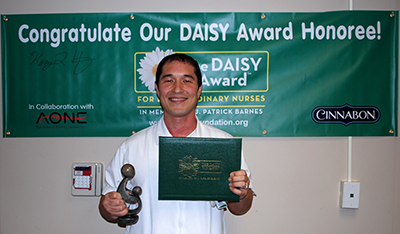 Kenny was nominated by a patient's family that took the time to write a letter expressing their gratitude for Kenny. Kenny, a RN on 5 South at St. Joseph's Hospital, was helping take care of an end-of-life, 98-year-old patient. The patient was a World War II veteran and was suffering from advanced Alzheimer's. Despite flashbacks and bouts of agitation, Kenny always took care of the patient with a friendly and positive attitude, the family wrote.
When it was decided the patient needed hospice care, Kenny made sure the patient was taken care of up to being discharged. After his shift ended, Kenny went home to tuck his two young daughters in bed and then rode his bike (in January) back to St. Joseph's with his grandmother's Bible. He read verses to the patient late into the night to calm the patient and his wife.
This isn't unusual for Kenny, who has a reputation of visiting with patients after his shift ends. He's even been known to bring his flute and play for patients.
Great job Kenny!