Spotlight on St. Joseph's Hospital resource coordinator Chip Lawson
Chip Lawson, RN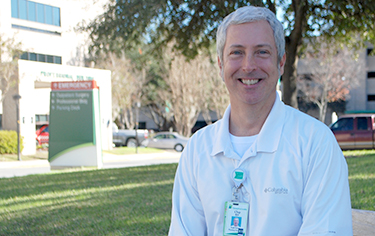 Resource Coordinator, 7North, St. Joseph's Hospital
Education: College of Coastal Georgia, med-surg national certified through ANCC
SJ/C: Why did you become a nurse?
Chip: I've always had a desire to help people and care for them in their time of need, and I think when you pair that with also loving a good challenge, there's really no other career choice that gives you both. Plus, the possibilities are endless.
SJ/C: Why did you choose to practice nursing at St. Joseph's/Candler?
Chip: That's a long story, but in a nutshell, I grew up volunteering in the summer time, and coming to work with my dad, who worked at Candler and retired from there. I've always been around a hospital, and I loved it. When I decided to find a home, it just seemed logical that this is where I would go.
SJ/C: What was it like volunteering at Candler as a youth?
Chip: It was really cool. I got to meet a lot of people. It's interesting because some of them, I am now working with. I've gotten to see how things have changed and stayed the same in some respects.
SJ/C: What do you love about being a nurse at St. Joseph's/Candler?
Chip: I love everything about being a nurse here. I like the fact that it's a faith-based hospital, and it's a Magnet facility also. Those are two great things. I also like that the possibilities are endless. There's really no reason to go somewhere else. There are advancement and educational opportunities. If I decide I want to go to critical care, I have that option here. There's leadership tract and many different avenues you can go. There's no reason really to ever go somewhere else to do a different service line when it's right here at home.
SJ/C: What does it mean to be a Magnet nurse?
Chip: To me, it's an honor to be a Magnet nurse because Magnet is the gold standard for nursing excellence. It means that the hospital has invested in creating a culture where you can grow professionally. As a Magnet facility, collaborative relationships are encouraged and fostered and professional autonomy is a big focus, as well as decision-making at the bedside.
SJ/C: What is special about working on 7North at St. Joseph's Hospital?
Chip: It would have to be the team of nurses I work with. We've built a really great team here. For various reasons, we found ourselves regrouping, so we have a lot of new grads on our floor right now. That's really awesome for me because I get to mentor them, and I get to watch them grow. That's really nice. 7North is a great place to learn, if you are a new grad, because you get to see a lot of different things.
SJ/C: How would you describe your job as Resource Coordinator?
Chip: Basically, I am like the air traffic controller of the unit. I help with throughput, get patients in and discharge them in a timely fashion. I help all the nurses with anything they need to keep the flow going smoothly, whether it's starting IVs or talking to family members, whatever nurses need me to do. I am the bedside nurses' support person.
SJ/C: Do you have a story where you thought, 'This is why I became a nurse?'
Chip: I think we have those kinds of stories every day because as nurses we come into patients' and families' lives for such a short time, but we make such a big impact. In particular, I remember this one elderly lady just recently, she was really fearful about going into surgery. I sat down with her and explained what was going to happen during the procedure, and we talked about her fears. I just sat and listened, and I told her that I would see her when she came back to us after surgery. The very first thing she says to me when she comes back up is, 'I would have never made it through that without you.' It's just one of those moments that I think that just being present for the patient is more important than you'll ever know, and that's kind of awesome. It can be scary for someone coming to the hospital, and I think just having someone that can be there for them means a great deal.
SJ/C: What advice would you offer to new nurses or those considering a career in nursing?
Chip: I would say if you want to become a nurse, there's no better time than now. The possibilities are endless as a nurse. For new nurse graduates, I think the best advice would be to spend a year in med-surg just to get a firm foundation in skills.
Achievements: Co-Chair for 7North Unit Council; secretary for Professional Nursing Council; member of Event Related Nursing Peer Review Council and Nursing Quality Practice Council; honored to participate in the Leadership Academy
Family: Married with two kids
Hobbies/Interest: Running