New to nursing, Drew Eicher already sees the value of working for a Magnet recognized hospital
Drew Eicher, RN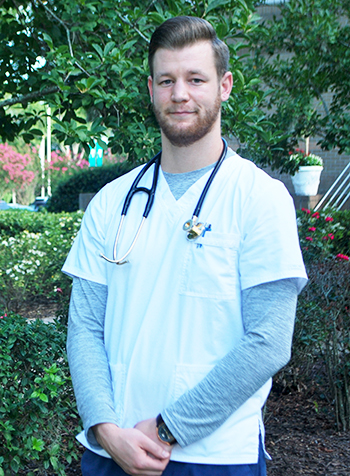 Staff nurse on PCU at St. Joseph's Hospital
How long a nurse: RN since Nov. 28, 2016; LPN for a year prior to that
Why did you decide to become a nurse?
I was a college football player and thought I'd go into exercise science. I had a girlfriend at the time that was in the nursing program. Going through exercise science, I learned it wasn't what I wanted to pursue. Hearing stories from my girlfriend at the time, I became more interested in her schooling than mine. I decided to go for it. I didn't know I wanted to be a nurse until my first clinical when I got the fulfillment I was looking for. The fulfillment of treating my patients and spending time with them is a big thing for me. I always enjoy the 12-hour shifts, especially days in a row. You start to feel like family.
You are relatively new to nursing. What attracted you to start your career at St. Joseph's/Candler, especially coming from Iowa?
Magnet. At my school, they key in on Magnet nursing quite a bit and talk about how great it is to work for Magnet hospitals because of the way they treat their nurses. Once I saw that St. Joseph's/Candler was Magnet recognized, I didn't try for any other hospital. My aunt, who is the only family I have outside of Iowa, used to work here as a radiologist tech, and she also told me how good the nurses were treated. This is the best life decision I've ever made to become a nurse and move, and especially to come to this hospital because it's very accepting. This is a great place to start a nursing career because I'm seeing the Magnet status in action. Everything I learned in school, this hospital is 100 percent a Magnet hospital. This is like textbook Magnet hospital. I don't think I could work this hard in any other job and like it and keep doing it.
Has anything surprised you going from a nursing student to a full-time staff nurse?
Yes, how quickly I gained confidence from my co-workers and the preceptor that I had, and the way St. Joseph's helps a new nurse get into the rhythm. They ease you into it without easing you into it. They make sure you are really confident on your own and know what you are doing before they send you on your own. Even when I am on my own, the charge nurses are really great with helping, and they are always checking on me, even if I am not asking. They are always teaching too. Even the other staff nurses will ask me, 'Drew, have you seen this yet; have you done this yet?' And they will let me do it.
What do you love so far about being a nurse at St. Joseph's/Candler?
The team work and the willingness to help a new person grow. The biggest fear I think for most new nurses that I went to school with is 'nurses eating their young,' and there's none of that here. It was a big thing in nursing school that nurses can be set in their ways and not willing to change and be nasty to newer nurses, but I haven't seen any of that. This is a very accepting environment. Also, the self-scheduling we have here for nurses is awesome. That's one of the perks of a Magnet hospital.
What advice would you offer to new nurses or those considering a career in nursing?
Throw your ego out the door; you can't have an ego in nursing. If you do, you could hurt the patient. Also, don't be afraid to let someone know you don't know something or you could inhibit your learning. I'm always asking. I'm not afraid to say, 'I don't know what this is.' And that's another good thing about this place: the other nurses are so accepting. Don't be afraid that someone is going to judge you based on the questions you ask. I had problems with that. I didn't want others to think I was incompetent or something, but you have to understand you are a new nurse and you should listen to experienced people. Also, there are going to be very bad days, but then you are going to have days that make you cry because it's a happy day or there's a fulfilling moment and that's going to take care of those bad days.