A Flower in Her Hair
By David Whidden, RN
As a nurse, we all have a story. For some of us, it's the vivid telling of a highly stressful clinical situation in the Emergency Department involving multiple injuries, cardiac shocks, mass transfusion protocols, and heroic moments that arise even in organized chaos. For others, it's sharing their stories of the tiring and grueling days that leave you feeling defeated. Somewhere in the middle, I found my story.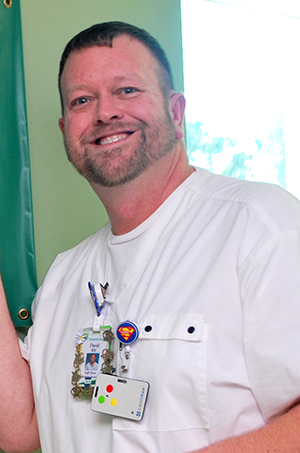 I remember growing up in rural South Georgia. As long ago as I could remember, my family and friends asked me "what do you want to be when you grow up?" I can certainly tell you that never once as a teenager did I ever even think nursing would be the answer I would give. In fact, it wasn't until later in life and many years into my career that I even considered making a life change, going back to college, and becoming a nurse. I was blessed beyond measure to have been at the bedside for the weeks leading up to the death of two of my grandparents. I simply thought I was there to relieve my mother from her tending to their needs as she cared for them during the daytime. I was just the person who stayed awake during the night. Sometimes I might feed them, sometimes I might clean them up, but I always knew that during the middle of many of those long nights, we would talk. Often, they would want to banter about the "good ole days". But there were always those nights when things got very real. The conversations were haunting. We talked about death. We talked about being scared. We knew the time was coming. It's hard to explain but I knew I was in the right place, at the right time, doing the right thing.
In 2012, my step-father, Papa, was diagnosed with pancreatic cancer. Again, I found myself at his bedside helping my mother take care of him at home with the help of Hospice. His diagnosis was severe and his time left on earth was short. Like many people that come from blended homes, I was no different. My stepbrothers and sisters, much like family members involved in our daily nursing care, were making things difficult by focusing on everything except their dying father. Rather than get involved in family drama, I kept my focus on taking care of Papa. I treasured those days when the Hospice nurse would visit because she taught me things. She showed me tricks on how to more easily provide the care he needed. On one of her very last visits, we were bathing and cleaning Papa and she looked up and asked me a question that changed my life. She said "have you ever thought of becoming a nurse?" Within two months, I was enrolled in the nursing program at Armstrong. Before graduation commenced, I was fortunate to have already secured a job at St. Joseph's on the 5th floor. I was learning to take care of the diabetic patient, the vascular patient, the renal patient, and everyone in between. However, the day I walked into room 511, my life changed forever.
I remember the first time I took care of Mr. Bolling. I walked in the room to greet him. He opened his eyes, still partially asleep, and said "what's going on Big Man". From that very moment, we clicked. He told me to call him William. Then he quickly advised me that I could call him by his nickname, Slim. It was evident how he got the name Slim. He was 5'11 and only weighed 150 pounds. We chatted for a few minutes before I started my physical assessment. I will never forget lifting his gown to look at his belly. His abdomen was so distended with ascites that it looked like he had swallowed a basketball. All I knew at this point was that he had cancer. He then began to tell me his story. He had gone to Atlanta to figure out why he had started feeling so bad several months ago. Like many, he felt that going to a larger city with bigger hospitals would be the right choice to cure him. After several trips to Atlanta and multiple hospital admissions, he was sent back home to Savannah with these same questions being unanswered. He ended up at St. Joseph's Hospital with a diagnosis of stage 4 liver cancer. While Slim and I were talking, I noticed a rustling of the blankets in the recliner chair. Slowly awakening, his wife Ava sat up and greeted me with the most beautiful smile. The three of us talked for a few minutes and I went along with my day.
I was just beginning a long stretch of 5 days when I met Slim. With each visit to his room, the three of us became more comfortable with each other. Because of his ascites, he had a scheduled paracentesis the next day. I printed off some information about the procedure and sat down with them at the bedside and explained the mechanics of the procedure. Slim and Ava were like so many of our patients. They were overwhelmed. They were being bombarded with information from doctors, nurse practitioners, nurses, physician assistants, and various other staff. Because we are in the medical field, we often forget that most of our patients are not medically minded. Things that are common sense to us don't make sense to them. After the first day with them, Ava asked me if I could come back and answer some questions for her. I gave her some time to take a shower and when I went back into the room, I noticed she had a blue flower in her hair. Not only did it look beautiful in her hair but I could tell that was a piece of her personality. And more importantly, she said Slim liked it when she wore a flower in her hair. I sat down with both Slim and Ava as they had so many questions about the types of treatment he would be receiving. I remember answering their questions to the best of my ability but I also remember telling them I didn't have every answer they needed. They would need to ask the doctors some of these questions. At that point, Slim looked at me with tears in his eyes and said "Will you help us get through this?" And at that point, I knew what I was there to do.
Slim went for his paracentesis and he returned to the room with a drain in place and two liters removed from his belly. The next few days were full of ups and downs as he went for more tests, more procedures, and got more disheartening news from more doctors. He did his best to keep the faith and Ava remained his rock, each day with a different color flower in her hair. Each day we became closer. We talked about the best recipes for making fried chicken and how we like to season our collards when we cook them. It wasn't that we needed to know that buttermilk creates the best crust on chicken. It was that buttermilk fried chicken took his mind off of the cancer that was taking over his body. After my five days with Slim, I took two days off to rest and recuperate. When I returned back to work, I had Slim as my patient again. It was scary how different he looked in only two days. The drain that had been placed the week before had been leaking. His skin was breaking down from the ascitic fluid that was saturating the dressing on his skin. He was miserable. I called our wound care nurse, Wendy, and told her I needed her help. As always, she came right away. Knowing this wasn't something she had a conventional solution for, she created a device that could drain this fluid into a bag and salvage his skin. Her creation worked beautifully, however, he was putting out massive amounts of drainage all while his belly was getting bigger by the day. He was beginning to die.
At this point, it was time to change the narrative. It was time for Palliative Care to get involved. One of St. Joseph's own Palliative angels, Kathleen, came to visit with Slim and Ava. She spent time with them and explained his poor prognosis in a way they could understand. The decision was made to consult Hospice. Shortly after Kathleen left, Ava called me in the room. With tears running down her face, she asked "what do I do?" We immediately called her sister, Gloria, and asked her to drive down from North Carolina to be there for support. Gloria left shortly after hanging up the phone with Ava and she was in Savannah just a few hours later. In the meantime, changes had been made to Slim's pain medicines. As soon as his medicine allowed him to sleep, I sat down in the lobby with Gloria and Ava. Before we began talking, I noticed the Ava wasn't wearing a flower in her hair. When I asked her where her flower was, she shrugged and said "I don't feel like wearing one". I took her hand, held it tight, looked deep into her eyes and told her that now more than ever, Slim needed to see that flower. She needed to wear it for him. She needed to wear it for herself. Gloria reminded Ava that we were not going to let her go through this alone. Ava returned shortly with a pink flower in her hair and we had the biggest heart to heart as Ava came to terms with the fact that Slim was dying and her time with him was coming to an end. She also knew that Slim's birthday was two days away. Rather than grieving the loss that was imminent, we decided to throw Slim a birthday party at the hospital. All of his family was in Atlanta and North Carolina so we weren't certain how many people would be able to make the trip on such short notice. Imagine his excitement when 18 people, including a granddaughter he had not yet met, showed up to room 511. It was a beautiful thing. We called his pastor and he came to pray with the family. We even brought in buckets of fried chicken. I enjoyed the meal with them but I enjoyed the fellowship more. Watching Slim, surrounded by love, filled my heart. His weakness showed as he could barely walk prior to their visit. But on his birthday, he found the strength to walk down to the sitting area and be with his family. That would be the last time he walked.
Slim was scheduled to go home with Hospice the next Monday. Fearful he wouldn't survive through the weekend, we were able to get him home on that Friday. His requests were simple. He wanted to be home when he died. He wanted Ava by his side. He wanted a flower in her hair. Slim was home for only five days and he died with his wife at his bedside. She had a yellow flower in her hair. There was peace beyond words. Early that morning, my cell phone rang. Ava's number was displayed on the caller id. I picked up the phone and didn't say a word. Neither did Ava. We just sat there in silence for a moment. I simply said "did you have a flower in your hair" to which she responded "You know I did". I told her I loved her and thanked her for letting me a part of his story. Through her tears, I heard her say "I will see you soon Big Man. I love you".
This was my story. I'm happy to say this is one of many of my stories. As nurses, we sometimes get bogged down in the clinical practice of administering medications and checking vital signs that we forget to go back to the basics of why we became nurses. We forget to talk to our patients instead of talk about our patients. We forget that fried chicken can be the best cure for an ailment. We forget that we are their biggest champion and their brightest advocate. We are the bridge that joins medical jargon with realistic expectations. We forget that nursing embodies birthday parties and gospel sing-alongs with families and not just consent forms and diagnostics. We forget to let our guard down and show our personality. We forget to wear a flower in our hair.
Several months later, Ava and Gloria came to visit me on the floor. Ava looked amazing. She hugged me tightly and didn't let go. She kept thanking me for what I did, not only for Slim, but also for her. I didn't say anything to her at that time, but I didn't see a flower in her hair. Perhaps she didn't need to wear them anymore? But as she and Gloria turned away to walk to the elevator, what did I notice in the back of her hair but a beautiful yellow flower. She turned back to look at me to see if I noticed. I just smiled. And I knew that Slim was smiling too.