Meet our co-workers
Once a week, we like to highlight one of our many wonderful co-workers. Find out more about their role in the health system and what they love about working for St. Joseph's/Candler.
Meet Andy Williams, manager of respiratory therapy and pulmonary diagnostics at St. Joseph's Hospital. The Savannah native has worked for St. Joseph's/Candler for 40 years (starting at St. Joseph's Hospital before the merger). He is responsible for the daily operations of the respiratory and pulmonary diagnostic departments, making sure both the staff and patients are happy. He will also pitch in and help care for patients, especially on nights if staffing is low.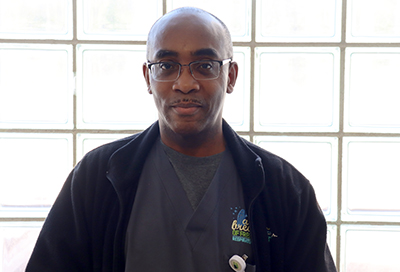 "I love the family environment that I work in. I'm comfortable taking care of people here. As Dorothy says in the Wizard of Oz, 'There's no place like home.' I like being able to take care of patients in the way that I'm allowed to take care of them here. There's autonomy and trust here that we are allowed to do the job we are trained to do."
"I'm also a pastor. One of my callings is dealing with people and helping people. I like being able to take care of people. The values of the health system are the values in my life, in addition to some other values. I run into a lot of people that know I'm a pastor. I've had patients that have asked me to pray for them, pray with them. If I worked at other places, I wouldn't be able to do that. Because I work in a faith-based organization, I'm able to minister to folks in this capacity also."
---
Meet Sr. Donna Coward, RSM, spirituality coordinator for the health system under our Mission Services department. She has served in this role for more than two years, but she's been with the health system for 23 years. Sr. Donna helped start St. Mary's Community Center with fellow Sister of Mercy, Sr. Pat Baber. She spent the majority of her time here as a chaplain in pastoral care before being called to her current position. She visits coworkers at both hospitals, as well as our off-site facilities. She is here for you when you need to pray or just someone to talk to. She emails us regular prayers and monthly letters and always has a smile on her face.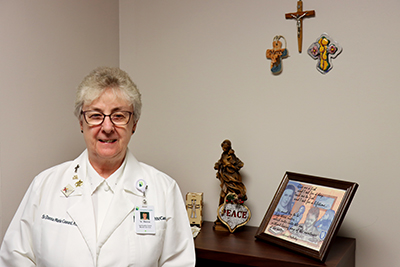 "We have wonderful, wonderful coworkers. When I get to work, I'm energized by the people I am around. I love our coworkers. I do see this as a service. Honestly, I feel like any of the positions in the healthcare system are a service, are a ministry. I feel that way about education too. It's in a different way than say you are a carpenter or farmer, because what you are called to is not just the skills you have, it's the teamwork part of it, it's the compassion part of it. You have to feel this is a calling; that this is what God is asking you to do."
"The blessing that I have is that I'm from a family of very mixed religions. We always had respect for each other's faith tradition. When you are trained in pastoral care, it's about you as a patient and your family. It's not about me. It is a service. You're not in it to see how many awards you can win. You're in it because it's a calling and you really do care – and that applies to every one of our coworkers."
---
Meet Benae Thompson, radiologic technologist II in the main radiology department at Candler Hospital. Benae has worked for the health system for six years and is currently working weekends, performing X-ray exams for inpatients and emergency room patients. You may recognize her for the years she spent at the LCRP as the lung screening navigator. Benae is going back to school to become a nurse but wanted to stay on board at St. Joseph's/Candler even as she goes to school.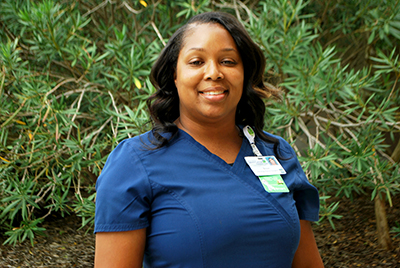 "I just love people. I love to do my part in making sure they are OK, especially helping people who aren't sure what's going on or haven't had an X-ray before or have misconceptions about X-rays. I love being able to help them and educate them that this shouldn't hurt, and we follow all standard precautions and proper positioning techniques."
"I also like how St. Joseph's/Candler takes care of their employees and the community. They do a lot of things in the community to promote healthcare and wellness. I just like the way I'm treated here. Mossrale is a big thing for me; ethics are a big thing for me. You could work other places and feel a totally different vibe, like just the next person up or just another number. Here, as an employee and as a patient, because I've been a patient here before, I just like the way I'm treated."
---
Meet Lois Washington, an environmental technician at St. Joseph's Hospital. She mostly works on the fourth floor but is willing to help out wherever she is needed. Lois has worked here for three and a half years and makes sure patient rooms and areas are clean and as germ free as possible. Lois is a vital part of the healing process and our St. Joseph's/Candler family.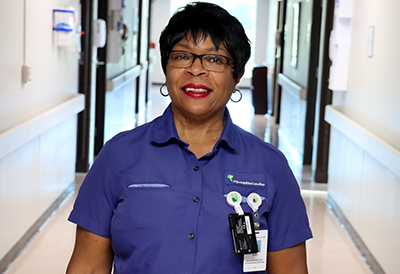 "The thing I enjoy the most is meeting the different patients and being able to talk to them and hopefully bring peace and hope to them because being in a hospital is not always the most pleasant thing. One of the things they tell us in our daily huddles is to smile and show happiness to the patients. Sometimes they don't know what's going to happen or what's going to transpire while they are here, so just being someone that comes into their room with a friendly smile helps a whole lot."
"I also like working for a faith-based institute. I am a Christian. The greatest hope that we can have is that we can go to God and pray to him. Working here, I can share that with patients if they wish. It brings me peace because the time we are living in, a lot of people don't want to discuss religion or faith, so it's wonderful to work in an environment where you are free to share your faith while you are working."
---
Meet Lisa Miller, a nurse practitioner at St. Mary's Health Center, one of two free clinics St. Joseph's/Candler provides for those in need of healthcare. Lisa has worked there for a year. She provides primary care treatment, such as annual exams and chronic disease management, to patients. She'll also refer them to specialists when needed and follow up on their care to make sure next steps are taken.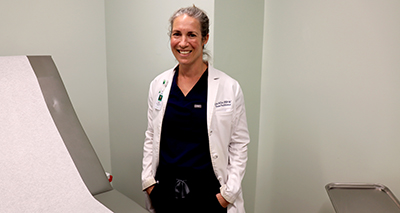 "I personally am in health care because I believe that healthcare is a right and not a privilege. Anything I can do with my degree to help make it more equable here in Savannah so that people that don't have access to insurance can still get high quality health care. Specifically, at St. Mary's Health Center, the people are amazing. My coworkers are amazing. The people that have been working here for a long time – they know everything about the system and how it works. They were super, super welcoming, and we all work well as a team. I also really love the patients. The patients are great. I've met really great people through here. The community is awesome."
---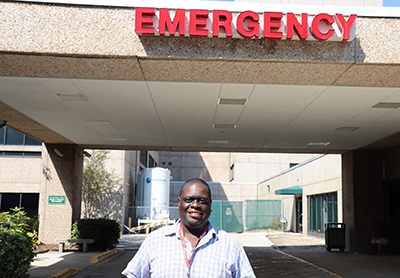 Meet Lennard Young, who is a CNA and PCT on the night shift in the Candler Hospital Emergency Department. Lennard has worked here for 16 years – all in the ED and on night shift. He helps with patient care as far as taking vital signs and helping make sure they get meals. He'll also assist with transport when a patient is moved to a room. Lennard helps keep the rooms clean when a patient leaves, and helps with ED staff with any other needs they may have.
"My motto is to treat people how you want to be treated, and it will go a long way. That's why I put my patients first. We all do. We are all here to help patients get better. I love my job. I love my work, and I love the people. I feel my coworkers know they can depend on me. I know I'm on the quiet side, but I come to work and do my job. I also love working nights. I would never go back to days."
---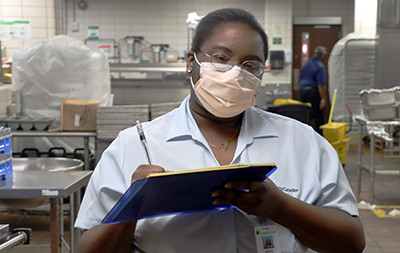 Meet Ashley Smith, a catering associate at St. Joseph's Hospital. Ashley has worked for the health system for seven years. She helps make sure patients get all their appropriate meals and supplements. She'll work with dietitians to make sure each patients' nutritional needs are met, and she goes above and beyond to help alleviate the healing process so our patients can get home to their loved ones.
"What I love the most about working here is meeting and speaking to the patients. I get to meet people from different cultures, people from different walks of life. Diversity is a big thing for me. I've always liked working in a diverse environment, and working in a hospital brings that out. I love people, and that's mainly the reason I like working here. And I have a thing for working in hospitality, and I get to do both."
---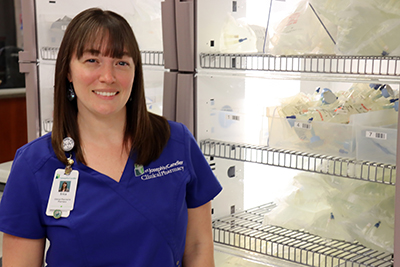 Meet Erica Merritt, a clinical pharmacy specialist in the Candler Hospital emergency department. She's worked for the health system for 15 years. As a pharmacist in the ED, Erica helps recommend doses for critical care patients and helps draw up medications. She advises nurses and doctors on any medication questions they may have, as well as offers consults to patients who have questions about their home medications or prescriptions.
"I love that no day is the same. I love being a part of the team in the emergency department. I really enjoy working with physicians, nurses, radiology, respiratory – everybody that is a part of this team. I love the hands-on aspect of my job; the direct patient care that goes into my job. I find that very rewarding and challenging. I appreciate the opportunity that was given to me to start the ER pharmacist position because we were early in the game as far as having pharmacists in the ED as part of a community health system, so I appreciate the forward-thinking nature of our health system. It's really been the people that keep me here. I do love the team aspect. I feel we are like family. I can go anywhere in the hospital and run into somebody that I've known for years. It's not too small but it's not too big that I don't know the people I work with regardless of the department they work in."
---
Meet Vallenicia Spruell, a certified nurse aide on the sub-acute and rehab units at both St. Joseph's Hospital and Candler Hospital. Vallenicia is a new face to the Health System, working here now for four months. She is responsible for checking vital signs and blood sugar levels and meeting other patient care needs whether it's assistance to the bathroom or just a listening ear.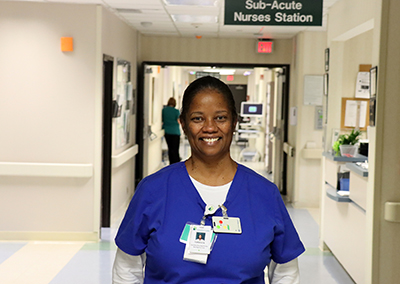 "I was in the corporate world for many years but then I had to take care of mom and dad and that inspired me to get my CNA license and pursue this career. I love the fact that I get to work with patients to make them feel better and give them inspiration when I walk into the room with a smile on my face. I greet them and meet their needs to help them feel better. It's the idea of seeing them one way and then coming out to be better. They are sick and feeling down when you first see them, but then you see them transform into a whole different person when they are better."
"I'm a spiritual person and am involved in the church all the time. Now, I'm working at a place where I can share my spirituality with others. It's great. You don't get that experience at other places. That really lured me to work here. I can give a person love, let them know God loves them. Hearing the daily prayer over the overhead speaker every morning really inspires me when I come to work. It's like I'm home."
---
Meet Dorothy Perkins, or you may know her as Lee. Lee has worked for the Health System for 37 years. She is currently chief dispatcher for patient transport at Candler Hospital. She is responsible for making sure patients are moved from one area of the hospital to another and her team helps with patient arrival and departure.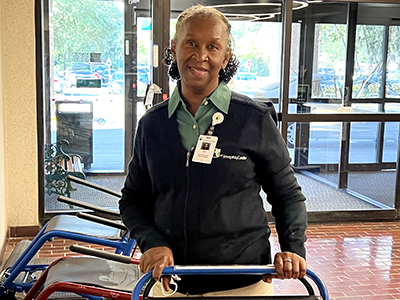 "We are likely the first person patients see and the last person they see. I think our job, even though we are moving patients most of the time, it's really about customer service; just making sure the person who you are transporting feels good and hope they enjoyed their stay and everything went well."
"I've been in transport for 25 of the 37 years I've worked here. I started out in sterile processing and then went to material services, but I came back to transport. I enjoy it because when I worked in the OR, I stayed in one location. I didn't even know the rest of the hospital existed. Now, there are so many places and so many coworkers I get to work with."
---
Meet Mark Sanders, guest services representative in the communications department at St. Joseph's Hospital. Mark answers calls from outside the hospital, as well as calls from patients staying at our facility. You may also hear his voice on the overhead system speaker. Mark has worked here for seven years.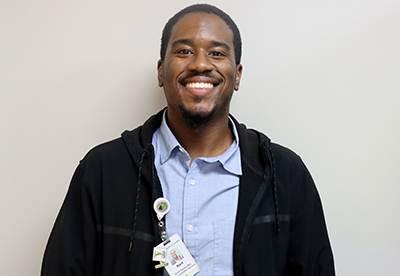 "The phone rings nonstop, from the time I hit the door until the time I leave. I can honestly say you have to have a heart for people to do this job because we get calls about death, about life, a lot of different topics. It's a very versatile position. A lot of times it almost feels like therapy because you have to really listen to people's stories and hear what they have to say and then conclude where you have to get them to where they need to be."
"I can say what I love about my job is being able to help people. Even though we are in the background, we play such a major role. You even get to develop a relationship from callers on the outside because they become familiar with your voice and your customer service. I've had situations where someone will ask to speak to Mark because I've spoken with them before. I love to establish that relationship with callers, whether they are calling from the inside or outside and whether it's a patient, doctor or nurse, anyone."
---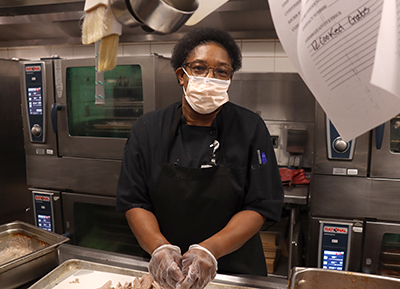 Meet Davida Young, team lead cook at the St. Joseph's Hospital cafeteria. Davida prepares food for both cafeteria guests and patients. You'll occasionally see her at a catering event helping out as well. Davida has worked for the Health System for 15 years.
"When I started working here, I said I was just going to be here a little while, but I love to cook. I love what I do. I love the people here. It was supposed to be just part time for two or three years, but look at me now. I've been here 15 years, going on 16, and I love what I do. I love my coworkers I work with. It's a great place to work."
---
Meet Margaret Wallace, a patient care technician at St. Joseph's Hospital. She's worked for the Health System for 34 years. As a PCT, Margaret helps with EKGs, blood draws, blood pressure monitoring and other patient care needs – both physically and emotionally.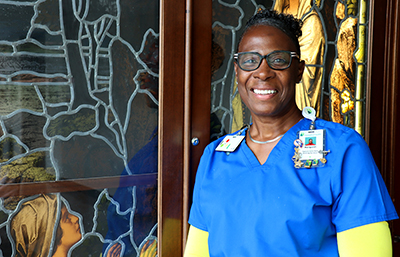 "I love my job. Some people look at PCT as just a PCT, but PCT is really a rewarding position because going into that patient's room every day my goal is to bring a smile to that patient's face. A lot of times they don't see family; sometimes we are the only family that they see. We get a chance to cry with them, laugh with them. It takes a lot of compassion and love. You are dealing with all kinds of patients. But the goal is the same – to provide their needs, to be there for them, to support them and to show them love. It's very rewarding. I love it. I've been doing this for years so you know I got to love it."