St. Joseph's/Candler Bluffton Campus at Buckwalter Place brings cancer care closer to home
South Carolina's Low Country residents now have access to high-tech medical services all under one roof with the opening of the St. Joseph's/Candler Bluffton Campus at Buckwalter Place.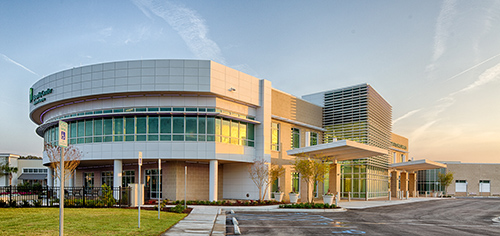 This regional campus combines access, convenience and breakthrough medical technology to create a warm, inviting and personal patient experience. Additionally, our new campus features professional Guest Service Agents to provide an unparalleled level of concierge service.
Our location is:
100 Buckwalter Place Blvd.,
Bluffton, SC 29910
Call: 843-836-7100
About our Bluffton Campus
St. Joseph's/Candler's new regional medical campus, located in the heart of Buckwalter Place, greatly expands access to high-quality healthcare services and state-of-the-art medical technology to a rapidly growing community.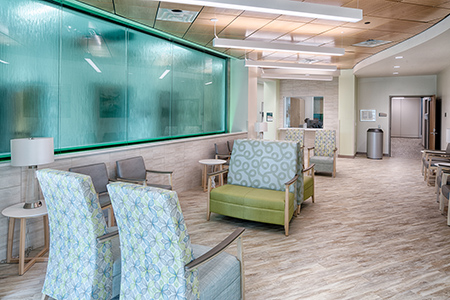 Phase One of the new complex has an emphasis on oncology and a significant expansion of both our medical and radiation oncology services. The new facility offers state-of-the-art medical equipment and features a linear accelerator for advanced radiation treatments, virtually eliminating the need for cancer patients to travel to Savannah for cancer care.
Phase 1 of the project offers services to patients including:
Radiation Oncology
Medical Oncology
Infusion Services
PET-CT
Visiting physician specialists
Dietary/nutritional services
Social workers
Patient navigators
Financial navigators
The building itself also offers patients and visitors many calming and soothing surroundings to escape the daily stress of life including:
Serenity Garden
Devotional Chapel
Historical stained glass pieces
Healing fountain
Encased waterfall
Photographic images of the region
St. Joseph's/Candler's commitment to the Low County
Bluffton is one of the fastest growing communities in the nation, expanding by more than 40 percent since 2010. Because of this incredible growth, the demand for convenient, technologically-advanced medical care is growing also.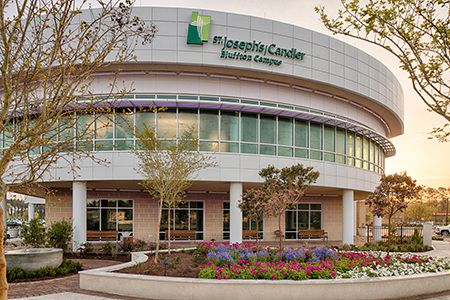 St. Joseph's/Candler has provided medical services in Bluffton and Hilton Head for more than 17 years. Our new campus consolidates many of those medical services in one location that is at the center of growth in the Bluffton market.
The centrally located 40,000-square-foot campus is being built in two major phases over six years and will employ a total of 63 people with an estimated annual payroll of $6.6 million. With an initial financial investment of $33.5 million (phase one), the campus is another shining example of St. Joseph's/Candler's long-standing commitment to helping the residents of the South Carolina Low Country live smarter and healthier lives.
Phase II of our new campus will also expand our primary care, specialty care, imaging and other vital medical services to better serve our patient's needs. Phase II will include:
Primary Care Services

Imaging Services

Expansion of specialty clinic services

Enhancement of other SJ/C services currently located in the Bluffton community

Additional new outpatient services in order to continue growing with the Bluffton community