Center for Hyperbarics and Wound Care - Moss Creek
Our Center for Hyperbarics and Wound Care – Moss Creek provides specialized treatment for chronic or non-healing wounds, which are defined as sores or wounds that have not significantly improved from conventional treatments. Associated with inadequate circulation, poorly functioning veins and immobility, non-healing wounds lead to lower quality of life and may lead to amputations. When wounds persist, a specialized approach is required for healing.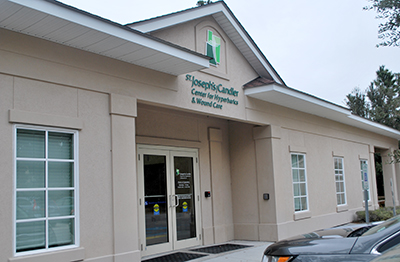 That's where our hyperbaric and wound care center can help. With state-of-the-art treatments available including debridement, dressing selection, special shoes, hyperbaric oxygen therapy and patient education, people in the Low Country with non-healing and chronic wounds now have a place to turn.
Statistics show a tremendous need for wound care treatment. It is estimated that 6.7 million people currently live with chronic wounds and that number is expected to grow at more than two percent for the next decade. The rising incidence is fueled by an aging population and increased rates of diseases and conditions such as diabetes, obesity and the late effects of radiation therapy. More than 29 million people have diabetes in the United States and almost two million of those people annually will develop a diabetic food ulcer or other non-healing wound.
But there is hope. Studies have shown that wound care treatment has reduced amputation rates significantly and reduced the length of hospital stays. The American Diabetes Association estimates that diabetes-related amputation could be reduced by 50% if patients were routinely tested for neuropathy, educated to prevent injury or complications and provided related ancillary services.
At Center for Hyperbarics and Wound Care – Moss Creek, in the hear of the Low Country, we follow treatment protocols specifically established for each type of wound. We utilize the latest approaches to wound healing and remain current in new scientific advances in wound care. Our staff specializes in the treatment of acute and chronic non-healing wounds including:
burns
diabetic ulcers
ischemic ulcers
peristomal skin irritations
pressure ulcers
surgical wounds
traumatic wounds
vasculitis
venous insufficiency
other chronic, non-healing wounds
We utilize the newest clinical tools in wound healing, including multiple state-of-the-art hyperbaric chambers that utilize pure oxygen to speed up the healing process.
Meet Our Physicians
The physicians at the Center for Hyperbarics and Wound Care – Moss Creek are specially trained in wound management and hyperbaric medicine.

Richard Hussong Jr., M.D., F.A.C.S. – Dr. Hussong received his undergraduate degree from Wright State University and then went to the University of Cincinnati College of Medicine to receive his Doctor of Medicine degree. Both his internship and residency in general surgery were completed at the University of Tennessee-Memphis. He is board certified by the American Board of Surgery and has been a fellow of the American College of Surgeons since 2001. He also holds memberships in the American Medical Association and the South Carolina Medical Association. He is licensed in South Carolina and Ohio.

Sonja Lichtenstein, M.D. – Dr. Lichtenstein moved to South Carolina from Ohio in February 2016 where she was medical director for her local wound care center for seven years. She also was regional medical director for Healogics, Inc., which is the largest wound care management company in the country. Dr. Lichtenstein is board certified in general surgery and hyperbaric medicine.

Christopher M. Michaelis, D.O. – Dr. Michaelis is licensed in Georgia and South Carolina and is a member of the American Osteopathic Board of Emergency Medicine and National Baromedical Services. In addition to serving as a wound care physician at Moss Creek, Dr. Michaelis also serves as an emergency medicine doctor at St. Joseph's/Candler and other facilities in Georgia and South Carolina.
Our Team
In addition to our wound care and hyperbaric physicians, the healthcare team at the Center for Hyperbarics and Wound Care includes:
nurses specially trained in wound care
clinical nurse manager with multiple advanced wound certifications
highly trained clinical hyperbaric technicians and staff
personable, efficient administrative staff
Appointments
Physician offices or individuals - no physician referral needed - may call the Center for Hyperbarics and Wound Care at 843-837-9000 for a wound or hyperbaric evaluation.
Location
19 Moss Creek Village, Suite B4
Bluffton, SC 29926
843-837-9000
The Center for Hyperbarics and Wound Care is a non-emergent care facility. Should an emergency occur after business hours, please call 911.
Contact Us for Questions or More Information
For more information, please call 843-837-9000.
Frequently Asked Questions
What is hyperbaric oxygen therapy?
Hyperbaric oxygen therapy (HBO) floods the blood supply with oxygen at greater than normal atmospheric pressure. This oxygen enhances the function of white blood cells and encourages the development of new capillaries.
How long does HBO treatment take?
This depends on your diagnosis; however, most treatments take approximately 120 minutes.
What are chronic wounds?
Chronic wounds do not improve significantly or heal within four weeks.
How can patients with diabetes prevent foot ulcers?
Quit smoking
Control blood sugar
Conduct daily foot hygiene
Wear proper footwear
Avoid foot trauma

Never walk barefoot
Inspect your shoes for small objects

Avoid blood vessel pressure

Do not sit with legs crossed
Wear loose socks and stockings

See a healthcare professional as quickly as possible should a problem develop