Here's what you should look for when selecting a new primary care physician
Miscellaneous
May 2, 2017
Finding a primary care physician that's right for you and your family deserves careful consideration but doesn't have to be stressful
Primary care physicians are experts in disease prevention and chronic disease management, says Peter Rippey, M.D., Family and Sports Medicine, at St. Joseph's/Candler Primary Care located in Bluffton. Bluffton is one of more than a dozen SJ/C primary care facilities with practicing primary care physicians.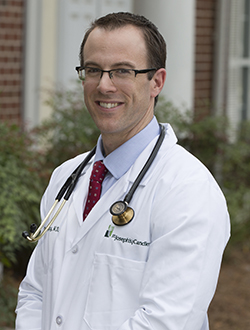 "We are typically the physicians who conduct an annual wellness visit where we discuss ways to maintain good health and prevent disease such as maintaining a healthy diet and regular exercise," Dr. Rippey says. "By regularly visiting a primary care physician, we can help prevent disease or catch diseases at an early phase when treatments are more effective."
Other benefits of visiting a primary care physician are managing chronic conditions such as hypertension, diabetes, asthma and COPD; diagnosing and treating acute illnesses; and coordinating specialty care, especially when a patient has more than one specialist.
If you are thinking about switching to a new primary care physician or are new in town, Dr. Rippey offers these four tips for selecting a new doctor:
Primary care physicians may practice differently. For example, some may have a tendency to refer patients to many specialists whereas others are more comfortable managing a wide variety of conditions, Dr. Rippey says. Don't be afraid to ask questions about the physician's training and any specialties.
Look for a physician with a flexible schedule. If you get sick you want to be seen in a short period of time not three weeks later.
Just as important as the physician is the staff. "Don't forget that many times when you call with an issue or to schedule an appointment that's who you will be dealing with," Dr. Rippey advises.
And above all else, Dr. Rippey says to be sure to find someone you are comfortable with and feel you can trust.
"Don't be afraid to shop around," Dr. Rippey says. "Everyone's needs and preferences are different so don't feel like you have to stay with the first physician you visit especially if you are not comfortable in that office."
About St. Joseph's/Candler Physician Network - Primary Care
With 14 primary care offices across the region from Savannah to Hilton Head to Rincon to Metter and in between, St. Joseph's/Candler Physician Network - Primary Care physicians are experts in family practice and internal medicine. Because they are part of the SJ/C system, should you require additional testing, hospitalization or specialists, the experience is seamless.
All of our doctors are board certified.
Many of our locations offer same-day appointments for patients with immediate needs. Services provided include complete physical examinations, laboratory services, immunizations, IV therapies, cardiac function testing (EGK), pulmonary function tests (PFT) and counseling on smoking cessation, weight control and diabetes.
Click here to learn more about our primary care physicians and individual locations.