Here's how mole mapping at the Lewis Cancer & Research Pavilion helps with early detection, prevention of skin cancer
Cancer
May 9, 2017
May is Skin Cancer Detection and Prevention Month
As a female, you are taught to do monthly self-breast exams from an early age and start yearly mammograms at age 40. Men should have prostate exams starting at age 50, and all are encouraged to have a colonoscopy every 10 years also starting at age 50.
But have you ever thought about how much you should pay attention to the dozens of moles on your skin? Moles are harbingers of melanoma, the second most deadly form of cancer.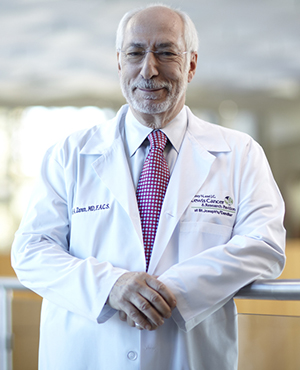 Annual screenings are recommended for those at high risk of developing skin cancer or those concerned about spots on their skin. The latest mole mapping technology, called MoleSafe, is available only at the Nancy N. and J.C. Lewis Cancer & Research Pavilion. Self-skin examinations also are encouraged every six to nine weeks, and yearly visits with a dermatologist also can help prevent melanoma.
"Melanoma is not an uncommon cancer any longer, especially with people living longer," says Howard A. Zaren, M.D., FACS, Medical Director for the Lewis Cancer & Research Pavilion. "It is common especially where we live because of sun exposure. There are lots of chances to be in the sun. Unless we start to take skin care seriously, skin cancers will continue to be a problem."
According to the American Cancer Society, more than 87,000 new melanomas will be discovered in 2017 with nearly 10,000 people dying from the disease. Melanoma skin cancer has been rising for the last 30 years and affects all skin types and ages. In fact, it's one of the most common cancers in young adults, especially young women, states the American Cancer Society.
Melanoma is the sixth most common cancer treated at the LCRP, Dr. Zaren says, and last year, saw a seven percent increase than the previous year.
Cindy Homberger is among those diagnosed and treated for melanoma skin cancer. She was diagnosed with non-invasive melanoma in 2014. Now, as a nurse navigator and melanographer-in-training at Lewis Cancer & Research Pavilion, Homberger helps others understand the risks of skin cancer and importance of screening.
"I am very freckly, and I grew up here on the river and in the sun, so just having a spot on my skin didn't seem like a big deal," Homberger says. "My husband finally forced me to go to the doctor. I was lucky. It was not invasive, and it didn't spread."
However, it was still terrifying, Homberger says. Like many out there, Homberger didn't think too seriously of melanoma. Most people think, 'melanoma is just a skin cancer and skin cancers can be cut off,' Homberger says. After investigation, she realized how deadly the cancer is, especially if it spreads to the lymph nodes or other organs.
Now Homberger doesn't leave the house without sun protection. She visits her dermatologist every six months and has a MoleSafe exam annually.
What is MoleSafe?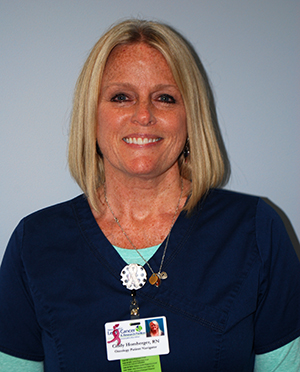 MoleSafe is cutting-edge technology that helps nurses and dermatopathologist document and track moles, lesions, freckles or sunspots that could potentially lead to melanoma or other types of skin cancer.
St. Joseph's/Candler is the only facility in the region to offer MoleSafe screening. The technology has been at the LCRP for seven years.
"In my opinion, there was no good way to follow patients who had melanoma," Dr. Zaren says. "The MoleSafe system looks at the mole both digitally and dermoscopically so overtime we can be assured we are looking at the same mole to look for changes. It's a great way to follow patients who had cancer or those with lots of moles."
Specialized nurses, called melanographers, complete a comprehensive clinical skin assessment, incorporating the latest MoleSafe technology in documenting an individual's skin and moles. The advanced computer program technology, which is completely non-invasive, is designed to be a yearly surveillance tool to map and evaluate for any changes in moles or skin spots in an effort to detect melanoma early. The program stores the images which can be reviewed and compared during follow-up examinations.
Melanographers follow the A, B, C, D, E guidelines when examining moles and skin spots.
A – Asymmetry. Do they have an irregular shape?
B – Border. Are the spot's borders jagged or uneven?
C – Color. Are there two or more shades? Colors can range from pink to brown to blue to black.
D – Diameter. If the spot is greater than six millimeters, it needs to be checked out further.
E – Evolution. Have there been changes to this skin spot? It may have become larger, scaly or bleed.
If a mole or spot matches any of these guidelines then further examination will follow.
Who is MoleSafe for?
MoleSafe can be for anyone; however, people that gravitate more towards it are those at high-risk of developing skin cancer, Homberger says. Those at high-risk tend to have:
Fair skin, hair and eyes
Many moles and/or freckles
Family history of skin cancer
History of sun burns and/or tanning bed use
Job-related exposure to long periods of sunlight
A physician or dermatologist can recommend MoleSafe but a doctor's referral is not required. The screening is currently not covered by insurance. For more information or to schedule a screening, visit molesafe.com or call the LCRP at 912-819-5704.
What to expect during a MoleSafe exam?
During the initial MoleSafe screening, patients should expect to spend up to three hours at the exam. It begins with a skin assessment – family history, sun exposure, free time outdoors.
Then, melanographers will use a standard digital camera for Total Body Photography. You will be down to your undergarments and asked to position yourself in several poses resulting in 24 to 27 body shots, Homberger says. Total Body Photography is only required during the first screening.
Once those photos are uploaded to a patient file on a computer, the melanographer and patient will go through those photos and then begin a head-to-toe examination looking for any spot that may meet the A, B, C, D, E guidelines. The melanographer will use a special skin cancer detection tool called DermLite.
DermLite employs a television microscope, a glass slide, and rubbing alcohol (or water if there's an allergy) to determine a mole's cancerous properties. The DermLite relies on the combined, refractive powers of light and liquid to "see" below the surface of the skin.
The melanographer has two DermLite devices to use during the head-to-toe exam. One is similar to a microscope and the other is a camera. When the melanographer sees something suspicious, two photographs will be taken – four centimeters away from the skin and one on the skin – with the DermLite camera for a dermatopathologist to review. Homberger says patients can expect anywhere from 50 to 125 photographs to be taken.
Repeating the skin surveillance program should occur annually. Follow up visits do not require as much time and typically consists of the head-to-toe exam and DermLite photographs of anything that looks suspicious.
"For me personally, I don't know what I would do without MoleSafe because not only having the history of melanoma, but also just knowing I am what I am. I spent my youth in the sun. I have a lot of sun damage, and I did tanning beds, not knowing it was just as bad," Homberger says. "Having that initial assessment with MoleSafe, they are able to track me now.
"Skin cancer is deadly. It's nothing to play with or ignore."