Cancer Transitions class helps cancer survivors move forward
Cancer
Jun 1, 2017
Twenty-four years ago, Brenda Acebes was diagnosed with colon cancer. It was a long, difficult process involving surgery followed by 52 weeks of chemotherapy.
When she was officially cancer free and finally done with treatments, Acebes also thought she was done with cancer. And she was – until January 2016 when she was diagnosed with stage 3 breast cancer.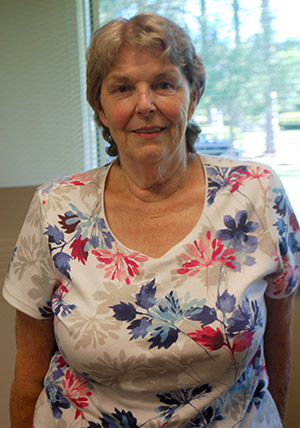 "I was devastated," says Acebes, 65, of Midway. "I thought I was the healthiest person. I was always on the treadmill. I have all my mammograms done on time, right on the minute it was due. To have a bad mammogram, I wasn't expecting it."
Acebes had 22 lymph nodes removed of which 11 were cancerous. She went on to have 16 chemotherapy sessions followed by 25 radiation treatments.
Acebes is now cancer free. Unlike her first cancer experience, she's not ready to breathe a sigh of relief yet, but she's getting closer in part thanks to the Cancer Transitions program offered at the Nancy N. and J.C. Lewis Cancer & Research Pavilion.
"Before with my first cancer, once I got through treatment I thought, 'This is it. I'm done with cancer forever,'" Acebes says. "It's been a rude awakening, but I am getting there. The transitions class helped me a lot."
Cancer Transitions is a six-week, free workshop for cancer survivors. You are a cancer survivor from the time of diagnosis throughout the rest of your life, says Marcia Thompson, LCRP social worker. Cancer Transitions is designed for survivors following completion of treatment. It was created by the Livestrong Foundation and Cancer Support Community.
Each week covers a different topic of survivorship including exercise, nutrition, medical management and other emotional and social aspects. Every session includes exercise and a healthy snack. Medical experts, including physicians, nurse navigators, nutritionists and fitness experts, speak on a weekly topic.
The LCRP started Cancer Transitions in 2012 through a grant. In five years, there have been 84 participants – 20 men and 64 women – with 14 different cancer types.
"We hope Cancer Transitions helps answers some questions and gives them some tools to move on," says Thompson. "It gives them an opportunity to talk to professionals in an informal setting. We also hope they realize they are not alone. What they are feeling, many other people feel."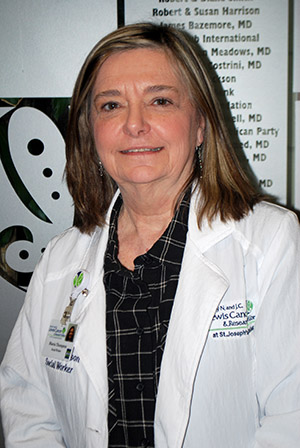 Acebes was hesitant to take the class at first. She tried a support group following her battle with colon cancer and found the experience unstructured and gloomy. However, Cancer Transitions was nothing like that, and she is glad she followed the advice of her radiologist's nurse practitioner.
Acebes says she enjoyed the exercising, guest speakers, especially those who were cancer survivors themselves, and interacting with other survivors in the class. She left the six-week course feeling much more assured.
"I saw transformations in people in the class," Acebes says. "We all went in there looking scared, and by the end of the six weeks, I think we all looked more confident. I think I am more confident."
Currently, the LCRP offers Cancer Transitions once a year, typically at the beginning of the year. However, organizers are always taking names of interested participants to see if a second course should be added. To add your name to the class list or for more details on Cancer Transitions, call 912-819-5704.
Cancer Survivorship
Cancer survivorship includes more than the six-week workshop. The Lewis Cancer & Research Pavilion also offers a variety of activities for cancer survivors.
Among them is a cancer support group for all cancer survivors. Group meetings are held the first Wednesday of each month at 11 a.m. in the second floor conference room at the LCRP. The LCRP also is the location host for many cancer specific support groups.
In addition, St. Joseph's/Candler also offers a free yoga class for cancer survivors taught by a survivor. Classes are held every Monday at 1:30 p.m. in Suite 100 of the Heart & Lung Building on the Candler Hospital campus.
For more information on the LCRP's programs and services, call 912-819-5704.