Lactation services at Telfair BirthPlace expand to help growing number of breastfeeding moms
Women's Care
Oct 26, 2017
More nurses have been certified to support and educate moms who want to breastfeed
An increasing number of moms are breastfeeding, and the staff at Telfair BirthPlace at Mary Telfair Women's Hospital at St. Joseph's/Candler has practices in place to help mom and baby with feeding.
Telfair BirthPlace has three registered nurses that are international board certified lactation consultants. Lactation consultants are on staff specifically to work with moms on feeding. These consultants must pass an exam to be IBCLC and have a license to practice in the state of Georgia.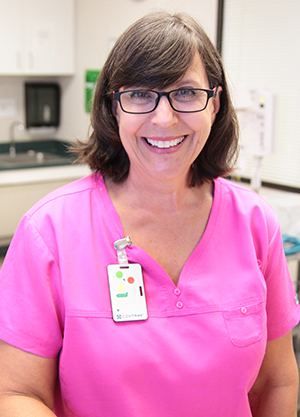 In addition, Telfair BirthPlace has eight certified lactation counselors. These also are registered nurses who may be your bedside nurse, but also certified in lactation to answer any feeding questions.
Certified lactation counselors are required to take a week-long, intensive course followed by a certification exam. Recertification occurs every three years.
St. Joseph's/Candler will send four more nurses for certification in November.
"Most of our patients aren't sick," says Marybeth Milton, BSN, RN, IBCLC, R-LC, lactation nurse at Telfair BirthPlace. "What they need is help learning to feed their baby, whether it's breastfeeding or formula feeding. We want to be able to help at the bedside with those issues. Our focus is education."
Related article: Seven things all expecting mothers should know about feeding your baby
Additionally, the entire nursing staff at Telfair BirthPlace must take a 20-hour course on lactation support to be employed, Milton says.
Other lactation services at Telfair BirthPlace include outpatient visits (appointment required), pump rentals, prepared classes and telephone and in-person support.
The staff at Telfair BirthPlace respect mom's choice on how to feed her baby. However, it is recommended by the staff, as well as the American Academy of Pediatrics, to exclusively breastfeed baby for at least six months.
"We want mom to be informed, and we support her choice," Milton says. "The information we give her includes the risks of formula feeding. It has been proven that formula increases childhood obesity, juvenile diabetes, asthma, allergies and ear infections."
Related article: What are the benefits to breastfeeding?
St. Joseph's/Candler as a health system supports any breastfeeding moms who want to feed inside its many facilities. In early November, St. Joseph's/Candler received recognition as Baby-Friendly Designated Birth Facility from Baby-Friday USA. Learn more about that here.
"As part of our journey to achieve this special destination to support infant feeding practices, we have educated throughout the hospital how to support moms and babies and their feeding," Milton says.
Other Lactation Services at Mary Telfair Women's Hospital at St. Joseph's/Candler
Prepared Breastfeeding Class
Every month, Telfair BirthPlace offers a Prepared Breastfeeding Class for expectant mothers and their families. The class is offered in a relaxed setting in the Candler Professional Building, 5354 Reynolds Street, Classroom 508A. The classes are taught by a certified lactation consultant and provide moms with an understanding of lactation and breastfeeding.
"You are able to absorb the information to make an informed feeding decision before you have the new baby and lack of sleep," Milton says. "Even if moms aren't sure what their choice is, they would be more informed after the class. It's really a lot of great information. We teach all that after delivery, as well, but it helps to have some of that information already in mind beforehand."
Breastfeeding Warm-Line
The Breastfeeding Warm-Line is dedicated to assisting mothers-to-be and breastfeeding moms and babies with any questions or concerns they have. The Breastfeeding Warm-Line is staffed every day from 9 a.m. to 5 p.m. If no one answers, please leave a message. If it's an urgent matter, mom will be transferred to a special care nursery nurse, Milton says. All other calls will be returned by a certified lactation consultant as soon as possible.
The service is free and moms can use the line to make an appointment for a feeding consultation.
Mommy and Me Breastfeeding Support Group
Another free service offered through Telfair BirthPlace is the Mommy and Me Breastfeeding Support Group. The group meets monthly on the second Tuesday of each month at 10 a.m. at Telfair BirthPlace, located at Candler Hospital, 5353 Reynolds St., in the third floor north classroom. The group consists of new and long-term breastfeeding moms. No RSVP is required, and moms are welcome to bring their little one or a friend.
"Evidence-based practice shows that moms supporting moms is the best way to help increase the longevity of breastfeeding," Milton says. "If I experience something and share it with you, your might have better success."
A lactation consultant or counselor is present during the support group meetings; however, there is no lecturing as she's there to answer any questions.
For more information on Telfair BirthPlace, as well as feeding and new mom advice, visit our website.