OB/GYNs and gynecologic oncologists work hand-in-hand for female wellbeing
Women's Care
Nov 28, 2017
No matter what women face in life - menstrual cycles, having babies or the scary thought of one day getting cancer – we can rest assure there is a team of doctors working hand-in-hand to ensure female patients are getting the best care possible.
Among those physicians are OB/GYNs and gynecologic surgeons and oncologists.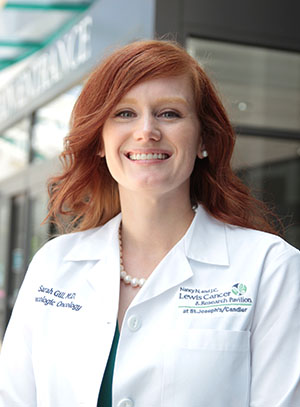 An obstetrician/gynecologist is a doctor who specializes in women's health. Obstetrics focuses on caring for pregnant women and delivery babies. Gynecology deals with the health of the female reproductive system and treats diseases of reproductive organs.
Gynecologic oncology is a sub-specialty field of obstetrics and gynecology that concentrates on the diagnosis and treatment of cancers of the female reproductive system, as well as complex non-cancerous conditions. Gynecologic oncologists are primarily surgeons that also can order chemotherapy.
While a gynecologic oncologist may occasionally be mistaken for a physician that delivers babies or administers pap smears, Dr. Sarah Gill, gynecologic oncologist and gynecologic oncology surgeon with St. Joseph's/Candler Gynecologic Oncology & Surgical Services, says there is usually not much confusion between the two professions.
"We work very closely with OB/GYNs," Dr. Gill says. "If they have a surgery that turns out to be more complicated than anticipated, we are always there to work with them. We always want to put our heads together and do the best thing for the patient."
Every physician goes to medical school for four years after completing an undergraduate degree. Those that decide to go through obstetrics and gynecology will apply for an OB/GYN residency, which lasts another four years. At that point, the doctor can go straight into OB/GYN practice, or some may choose to sub-specialize in gynecologic oncology. If so, they must apply for a fellowship position, which is extremely competitive, says Dr. Gill. The gynecologic oncology fellowship is three years of training focused on gynecological cancers.
When to visit an OB/GYN and when you may need to see a gynecologic oncologist
Females should see their OB/GYN yearly, regardless of age, unless you are having a problem in which you should call your doctor immediately, says Dr. Maria Paasch, board-certified obstetrician and gynecologist with Thrive Obstetrics & Gynecology. An annual exam generally includes an assessment of your overall health, a breast exam to check for lumps or changes, a pelvic exam to check reproductive organs for masses, growths or other abnormalities and/or a pap smear to test for signs of cervical cancer, an infection screening based on age and patient request and a discussion on preventive care recommendations based on age, Dr. Paasch says.
"It is important for women to have regular visits with their OB/GYN for prevention and planning," Dr. Paasch says. "A well-woman visit is there for you to understand your own personal health risks and how to prevent them."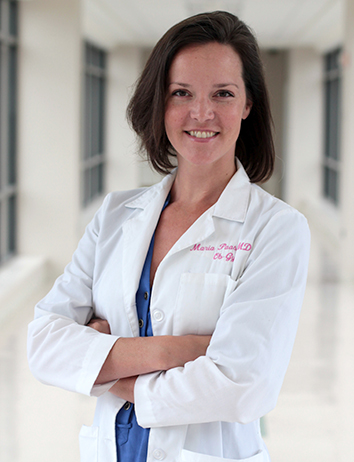 If a mass or pre-malignant lesion is found, your OB/GYN may refer you to a gynecologic oncologist. They can diagnosis, if the OB/GYN hasn't done so already, treat the condition with minimally-invasive surgery, and if necessary, treat with chemotherapy.
"We get to go through this journey with our patients that is, more than likely, the most difficult event they've ever experienced in their lives," Dr. Gill says. "We are able to diagnosis them at times, treat them with surgery, treat them with chemotherapy and hopefully cure their cancers."
Pay attention to your body
Both Dr. Gill and Dr. Paasch encourage women to pay attention to their bodies and let their physician know about anything unusual.
"A lot of times the symptoms that clue us into a problem that patients have with a gynecologic organ are embarrassing – abnormal bleeding, foul smelling vaginal discharge or brown vaginal discharge, pelvic pain, pain with sex – those things that can be symptoms of something serious," Dr. Gill says. "Most of the time, it's something that is treatable and just a common problem. There's no need to live in pain or wonder about what is going on because you are having this problem that is not like you."
Women can help take care of their bodies and promote good health through exercise, proper sleep and healthy eating habits, Dr. Paasch says.
"A little exercise will go a long way to reducing stress," Dr. Paasch says. "Sleep is not only good for the body, but it is also good for the mind. A well-rested body and mind can accomplish great things."
Dr. Paasch adds that you can maintain a healthy, well-balanced diet by limiting the amount of sugar and carbohydrates in your diet and drink plenty of water. She recommends a minimum of eight eight-ounce glasses a day, which equals to about two liters.
"A lot of the time women are wired to take care of everyone else but ourselves," Dr. Gill adds. "It's so important to see your primary care physician and your OB/GYN and have your screenings that are recommended – pap smears, mammograms, colonoscopies – because they can prevent you from having cancer in the future or catch the cancer early so you don't have to go through the ordeal of surgery and treatments. It's always better to know earlier than to wait."
To learn more about St. Joseph's/Candler Gynecologic Oncology & Surgical Specialists, click here.
To learn more about Thrive Obstetrics & Gynecology, visit their website here.