Heart attack doesn't prevent retired Marine Corps Veteran from walking daughter down the aisle
Heart Health
Dec 7, 2017
St. Joseph's Hospital uses Impella devices for temporary ventricular support in patients who in the past might have died from heart failure
Jeff Carr was getting ready for church after a wonderful night celebrating his daughter and future son-in-law at an engagement party in March of 2016.
He had been feeling fine except for what he thought was a little heartburn. However, that morning he knew it was more than acid reflux. Jeff told his wife he thought he was having a heart attack. She immediately called 9-1-1.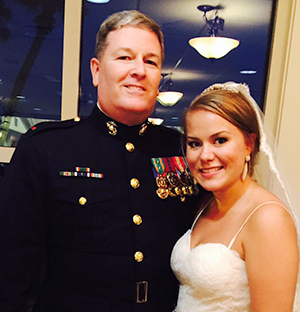 The next thing he remembers it was 11 days later and Jeff was waking up in a hospital bed at St. Joseph's Hospital.
Jeff's heart had stopped eight times the day of his heart attack. He recalls his name being called out by those trying to save him, but he was unable to respond. He also remembers being shocked with defibrillation paddles. Jeff says he later learned he was shocked 20 times.
Doctors placed eight stents in Jeff's heart with the help of a new technology. His outcome was touch and go, but the retired Marine Corps Veteran fought on. He awoke from his coma with no brain damage. After being released from the hospital, his cardiologist required him to wear a LifeVest, a wearable defibrillator, for a month.
Two months and two weeks after his heart attack, Jeff Carr walked his daughter down the aisle. A week later, his first grandson was born. In July 2016, Jeff had a stress test and learned his heart was back to normal.
"I feel very blessed to be here to share my life with my wife, children and grandchildren," Jeff says. "I am humbled and thankful to God that He put the individuals and technology in place to help me through that."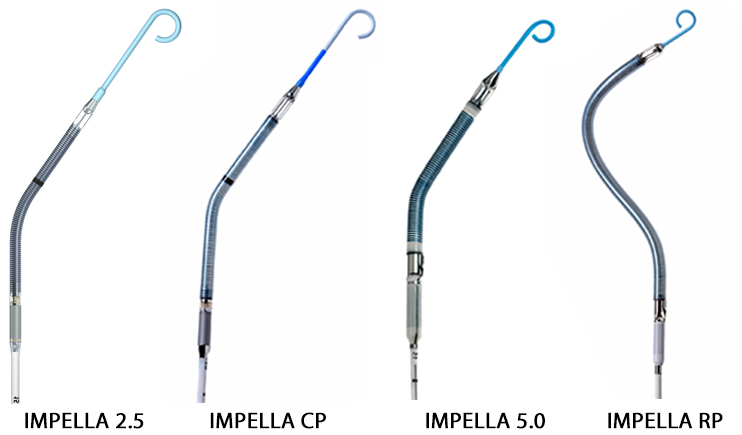 Among the technology that helped save Jeff's life was Impella, also known as the world's smallest heart pump.
Impella is a family of devices used for temporary ventricular support in people with depressed heart function. An Impella device can be used in high-risk percutaneous coronary intervention (PCI), cardiac shock following a heart attack, coronary artery bypass grafting or to help stabilize a patient before or after an open heart surgery procedure, says Dr. Michael Babcock, cardiologist at St. Joseph's The Heart Hospital.
St. Joseph's Hospital carries four Impella devices manufactured by Abiomed: Impella 2.5, Impella CP, Impella 5.0, and recently-FDA-approved, Impella RP.
The Impella 2.5, CP and 5.0 are used to assist the left side of the heart, while the Impella RP supports the right side, says Laura Russell, RN, BSN, CCRN, Clinical Nurse Educator, CCU, at St. Joseph's. The devices are most often used separately; however, they can be used in conjunction for the sickest of patients, Russell says.
"Injuries can happen to the heart muscle in various ways," says Russell. "Just like when you injure a muscle in your leg, you are advised to rest, use ice and elevate. The Impella allows the heart to rest while it pushes blood flow throughout the body. It can push two and a half to five liters of blood a minute, depending on which device is implanted."
St. Joseph's Hospital is the only hospital in the region with the Impella RP and routinely performs a high volume of Impella procedures, particularly with left ventricular devices, Dr. Babcock says. Several cardiologists at The Heart Hospital are trained on Impella, which is placed through a small incision in the leg via catheter and placed in the heart. The device pumps blood through the body, allowing the heart to rest. The devices are typically removed within days of placement, Dr. Babcock says.
To date, 74 Impella procedures have been performed at St. Joseph's Hospital, which has had the devices since 2014.
"When a patient is in cardiogenic shock, he or she is in such a state that they can't travel far, and EMS needs to get them to the highest level of care possible," Dr. Babcock says. "It's critical that we have these devices available. It allows cardiologists to expand the patients we can treat. I have seen excellent success with recovery of heart function."

Photo courtesy of Abiomed