Young mother learns to live with heart disease following pregnancy
Heart Health, Women's Care
Feb 27, 2018
Editor's note (Feb. 24, 2020): It is with sad news that WomenHeart Savannah and Hinesville announce the passing of Alicia Roberts. Alicia was a devoted mother and strong supporter of women and heart health. May her story forever be an inspiration.
Alicia Roberts, 34, found support through WomenHeart Support Network and is now helping educate others about heart disease
Alicia Roberts expected to be tired raising a newborn and 7-year-old daughter. When the fatigue became extreme and accompanied with shortness of breath and loss of appetite, the then 26-year-old knew this was more than just the wearies motherhood.
Still, Alicia never expected what a doctor would soon tell her.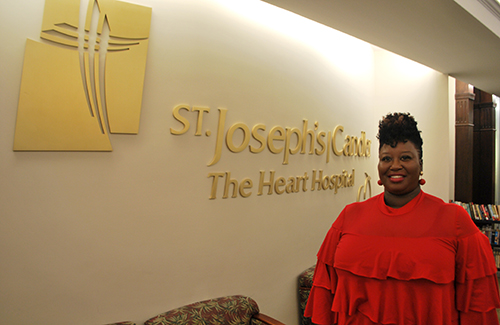 "I went to the emergency room and they ran some tests on me," Alicia, now 34, recalls. "The doctor came in, kneeled down beside my bed and told me I have congestive heart failure. I didn't even know what that was."
Congestive heart failure (CHF) is a chronic condition in which the heart doesn't pump blood as well as it should.
The purpose of the heart is to pump blood to the body in order to nourish it. When the heart doesn't circulate blood normally – sometimes due to a weakened heart muscle or defect – the kidneys receive less blood and filter less fluid out of circulation into the urine. The extra fluid, called congestion, builds up in the lungs, liver and sometimes around the eyes and legs.
Alicia has systolic congestive heart failure, meaning her heart doesn't pump with enough force to push enough blood into circulation resulting in fluid build-up.
Alicia also was diagnosed with dilated cardiomyopathy, which occurs when the cavity of the heart is enlarged and stretched, compromising the heart's ability to pump and relax normally. Another name for dilated cardiomyopathy is peripartum cardiomyopathy, which is a term used when the disease develops in women shortly before or after she gives birth.
Since there is no history of CHF or cardiomyopathy in Alicia's family, her healthcare providers believe her heart conditions at such a young age are related to her two pregnancies.
"Pregnancy is a joyous time in your life, but there can be complications unfortunately," says Dr. Karen Hanna, a cardiologist with Cardiology Associates of Savannah who practices at The Heart Hospital at St. Joseph's Hospital. "The very young women and older women in pregnancy are the most at risk as well as those who don't monitor their health."
The birth of her daughters and heart disease
Alicia gave birth to her first daughter in 2002, prematurely. She was born at seven months and weighed just 2 pounds and 8 ounces.
During her pregnancy, Alicia developed preeclampsia, a condition that can develop in pregnant women usually brought on by high blood pressure and protein in the urine. It occurs in one out of 20 pregnancies.
Preeclampsia usually occurs late in pregnancy, normally after 20 weeks. It can happen to any expecting mother, even if there's no history of high blood pressure. However, it is most often seen in first-time pregnancies.
Everything would be OK for Alicia's daughter, who is now a healthy and happy teenager. For years, Alicia thought she was fine, and in 2009, was ready for her second child.
Her second daughter was delivered full-term, and while Alicia didn't experience preeclampsia, her blood pressure skyrocketed during delivery. It lowered by the time she was released. However, just a few months later, Alicia learned she had CHF and dilated cardiomyopathy.
Study: More women diagnosed with heart conditions following pregnancy
Unfortunately, Alicia's story is becoming more and more common.
A study released in January 2018 by the American Heart Association found nearly 60 percent of pregnancy-related heart failure hospitalizations occurred within six-weeks of delivery.
The study analyzed more than 50 million pregnancy-related hospitalizations in the United States from 2001 to 2011. There was a 7.1 percent increase each year from 2001 to 2006 in heart failure diagnoses among postpartum hospitalizations, followed by a steady rate through the end of the study.
Pregnancy-related heart issues aren't always the most discussed pregnancy issue. But, Dr. Hanna says OB/GYNs watch very closely for symptoms.
"You don't want to alarm people. If you develop a problem during pregnancy, will it go away? Not necessarily,' she says. "With pregnancy-induced hypertension, 30 percent get better, 30 percent require medication and 30 percent go on to get worse."
Many times the symptoms after birth aren't noticed because they are the same as symptoms of pregnancy: shortness of breath, swelling in the extremities or chest discomfort, like reflux.
"Speak to your OB/GYN. If they are worried, they are going to send you to see someone," Dr. Hanna says.
Living today with heart disease
"When I first got diagnosed, I was depressed and stressed out," Alicia says. "I was scared to sleep and my anxiety was off the chain."
Alicia is living life with a different perspective these days.
"I don't take things for granted," she says. "I will get in my car and just go because tomorrow is not promised."
Following her diagnosis, Alicia turned to support from her family and friends. She also learned about the WomenHeart Support Group at St. Joseph's/Candler.
WomenHeart Support Networks provide peer-to-peer, patient support for women living with heart disease by other female heart patients who have been trained to provide patient support.
Alicia is expanding the SJ/C WomenHeart Network to her local hospital by starting WomenHeart Hinesville. She is full of ideas, such as starting a walking group and visiting heart patients in their homes, to help educate women about heart health.
"I live with the disease. Who else is better to learn from then someone living with it?" Alicia asks.
"It's important to me to go out and educate women with this condition," Alicia continues. "I have fun living with this disease now; honestly I do because there is no need for me to sit here being depressed about it. I can't change what happened."
In addition, Alicia also volunteers at the cardiac rehab center at Liberty Regional Medical Center. While almost all women are shocked she developed heart disease at such a young age, they also are inspired by her.
"I like to share with them my favorite quote: 'Tough times never last but tough people do,'" Alicia says.
If you are in the Liberty County area and are interested in WomenHeart Hinesville, call 912-695-0654 or 912-369-9448. The next WomenHeart Hinesville meeting is Tuesday, Feb. 27, at 5:30 p.m. at Liberty Regional Medical Center, 462 E. G. Miles Parkway, Hinesville.