Outpatient cardiac rehab program helps Savannah man lose the cane, gain strength
Heart Health
Apr 3, 2018
St. Joseph's/Candler Cardio Pulmonary Rehabilitation helps heart and lung patients recover faster and return to daily activities sooner
Up until May 2017, Mark Berry was in good health, traveling the country for work and enjoying any free time at home in Savannah. Then things took a sudden and severe turn.
Mark experienced a 95 percent loss of lung capacity due to pulmonary fibrosis believed to be caused by rheumatoid arthritis. He spent more than two months at Candler Hospital. That was followed by outpatient pulmonary rehab. He had to get stronger because his heart also needed work.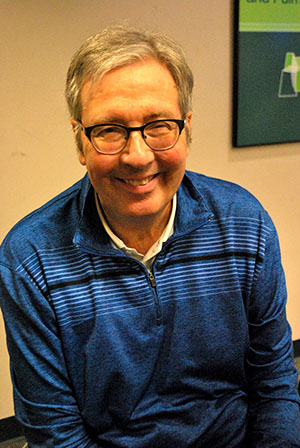 Mark had open heart surgery to replace a Mitral Valve on Nov. 3, 2017. The operation left the 60-year-old weak and using a cane to walk. He began cardiac rehab at St. Joseph's/Candler Cardio Pulmonary Rehabilitation on Dec. 14, 2017, after he talked to other valve replacement and bypass surgery patients.
"It was never a question for me," Mark says. "Whatever it is that I need to do to get better, I am going to do it."
St. Joseph's/Candler Cardio Pulmonary Rehabilitation has outpatient rehab programs for cardiac and pulmonary patients that include exercise, education, counseling and ways to live a healthier lifestyle. Cardiac rehabilitation is designed to help patients with heart disease recover faster and return to daily activities sooner, says Justine Hardy, M.S., health educator for Cardiopulmonary Rehabilitation. Those that can benefit from cardiac rehab may have:
heart disease, such as congestive heart failure;
had a heart attack;
had coronary bypass surgery;
valve repair or replacement;
balloon catheter procedure; or
had a heart transplant.
Mark began his 12-week program exercising for about 12 minutes a session because his felt weak and relied on a cane to walk. Within the first couple of visits, Mark says he felt his strength returning. Within a week, he didn't need a cane anymore. And just a few short weeks into the program, Mark was exercising the entire hour.
"I, 100 percent of the time, feel better the rest of the day because of this," Mark says. "When I started in December, I wasn't nearly as strong as I am now."
Cardiac rehab is 36 one-hour sessions. Optimal therapy is three times a week for 12-weeks, Hardy says. Patients start out exercising for about 12 minutes per session and progress each time they come in. Hardy says most patients are exercising for an hour within the second or third week of rehab.
Once patients are comfortable with an hour of cardio exercises – walking on the track and/or treadmill, riding the elliptical and stationary bike and using the Biodex arm bicycle – resistance training is incorporated to help with weight reduction.
During their session, cardiac rehab patients have their heart monitored. This allows for the rehab staff to monitor the patient's heart rhythm for high, low or abnormal rates.
"A lot of people view cardiac rehab as something they don't need because they walk at home, but this is supervised exercise therapy that a lot of people can't get at home," Hardy says. "When people come here, they really fall in love with us."
A physician's referral is required to participate in Cardiopulmonary Rehab. There are small co-pays, depending on the insurance.
Phase III Cardiopulmonary Rehabilitation Program
Mark Berry has just a few weeks left in his rehab, but his plan is to continue to frequent the rehab center, located in the Heart and Lung Building on the Candler Hospital campus.
The Phase III Cardiopulmonary Rehabilitation Program emphasizes long-term lifestyle changes, such as a regular exercise program. The program helps patients practice and keep healthy behaviors and habits. Phase III rehab includes the same therapy as cardiac rehab but without the heart monitor.
"A lot of patients enjoy that because they still have the safety net of us but they are more independent without the monitor," Hardy says.
The cost is $100 a month, and the length of Phase III rehab varies depending upon the structure of a patient's particular program.
"If you have a heart or lung condition, you should definitely do this," Mark says. "The people here are absolutely the best. I have felt welcome here since the first time I came here. I was amazed at how nice it was."
For more information about St. Joseph's/Candler Cardiopulmonary Rehabilitation, call 819-7340.