Irregular heartbeat? Minimally-invasive ablation procedures can treat atrial fibrillation.
Heart Health
Apr 17, 2018
When you find out something is irregular about your heart's beat, you most likely want to know what can be done about it now. For those living with atrial fibrillation, a type of heart rhythm problem, there are several treatment options available including medication and minimally-invasive surgical procedures.
Atrial fibrillation (also called AFib or AF) is a condition in which the upper chambers of the heart (the atria) experience erratic impulses which cause the atria to beat irregularly or quiver (usually rapidly). This affects blood flow from the heart and can create a variety of health risks including blood clots, stroke, heart failure, other heart-related complications and even death.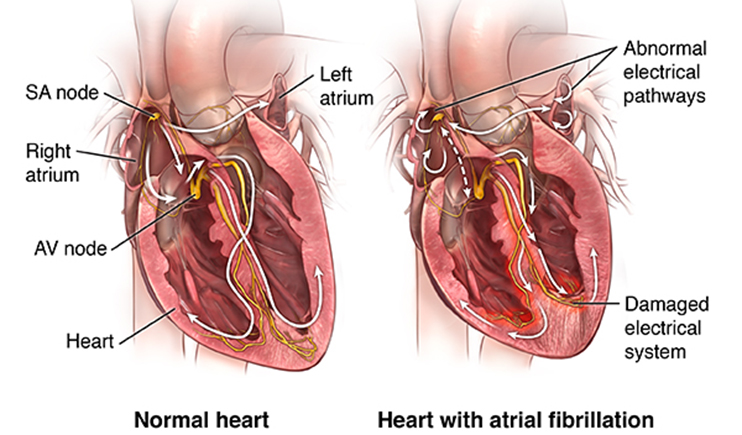 AFib is very common, especially in the elderly, but is possible even in the young, says Dr. Daniel Cobb, cardiologist and electrophysiologist with the St. Joseph's/Candler Physician Network - Cardiology and the Advanced Heart Rhythm Center at St. Joseph's/Candler. At least 2.7 million Americans are living with AFib, according to the American Heart Association.
Causes
There are a variety of reasons people may experience AFib including heart disease, obesity and obstructive sleep apnea. AFib also can occur in otherwise healthy people, Dr. Cobb says.
Related Article: What causes Atrial Fibrillation?
Symptoms
Symptoms of AFib include heart palpitations or rapid or fast heart beats, fatigue, faintness or confusion, sweating, shortness of breath or weakness. Some folks have silent AFib and show no signs of the condition, Dr. Cobb adds.
"Aside from the symptoms, commonly it's picked up on a pre-op EKG in people who are getting screened for something else and happen to be in atrial fibrillation," Dr. Cobb says.
Related Article: Understanding Atrial Fibrillation and its misconceptions
Treatment options
While AFib can feel weird and be frightening, the real concern is the increased risk of stroke, blood clots, heart failure and other heart-related problems. Your physician may recommend any of a variety of treatment options to treat AFib and prevent further complications. Which treatment is best for you depends on the severity, any other underlying medical issues you might have and the length of the condition.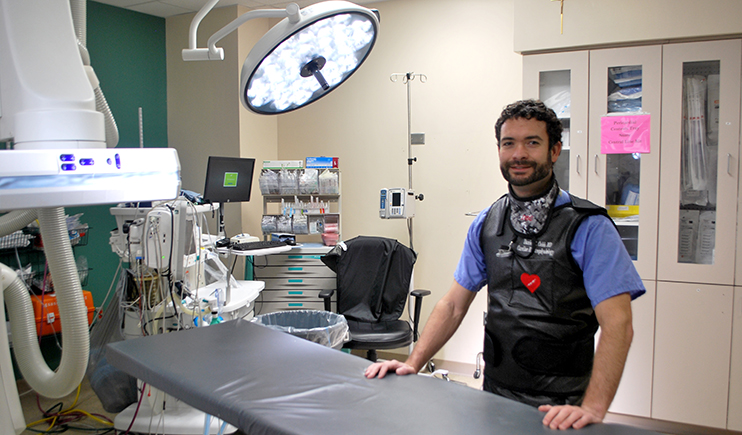 Besides medication, a minimally-invasive surgical option to treat AFib is ablation, a procedure to restore blood flow by removing body tissue. Dr. Cobb performs two ablation procedures: Radiofrequency catheter ablation and cryoablation.
Radiofrequency catheter ablation: By mapping the electrical activity of the heart, it is possible to locate abnormal tissue that is causing rapid and irregular heartbeats. Radiofrequency catheter ablation uses radiofrequency energy to destroy the abnormal tissue which helps restore your heart's regular rhythm.
Cryoablation: This procedure has the same idea of radiofrequency catheter ablation – destroying abnormal tissue that is disrupting the heart's rhythm. However, your physician uses a thin, flexible tube, called a balloon catheter, to locate and freeze the heart tissue that is causing the irregular activity.
Dr. Cobb says patients who have more frequent atrial fibrillation and a more normal atrial anatomy are generally better candidates for cryoablation. Patients with other atrial arrhythmia disorders, such as atrial tachycardias and atrial flutters, need to be mapped with a different approach and are generally better suited for radiofrequency catheter ablation.
An ablation procedure usually takes two to four hours and can take place in either our electrophysiology (EP) lab or cardiac catheterization (cath) lab at The Heart Hospital at St. Joseph's Hospital.
Prevention
Maintaining a heart healthy diet, exercising three to four times a week and getting adequate sleep are steps to lowering your risk of developing atrial fibrillation.
Related Article: Six foods to add, six foods to avoid in a heart-healthy diet
For those that want to prevent a recurrence of AFib, Dr. Cobb suggests maintaining a healthy weight.
"Obesity is probably one of the biggest factors that predisposes your risk to atrial fibrillation, and a recent study showed reducing your weight had just as good an effect as anti-arrhythmic drugs or catheter ablation in terms of reducing your risk of recurring atrial fibrillation," Dr. Cobb says. "I generally stress weight loss if that's appropriate in my patients. Identifying and treating obstructive sleep apnea is important as well."
For more information about the Advanced Heart Rhythm Center, visit our website.