Understanding heart attacks: Causes, symptoms and treatment
Heart Health
Oct 9, 2018
A heart attack can be a frightening thing, especially when you consider someone has a heart attack every 40 seconds in the United States.
A heart attack, also called myocardial infarction, happens when one or more areas of the heart muscle don't get enough oxygen. This typically happens when blood flow, which brings oxygen to the heart, is obstructed, explains Dr. Michael Babcock, cardiologist with Cardiology Associates of Savannah and director of the Chest Pain Center at The Heart Hospital at St. Joseph's/Candler.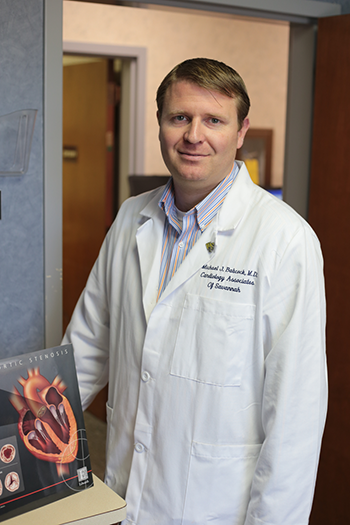 An estimated 790,000 Americans have a heart attack yearly, according to the Centers for Disease Control and Prevention. Heart attacks alone don't always lead to death, if action is taken quickly. It's important to get help as soon as possible if you think you or a loved one is having a heart attack because the longer a person goes without treatment, the greater the damage.
To get a better understanding of heart attacks, let's take a look at causes, symptoms and treatment.
What causes a heart attack?
Heart attacks are oftentimes caused from plaque buildup within blood vessels to the heart, says Dr. Babcock. Plaque is made up of deposits of cholesterol and other substances. When plaque breaks, or ruptures, blood clots quickly form. Ruptures usually are the result of stressors such as ongoing medical issues, uncontrolled blood pressure, diabetes, smoking or drug abuse, Dr. Babcock says.
If a clot cuts off the supply of blood and oxygen to the heart, the muscle cells of the heart begin to suffer damage and start to die. The result is heart muscle affected by the lack of oxygen no longer works as it should.
A heart attack also can occur if the heart is not able to receive enough blood from significant blood loss or dangerously low blood pressure, Dr. Babcock adds.
What are the signs of a heart attack?
Getting treatment within the first 30 minutes of a heart attack is vitally important because waiting any longer can cause irreversible damage. Knowing the early signs of a heart attack and acting upon them immediately could be the difference between life and death.
Here are some of the common signs of a heart attack. Keep in mind each person may have slightly different symptoms.
Severe pressure, fullness, squeezing, pain or discomfort in the center of the chest that lasts for more than a few minutes
Pain or discomfort that spreads to the shoulders, neck, arms or jaw
Chest pain that gets worse
Chest pain with any of these symptoms:

Sweating, cool, clammy skin or paleness
Shortness of breath
Nausea or vomiting
Dizziness or fainting
Unexplained weakness or fatigue
Rapid or irregular pulse
Call 9-1-1 immediately if you are anyone you know are experiencing these symptoms.
How do you treat a heart attack?
The goal of treatment for a heart attack is to relieve pain, preserve the heart muscle function and prevent death.
If a heart attack lands you in the emergency department, you may be given different medications, both via intravenous therapy and orally. These medications serve both as pain relief and as medicine to help blood flow by dissolving blood clots and preventing further blood clotting.
You may then need other procedures to restore blood flow to the heart. Heart attacks caused from blockages to the blood vessels need to be addressed with a procedure called heart catheterization, Dr. Babcock says.
This procedure reopens blocked blood vessels quickly, allowing blood flow to be restored and the cardiac function to resume. Blood thinners or stents may be used to reopen blood vessels.
To help stabilize heart attack patients, some physicians may rely on an assisted device called Impella, which allows specialists to stabilize and support the output from the heart. Basically, the Impella device performs the heart's function so experts at The Heart Hospital can open blocked arteries as quickly and effectively as possible.
Related Article: Heart attack doesn't prevent retired Marine Corps Veteran from walking daughter down the aisle
Thanks to advances in technology, many heart procedures are minimally-invasive; however, some patients may require open heart surgery. The Heart Hospital at St. Joseph's Hospital has highly-credentialed and experienced physicians as well as cutting-edge technology to deliver the highest quality of clinical care to all our patients.
To learn more about Dr. Babcock and Cardiology Associates of Savannah, visit their website.