More than relaxation: Therapeutic massage is a complementary treatment option for many ailments
Miscellaneous
Oct 13, 2018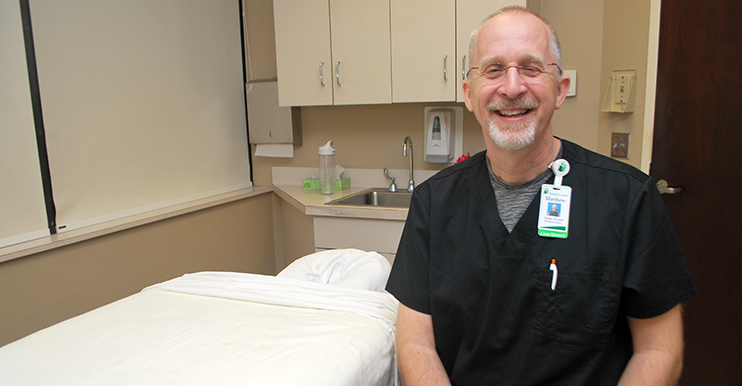 Sore neck or back? Work place injury? You may want to consider therapeutic massage as a complementary healthcare option.
Yes, that's right. Massage therapy is for more than just relaxation and indulgence. Therapeutic massage can be a great treatment addition to help with pain management of a sports or workplace injury. It also can help with fibromyalgia, arthritis and other ailments.
St. Joseph's/Candler has two massage therapists on staff that treat outpatient needs, as well as inpatient care, especially Mother-Baby and oncology patients.
"The staff here in the massage area has more than 10 years' experience each and treated in excess of 4,000 patients a piece," explains Matthew Wojciechowski, St. Joseph's/Candler massage therapist. "We've seen a lot and we know a lot, and we get pretty creative with our solution to address your individual needs as opposed to a textbook application."
What are the benefits of massage therapy?
Therapeutic massage is a great complementary therapy to treat people's illnesses and ailments.
"It's recognized that the process of massaging muscle tissue has many medical and emotional benefits," says Wojciechowski. "Part of therapeutic massage could be deep tissue, active or passive stretching or it could be relaxation done in a particular way on a particular joint."
Some of the benefits of massage therapy include:
Improvement in circulation
Reduce tension
Lower blood pressure
Promote a greater range of motion
Help with depression, insomnia and stress management
Increases joint flexibility
Helps with repetitive motion injuries
Helps with every day aches and pains
Eases medication dependence
Who is massage therapy for?
Massage therapy may be recommended for anyone of any age. The massage tables are adjustable for pregnant women and the disabled. The St. Joseph's/Candler therapists also will travel to patients' rooms or do group employee massages on site.
Therapeutic massage can be beneficial for the person with the typical desk job that might leave them with achy backs or shoulder tension. It's also beneficial for those who work 12-hour shifts and rarely get an opportunity to sit down. Standing all days causes stress in your feet and legs that goes into your back and hips, Wojciechowski says.
Related Article: Is your job stressing your body out?
"If you come in on a regular basis, which would be anywhere from once every three weeks to five weeks, even a moderate depth massage would be sufficient to ensure that adequate circulation and range of motion would allow you to efficiently do your job without having that stabbing pain in the neck or back," Wojciechowski says.
How to schedule an appointment at St. Joseph's/Candler for therapeutic massage therapy
The St. Joseph's/Candler Massage Therapy suite is open Monday through Friday 9 a.m. to approximately 6 p.m. and Saturday 9 a.m. until the last appointment. The massage therapy suite is located in Suite 110 in the Heart and Lung Building on the Candler Hospital campus.
Prices are:
| | | | | |
| --- | --- | --- | --- | --- |
| | Member | Non-Member | Package of 5 (member) | Package of 5 (non-member) |
| 30 minutes | $40 | $45 | $190 | $215 |
| 60 minutes | $65 | $75 | $315 | $365 |
| 90 minutes | $90 | $100 | $440 | $490 |
Additional services – HotStones, Hand and Foot Scrubs and Aromatherapy – also are available for $10 each.
Your physician may recommend massage as a complementary treatment option; however, a doctor's referral is not required.
To make an appointment, call 912-819-8800. If you plan to claim therapeutic massage on your insurance, please call 912-819-8840 prior to scheduling an appointment for insurance verification.
To learn more about St. Joseph's/Candler massage therapy, visit our website.
Christmas shopping already? Consider a gift certificate for a massage with our therapists. Certificates can be purchased at the Wellness Center located at the front entrance of Candler Hospital, 5353 Reynolds Street.