How is chemotherapy administered?
Cancer
Nov 1, 2018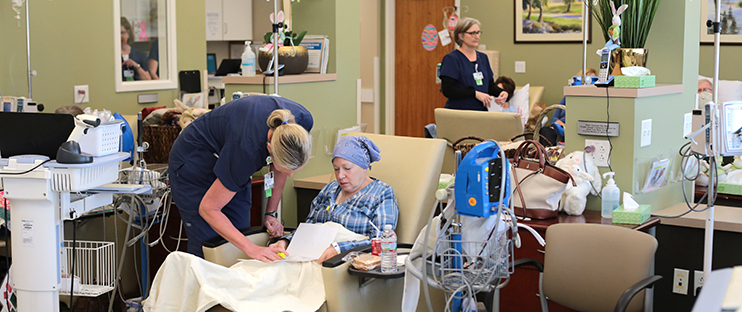 Medical Oncologist Dr. Jennifer Yannucci explains different ways a patient may get chemo
The goal of chemotherapy is to control and cure cancer. Even with its benefits, the thought of it is still frightening to many. Having a basic understanding of what chemotherapy is and how you or a loved one may receive it might help ease some fears.
Chemotherapy is the administration of medications or a combination of medications to treat diseases. It is a common treatment for cancer. In most cases, chemotherapy interferes with a cancer cell's ability to grow and spread.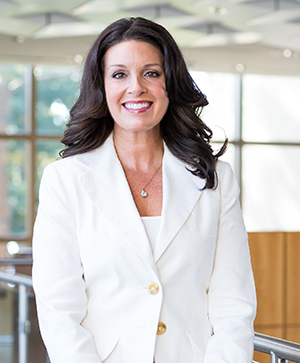 Chemotherapy may be used alone for treatment or in combination with radiation and/or surgery. At the Nancy N. and J.C. Lewis Cancer & Research Pavilion, a multi-disciplinary team of medical oncologists, surgeons, radiation oncologists, nurses, geneticist and others review each individual case to determine the best course of treatment.
If chemotherapy is needed, the type and length of therapy depends on the kind and the stage of cancer, says Dr. Jennifer Yannucci, medical oncologist with Low Country Cancer Care Associates PC.
"Chemotherapy treatment plans are designed on a case-by-case basis and may be administered via an intravenous route or potentially through oral regimens," Dr. Yannucci says. "Truly, it's very individualized."
For example, in most kidney cancers, oral drugs are available. In colon cancer, treatment is mostly administered through an IV. In lung cancer, it's a combination of both, depending on the pathology.
"It's not black and white, but that's the beauty of it because there are many more options available today," Dr. Yannucci says.
While chemotherapy treatment is individualized, knowing the basics about it can help prepare you or a loved one for chemotherapy.
Where will I get chemotherapy?
Where you get chemotherapy depends on the medications you're receiving, the doses, personal preference, doctor(s)'s recommendations and even your insurance coverage.
Options include:
At home
In a doctor's office
In an infusion clinic or the hospital's outpatient infusion center
In the hospital
Your doctor will talk to you about your options and what's best for you and your health.
How will I get chemotherapy?
There are several ways to receive chemo. Common ones include:
Intravenous, or IV therapy
Most chemotherapy medications are administered right into your bloodstream via a catheter. The catheter is inserted by a needle into a peripheral vein or a permanent implanted device. The IV infusion can last from a few minutes to a few hours or even days.
Continuous infusions can be controlled by a pump connected to the patient's port and may be carried around. It looks like a little fanny pack, no bigger than a cell phone, Dr. Yannucci describes. It can be worn under clothes at the waist or across the shoulder.
A port or port-a-cath is an implanted device (usually in the chest) that is common for patients undergoing chemotherapy to avoid the discomfort of repetitive needle "sticks." A surgeon will generally place the port underneath the skin near the clavicle, but location can vary depending on what is best for the individual patient.
RELATED ARTICLE: Why would I need IV therapy?
Oral medications
Oral chemotherapy is any medication you take by mouth to treat cancer. It can be in the form of a pill or a liquid that you swallow. Oral chemotherapies may be used if indicated by the disease type and offer the convenience of taking at home. However, they are not available to treat all cancer types.
"In many cases chemotherapy is only available via the IV route," Dr. Yannucci says. "For certain types of cancer, stage IV breast cancer for example, there may be oral options depending on if the breast cancer is responsive to certain targeted or hormonal therapy."
If you are eligible for oral chemotherapy, it is very important to follow your doctor's specific instructions on how much and when to take your chemotherapy.
Topical
For some skin cancers, there is a topical optional. The medication is put right on an area of cancer on the skin as a cream, gel or ointment.
What is molecular profiling?
Advances in genetic testing have increased chemotherapy options. Each cancer is different and each tumor can vary at the molecular level. Genomic testing can show changes in DNA that drive cancer growth.
Next-Generation Sequencing, or molecular profiling, analyzes cancer specimens for genomic alterations. The Lewis Cancer & Research Pavilion works with one of the first companies to do molecular profiling, Foundation One. A tumor is tested for gene alterations. If any targetable genes are discovered in a patient's tumor, this can help determine the best potential treatment options.
"New mediations are being approved very quickly and it's mainly these new targeted therapies based on molecular testing," Dr. Yannucci says. "These new medications and advancements are better for patients, absolutely."