What is bronchoscopy?
Miscellaneous
Nov 8, 2018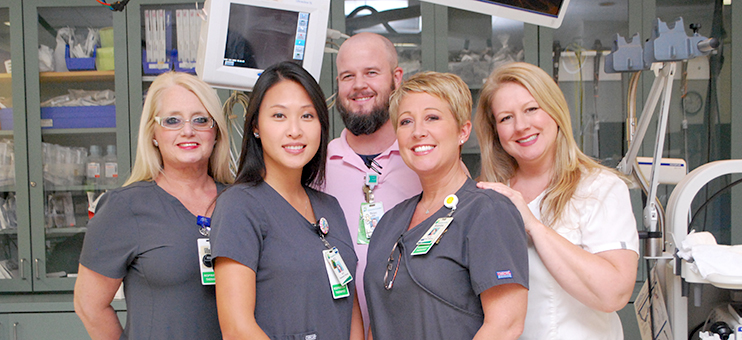 At St. Joseph's/Candler, a team of nurses and respiratory therapists are dedicated to lung examinations
If you have a chronic lung condition or your physician suspects or a scan shows lung cancer, there's a good chance a bronchoscopy is in your future.
Bronchoscopy is the examination of the lungs and bronchi (the main airways of the lungs) using a flexible tube (bronchoscope). The minimally-invasive procedure is performed by a pulmonologist – a physician who specializes in lung disorders – and a team of nurses, respiratory therapists and others.
During a bronchoscopy, the thin bronchoscope is passed through a patient's nose or mouth, down the throat and into your lungs, explains Traci Daiss, RRT, RPFT, RCP, respiratory therapist and team leader of the Bronchoscopy Suite Team at Candler Hospital. A patient is sedated during the procedure, and it does not leave any scars or incision marks.
The length of a bronchoscopy varies depending on the need for one. Some may be as short as 30 minutes, while more involved examinations could take a couple of hours.
There are a number of reasons someone would need a bronchoscopy.
1. Diagnostic. When a patient has some kind of abnormal pulmonary finding, such as a lung mass, found during a lung cancer CT screening, a physician may order a bronchoscope.
Related Article: Five things you should know about lung cancer screening
If a pulmonologist is looking for lung cancer, an Endobronchial Ultrasound (EBUS) may be ordered. Since the lymph nodes are outside the airways, a scope alone can't see them, Daiss says. Therefore, an ultrasound probe will be used in addition to the bronchoscope. This is important to determine if cancer is present outside of the lungs and to determine the best course of treatment.
If a physician suspects lung cancer, nearly 90 percent of patients will be biopsied and diagnosed through a bronchoscopy, Daiss says.
A diagnostic bronchoscopy also may be ordered due to a persistent cough or abnormal chest X-ray. Sometimes lung cancer is the cause or other lung conditions, such as chronic obstructive pulmonary disease (COPD), which is a group of lung diseases that block airflow and make it difficult to breathe.
2. Intervention. Bronchoscopy also can be used to place certain medical devices within the lungs or airways. For example, bronchoscopy used during interventional pulmonology places stents in the airways.
Another example is placing fiducial markers on tumors within the airways or lungs to assist during radiation. These markers serve as a point of reference for technology such as CyberKnife to deliver high-dose, precise radiation to destroy tumors while minimizing damage to healthy tissue.
Related Article: Understanding lung cancer treatment options
Depending on the size and location of the tumor, bronchoscopy also may be used to help shrink tumors. If a tumor is sitting in the airway, making it difficult for a patient to breathe, a physician can use argon gas to burn the tumor away.
"As soon as the patient leaves here, they feel better because the airway is less occluded by the tumor," Daiss says. "That's really rewarding to be able to do something like that."
3. Therapeutic. For patients that have COPD or a bad case of pneumonia, bronchoscopy can help. It can remove secretion in patients that can't cough up their own secretions. Bronchoscopy also can remove obstructions in the airways, such as mucus plugs, pills, food and other foreign objects.
4. Maintenance. Bronchoscopy also can be used to maintain the airways during tracheostomies, which is a procedure to place an artificial airway into the lungs. It also can be used during difficult intubations. The scope allows physicians to see what they are doing and maintain the airways during other chest-related procedures.
"It is a privilege that we get to provide this service to the patient and their family members because many are going through a life-altering diagnosis," Daiss says. "We try to be welcoming and professional to our patients. We try to show our patients that we are like a family and make our patients feel comfortable, as well as their families."
The Bronchoscopy Suites at St. Joseph's Hospital and Candler Hospital
The "we" Daiss is talking about is the bronchoscopy team at Candler Hospital. It includes two registered nurses, Georgia Thompson and Brian Lawson, and two additional respiratory therapists, Katrina Richards and Vi Sanders, who combined have 108 years of experience. Candler Hospital has a dedicated bronchoscopy suite, located near day surgery. St. Joseph's Hospital also has a bronchoscopy suite with two respiratory therapists and a registered nurse. Most bronchoscopies performed at St. Joseph's Hospital take place in the surgery or gastroenterology areas.
The bronchoscopy team assists pulmonologists during procedures. They do more than 200 bronchoscopies a month, more than any other hospital in the region, Daiss says. Because the team is dedicated solely to bronchoscopy, they have created a lifelong bond among themselves and their patients.
"If we find out one of our patients is admitted, we will go visit them," Daiss says. "We've been bedside. We've been to hospice. We've been invited and attended funerals. We even got invited and went to a family reunion."